Friday, February 13, 2015
Curtis Scores Twice To Lead New Hampshire Past Vermont, 4-2
Sophomore forward Jonna Curtis scores two goals for Wildcats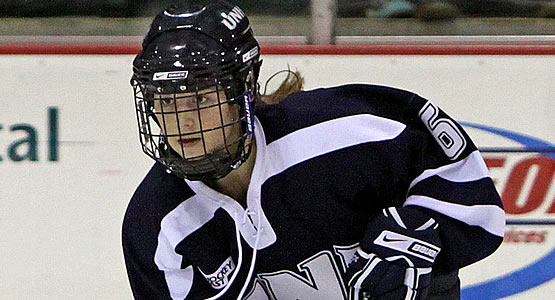 Sophomore forward Jonna Curtis scored two goals for the Wildcats
| | | | | | | |
| --- | --- | --- | --- | --- | --- | --- |
| Prd | Time | Team | Score | Type | Scored By | Assists |
| 1st | 16:32 | VER | 1-0 | PP | Dayna Colang (17) | Amanda Drobot/12, Taylor Willard/7 |
| 2nd | 0:23 | UNH | 1-1 | EV | Jonna Curtis (12) | Nicoline Jensen/7, Amy Schlagel/4 |
| 3rd | 4:07 | UNH | 2-1 | SH | Jonna Curtis (13) | - |
| 3rd | 6:51 | UNH | 3-1 | EV GW | Cassandra Vilgrain (3) | Amy Boucher/5, Hannah Armstrong/4 |
| 3rd | 16:15 | UNH | 4-1 | SH EN | Amy Boucher (8) | - |
| 3rd | 18:27 | VER | 2-4 | PP | Amanda Pelkey (11) | Taylor Willard/8, Brittany Zuback/13 |
| | | | | |
| --- | --- | --- | --- | --- |
| Scoring | 1st | 2nd | 3rd | Final |
| New Hampshire | 0 | 1 | 3 | 4 |
| Vermont | 1 | 0 | 1 | 2 |
| | | | | |
| --- | --- | --- | --- | --- |
| Shots on Goal | 1st | 2nd | 3rd | SOG |
| New Hampshire | 12 | 4 | 8 | 24 |
| Vermont | 8 | 11 | 16 | 35 |
| | | | |
| --- | --- | --- | --- |
| Team Stats and Records | PP | PIM | SHGF |
| New Hampshire (9-19-2) | 0/1 | 6/12 | 2 |
| Vermont (13-17-1) | 2/6 | 1/2 | 0 |
| | | | | | | |
| --- | --- | --- | --- | --- | --- | --- |
| New Hampshire Goaltending | MIN | GA | 1 | 2 | 3 | Saves |
| Vilma Vaattovaara (W, 8-16-2) | 60:00 | 2 | 7 | 11 | 15 | 33 |
| | | | | | | |
| --- | --- | --- | --- | --- | --- | --- |
| Vermont Goaltending | MIN | GA | 1 | 2 | 3 | Saves |
| Madison Litchfield (L, 10-13-1) | 57:22 | 3 | 12 | 3 | 5 | 20 |
| Empty Net | 2:38 | 1 | | | | |
BURLINGTON, Vt. - Jonna Curtis scored twice to lead New Hampshire as they scored three third period goals to defeat Vermont 4-2 in Hockey East action Friday night from Gutterson Fieldhouse.
After a back and forth first period the Catamounts opened the scoring on the power play with 3:28 left in the opening frame. On the blue line Taylor Willard passed over to Amanda Drobot, who fired a wrist shot towards UNH's Vilma Vaattovaara. Dayna Colang was providing a screen in front and she redirected Drobot's shot past Vaattovaara to make it 1-0.
Colang's team-leading 17th goal of the season was her seventh with the man-advantage this season. Brittany Zuback and Colang have now both tied the Vermont single-season record with seven power play goals.
The Wildcats answered back 23 seconds into the second period. In transition Nicoline Jensen fired a high wrist shot on net that Madison Litchfield paddled aside but couldn't control. Jonna Curtis pounced on the rebound and put it in for her 12th goal of the season.
Curtis struck again early in the third period to give the Wildcats their first lead of the night. Curtis blocked a point shot and skated in on Litchfield alone on a breakaway. She faked a shot and beat Litchfield to the far post with a nifty backhand move. Curtis' team-leading 13th goal of the season came 4:07 into the third. She had four points against Vermont in the teams' earlier meeting in November.
Cassandra Vilgrain extended the Wildcats lead to two goals just under three minutes later. In transition Amy Boucher skated into the Vermont zone and behind the net before attempting to score on a wraparound. Litchfield made the initial save but Vilgrain put it home for her eighth goal of the season at the 6:51 mark.
On the power play in the final minutes of the third period Vermont pulled Litchfield for an extra attacker. Vermont had several opportunities right in front but couldn't convert. Boucher scored into the empty net with 3:45 left in regulation to give the Wildcats a three-goal cushion.
The Catamounts did get one back with 1:33 left in regulation on another power play opportunity. Willard fired a low point shot that Amanda Pelkey was able to deflect up and over Vaattovaara for her 11th goal of the season.
Vaattorvaara earned her eighth win of the season making 33 saves including 15 in the third period. Litchfield made 20 saves for Vermont, she is now 10-13-1 this season. "This game was like so many others we've had this season," said head coach Jim Plumer. "We created a lot of offense but didn't finish and UNH took advantage of our mistakes. It's disappointing for all of us to play well and not be able to finish the job on the scoreboard."
Vermont returns to action tomorrow afternoon as they face New Hampshire at 4 p.m. in the Catamounts final home game of the season. Saturday is Senior Day and the Catamounts five seniors will be honored in a pregame ceremony.