Boston College Defeats Boston University, 5-0, To Win Women's Hockey East Title
Tournament Most Valuable Player Alex Carpenter has two goals and assist for Eagles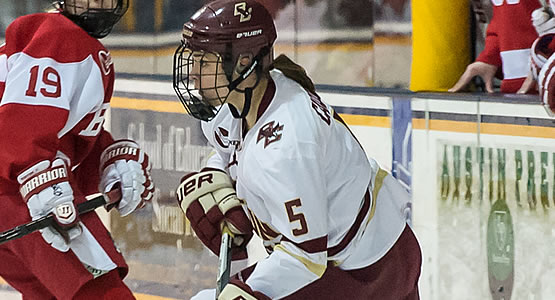 Senior forward Alex Carpenter had two goals and an assist for the Eagles
| | | | | | | |
| --- | --- | --- | --- | --- | --- | --- |
| Prd | Time | Team | Score | Type | Scored By | Assists |
| 1st | 4:12 | BC | 1-0 | PP GW | Haley Skarupa (32) | Alex Carpenter/41, Makenna Newkirk/27 |
| 1st | 5:40 | BC | 2-0 | EV | Alex Carpenter (40) | Haley Skarupa/39, Kenzie Kent/25 |
| 2nd | 0:16 | BC | 3-0 | EV | Alex Carpenter (41) | Haley Skarupa/40, Kenzie Kent/26 |
| 3rd | 2:46 | BC | 4-0 | EV | Kenzie Kent (15) | Haley Skarupa/41, Megan Keller/35 |
| 3rd | 3:49 | BC | 5-0 | EV | Kristyn Capizzano (9) | Megan Keller/36, Andie Anastos/22 |
| | | | | |
| --- | --- | --- | --- | --- |
| Scoring | 1st | 2nd | 3rd | Final |
| Boston University | 0 | 0 | 0 | 0 |
| Boston College | 2 | 1 | 2 | 5 |
| | | | | |
| --- | --- | --- | --- | --- |
| Shots on Goal | 1st | 2nd | 3rd | SOG |
| Boston University | 2 | 12 | 11 | 25 |
| Boston College | 17 | 18 | 13 | 48 |
| | | | |
| --- | --- | --- | --- |
| Team Stats and Records | PP | PIM | SHGF |
| Boston University (23-14-2) | 0/3 | 6/12 | 0 |
| Boston College (38-0-0) | 1/5 | 4/8 | 0 |
| | | | | | | |
| --- | --- | --- | --- | --- | --- | --- |
| Boston University Goaltending | MIN | GA | 1 | 2 | 3 | Saves |
| Erin O'Neil (L, 17-8-2) | 60:00 | 5 | 15 | 17 | 11 | 43 |
| | | | | | | |
| --- | --- | --- | --- | --- | --- | --- |
| Boston College Goaltending | MIN | GA | 1 | 2 | 3 | Saves |
| Katie Burt (W, 33-0-0) | 59:56 | 0 | 2 | 12 | 11 | 25 |
| Empty Net | 0:04 | 0 | | | | |
NORTH ANDOVER, Mass. - Haley Skarupa collected four points and tournament MVP Alex Carpenter added three points - including two goals - as the No. 1 Boston College women's hockey team earned the 2016 Hockey East Tournament title with a 5-0 win over Boston University on Sunday afternoon at Lawler Rink.
The Eagles won their second-ever Hockey East Tournament title and their first since 2011.
Kenzie Kent (one goal, two assists) added three points in the win while Katie Burt registered her 13th shutout of the season with her 25-save effort. Kristyn Capizzano added the final goal of the game.
This is the third straight season that the Eagles and Terriers met in the Hockey East Championship game.
Boston College is now 38-0-0 on the season and gained Hockey East's automatic bid to the NCAA Tournament. The full bracket will be announced tonight at 9 p.m. on ncaa.com.
2016 Hockey East Tournament | Championship
#1 Boston College 5, Boston University 0
Sunday, March 6, 2016
Lawler Rink, North Andover, Mass.
BC HIGHLIGHTS
- BC won its second Hockey East Tournament title and its first since 2011
- Alex Carpenter was the unanimous selection for tournament MVP, and was joined on the All-Tournament team by teammates Megan Keller and Haley Skarupa
- Carpenter set a new school single-season goals mark with her 40th and 41st goals of the season
- Haley Skarupa collected her 125th career assist during her four-point effort today
- Katie Burt recorded her 13th shutout this season, extending her single-season program record
- Megan Keller claimed the BC defenseman single-season assist record with her 35th and 36th assists today
QUOTABLES
Boston College head coach Katie Crowley
"I'm extremely proud and happy with the way we played today. I thought we came out with a lot of energy and were able to sustain that for a full 60 minutes. (Boston University is) a good hockey team over there. They beat a good team yesterday to get into the game today. But I thought our team really played well."
"It's awesome. I'm extremely proud for that senior class. They've been through a lot. There are some great players in that class and they get to take home this trophy. So it's awesome for them, but also for our younger kids to learn how to win this trophy. It's a special moment for our whole team and our program to get back up there."
"BU is a feisty team around the front of that net. They're very dangerous offensively. I thought our defense did a great job of keeping them outside. Any scoring opportunity they may have had from a rebound, Katie (Burt) smothered. I thought that was great. There was one play, I think in the third period, I don't know where her glove came from. All of a sudden she had it. It was coming from the bench and all of a sudden I was like, 'Is that going over the net or in the net?' and all of a sudden her gloves comes over and gets it. Every player played unbelievable today. Everyone was rolling on all cylinders and really played great."
"We'll see who we're playing tonight and then start to focus on whoever that team is and where we go from here. But we want to continue to play Boston College hockey. I was happy to see we did that for a full 60 minute tonight. Hopefully that can carry over to next weekend."
"I think they have a different mentality this year. Where it's more confidence maybe? It's hard to pick one thing out. They compete so hard in practice every day and to be able to compete against each other like that, it's awesome to see them take it to another level and compete against another team like that. I think that's one of the things I thought we did today. But it's helpful when you put one in fairly early in that first period and it gives you a little more confidence, especially with our defense and our goaltender. You get one or two and you're going to feel a little more secure. But overall, last year's team was a great team. We hit a few road bumps along the way, but this year's team has been able to overcome those bumps and if we get down by a goal or are tied - we were tied yesterday - the kids battle hard and battle back."
"Dana's (Trivigno) a great player. I definitely think she played really well for us today, and her line played really well. When they're moving pucks and they're moving their feet, they do a great job. Dana sparks that line. Dana is a spark for every team she plays on. She was able to do that for us today."
Boston College goaltender Katie Burt
"(A good defense is) the most important thing. If (opponents) don't score, they don't have a chance to win. I thought our D played phenomenal this tournament - this whole season, really. Even our centers, Dana (Trivigno) was back there behind the net all of a sudden and she knocked a pass out and I was like, 'Uh, where did she come from?' But it's all the way through the lineup. Our forwards backcheck hard and our D do a great job of keeping the shots to the outside."
"I was trying to stay loose, stay focused (in the first period). With a team like BU, they're really talented, so when they do get that odd-man rush you have to be prepared because they can strike one right by you. So you have to stay focused and stay loose because it can get pretty boring back there sometimes."
"(Erin O'Neil) played really well today. She had 60 shots yesterday so she played really well yesterday, too. Erin and I go back to (IIHF Under-18) Worlds (Championships) a few years ago, so it's nice to see her do well ... it's always good to win, though."
Boston College defenseman Megan Keller
"It's definitely still a learning experience. Emily Pfalzer played a big role in me stepping in there. It was easier to learn from her with her on the team last year and have great teammates around me. It's made it way easier."
"(Playing in front of Katie Burt is) really comforting! I think yesterday I almost scored on her, but she stopped it. It was a nice tip, but it would've been better in the offensive zone! It makes my job a lot easier knowing I have her back there stopping pucks."
Boston College forward Alex Carpenter
"We're not really focused on last year. Going into the game we were focused on what's going on this year so that's been a big part of our success this year is not dwelling on what happened in the past."
"We created a lot of rebounds, which is something we've been working on the past week. Getting those scrappy goals in front of the next. We can put in a lot of nice goals, but at the same time it's getting to those loose pucks that are all around the crease."
HOW IT HAPPENED
1st, 4:12 // 1-0 - BC GOAL (PPG): On the first power-play opportunity of the afternoon, Makenna Newkirk played a cross-ice pass to Alex Carpenter on the far halfboards. She deeked around a defender and sent the puck across the slot to Skarupa. Skarupa fired into the open net and while Terriers goaltender Erin O'Neil recovered enough to get a piece of it, but the puck banked in off her elbow for a 1-0 BC lead.
1st, 5:40 // 2-0 - BC GOAL: The Eagles jumped out to a 2-0 lead just 88 seconds later when the top line combined into the Terriers' defensive zone. Kenzie Kent took the outlet pass and found Skarupa on the outside. Once she received the puck, Skarupa drifted slightly wide, created space in front and fed Carpenter trailing the play for the rising one-timer from the high slot.
2nd, 00:16 // 3-0 - BC GOAL: The first line struck again on the first shift of the second period. After BU won the draw, the Eagles regained control in their own zone and Kent picked it up on the far boards. She played Carpenter near center ice and she broke through the neutral zone with Skarupa, feeding her wide. Skarupa returned the puck to Carpenter near the edge of the circle and she put her own rebound in past O'Neil for her second goal of the game.
3rd, 2:46 // 4-0 - BC GOAL: The Eagles worked the puck along the blue line where Megan Keller played an angled pass down low to Skarupa. She put a shot on O'Neil, but the goaltender didn't control the rebound and it popped out straight out to the slot where Kent collected the loose puck and pushed it past the goaltender.
3rd, 3:49 // 5-0 - BC GOAL: Andie Anastos pulled the puck out of a pileup on the Eagles' blue line played Keller over and up along the boards in front of the BC bench. She gained the zone, skated deep past the goal line and found Kristyn Capizzano on the opposite side of the goal. Capizzano took the puck and wrapped a quick shot in space between the post and O'Neil to give the Eagles their final 5-0 lead.
GAME NOTES
Team Notes
- This was Boston College's second Hockey East Tournament championship ... the team won its only other championship in 2011
- The Eagles are now 38-0-0 on the season and are just the second team in NCAA history to enter the NCAA Tournament with a perfect record.
- BC is now 14-9 all-time in the Hockey East tournament, including a 2-4 mark in the championship game
- Tonight's five goals brought the season's goal total to 204 goals, most in program history ... BC's 204 goals represent the sixth-highest season scoring output by a team in NCAA history
- Today marked the 23rd time in 38 games that BC has scored at least five goals
- BC still has yet to surrender a power-play goal in a non-conference action this season, and is now 43-for-43 in non-Hockey East regular-season games
- Haley Skarupa's first-period power-play goal marked the fifth straight game - in which the Eagles have had a power-play opportunity - that they've scored at least once on the man-advantage
- BC now has 45 power-play goals this season, extending the best single-season total in program history ... it's also the most by any team in the nation
- The Eagles registered their program-record 14th shutout of the season
Player Notes
- With three points today, Alex Carpenter pushed her season scoring total to 82 points, a new program single-season record
- Carpenter netted two goals, moving her season total to 41, also a new single-season program record ... she passed Erin Magee '99 who had 39 in 1995-96
- Carpenter's assist on Haley Skarupa's goal was her 41st of the season and she shares the national lead in the category with Skarupa ... it was also her 18th power-play assist of the year, a total that leads the nation, and her 27th power-play point on the year which is also tops in the country
- With four points today (one goal, three assists), Skarupa notched her fifth game this season with four or more points
- Skarupa's three assists today gave her 41 on the season ... she and Carpenter now share the national lead in the category
- Skarupa's first-period power-play goal was her 32nd goal of the season - a new single-season high for the senior
- Skarupa's first-period goal was also her 12th power-play goal this season, matching the program record for man-advantage goals in a season originally set by Deb Spillane '08 in 2004-05
- Skarupa pushed her career assist total to 126, collecting her 125th career assist on Carpenter's second goal
- Kenzie Kent notched her 12th multiple-point game of the season and her third in the last five games
- Today was Kent's first two-assist game since Feb. 2 - a span of 11 games
- Kent now has 41 points on the season, a new season-best for the sophomore after registering 38 points as a freshman in 2014-15
- Makenna Newkirk recorded her 48th point of the season with her assist on Skarupa's first-period power-play goal ... it was her 27th assist of the season
- Newkirk is now one point back of the national freshman scoring lead, held by Minnesota's Sarah Potomack (49 points)
- Kristyn Capizzano netted her second goal in as many games and her ninth of the season
- Megan Keller collected two assists to push her season point total to 48
- Keller now has 36 assists this season, a new single-season program record for a defenseman ... she passed Emily Pfalzer '15 who posted 34 assists in 2014-15
- Katie Burt made 25 saves to record her 13th assist on the season ... the shutout extended her own single-season record at BC
- Dana Trivigno was whistled for her 100th and 101st career penalties today ... she ranks third in program history in penalties and is tied for second with Becky Zavisza '09 in penalty minutes (210) ... Trivigno is now four penalties back of matching Zavisza's school record 105 penalties
THREE STARS
1. Alex Carpenter, BC
2. Haley Skarupa, BC
3. Katie Burt, BC
TEAM RECORDS
Boston University: 23-14-2, 17-5-2 HEA
Boston College: 38-0-0, 24-0-0 HEA
UP NEXT
Tonight, the eight-team NCAA Championship bracket will be announced tonight on ncaa.com at 9 p.m. The Eagles claimed Hockey East's automatic bid to the tournament, and will await its quarterfinal opponent.