Tuesday, November 10, 2015
Carpenter Sends Boston College Past Boston University In Overtime, 4-3
Senior forward Alex Carpenter scores two goals for Eagles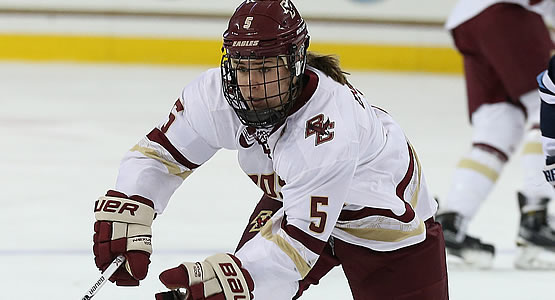 Senior forward Alex Carpenter scored two goals for the Eagles
| | | | | | | |
| --- | --- | --- | --- | --- | --- | --- |
| Prd | Time | Team | Score | Type | Scored By | Assists |
| 1st | 1:10 | BC | 1-0 | EV | Alex Carpenter (16) | Megan Keller/10, Makenna Newkirk/7 |
| 1st | 16:16 | BC | 2-0 | EV | Dana Trivigno (3) | Toni Ann Miano/7 |
| 2nd | 11:30 | BU | 1-2 | PP | Sarah Steele (3) | Sammy Davis/3, Rebecca Leslie/12 |
| 2nd | 16:59 | BU | 2-2 | EV | Maddie Elia (8) | Rebecca Russo/11 |
| 3rd | 1:20 | BC | 3-2 | EV | Kristyn Capizzano (4) | Haley Skarupa/14, Lexi Bender/9 |
| 3rd | 6:39 | BU | 3-3 | EV | Rebecca Russo (5) | Rebecca Leslie/13 |
| OT | 2:17 | BC | 4-3 | EV GW | Alex Carpenter (17) | Haley Skarupa/15 |
| | | | | | |
| --- | --- | --- | --- | --- | --- |
| Scoring | 1st | 2nd | 3rd | OT | Final |
| Boston University | 0 | 2 | 1 | 0 | 3 |
| Boston College | 2 | 0 | 1 | 1 | 4 |
| | | | | | |
| --- | --- | --- | --- | --- | --- |
| Shots on Goal | 1st | 2nd | 3rd | OT | SOG |
| Boston University | 10 | 15 | 7 | 1 | 33 |
| Boston College | 17 | 8 | 15 | 3 | 43 |
| | | | |
| --- | --- | --- | --- |
| Team Stats and Records | PP | PIM | SHGF |
| Boston University (6-6-0) | 1/3 | 4/8 | 0 |
| Boston College (12-0-0) | 0/3 | 4/8 | 0 |
| | | | | | | | |
| --- | --- | --- | --- | --- | --- | --- | --- |
| Boston University Goaltending | MIN | GA | 1 | 2 | 3 | OT | Saves |
| Victoria Hanson (L, 2-4-0) | 62:17 | 4 | 15 | 8 | 14 | 2 | 39 |
| | | | | | | | |
| --- | --- | --- | --- | --- | --- | --- | --- |
| Boston College Goaltending | MIN | GA | 1 | 2 | 3 | OT | Saves |
| Katie Burt (W, 11-0-0) | 62:17 | 3 | 10 | 13 | 6 | 1 | 30 |
CHESTNUT HILL, Mass. - Alex Carpenter scored her second goal of the game 2:17 into overtime to lift Boston College's second-ranked women's hockey team to a 4-3 win over cross-town rival Boston University on Tuesday night at Kelley Rink.
BC (12-0-0, 6-0-0 HEA) held leads of 2-0 and 3-2 but the Terriers fought back to force overtime, where Carpenter combined with Haley Skarupa for the game-winning goal that preserved the Eagles' undefeated season so far.
Dana Trivigno scored BC's second goal, her 100th career point, while Kristyn Capizzano converted BC's third goal. BU's Rebecca Russo forced overtime with her goal at 6:39 of the third period to bring the Terriers level at 3-3. Sarah Steele and Maddie Elia each added single tallies for BU (6-6-0, 4-3-0 HEA).
#2 Boston College 4, Boston University 3 (OT) Kelley Rink at Conte Forum // Chestnut Hill, Mass. Tuesday, November 10, 2015
BC HIGHLIGHTS
- The Eagles' overtime win was the team's first since Nov. 3, 2013 - a 2-1 win against Providence
- Alex Carpenter recorded her 106th and 107th career goals, and her 24th career game-winning goal
- Dana Trivigno became the 12th player in BC women's hockey history to reach the 100-point plateau and the third member of the Class of '16 (Alex Carpenter, Haley Skarupa)
- Haley Skarupa recorded a pair of assists to push her career total to 100 and her season total to a team-best 15
- Katie Burt made 30 saves in the win, just the second time in her career that she's been called on to make 30 or more saves in a game
QUOTABLES
Head coach Katie Crowley
"I was impressed how we maintained our composure and were able to win the game ... I thought our kids adjusted well. I think we were pretty good 4v4, so I'll take that OT win. But (Boston University is) a good hockey team. They've had a little bit of a struggle in the beginning of their year, but they're a very, very good hockey team and I'm glad we were in a game like that with them ... I think it's great (to play close games early in the season). You never want to say you want a close game, but I think it's good for our kids to be in those position and those situations when we're 5v3 again. That, to me, was a playoff hockey game. It felt like it. The energy of BU and BC, was great. There was great energy in the crowd. For our kids, that's awesome. And it was a lot of fun."
HOW IT HAPPENED
1st, 1:10 // 1-0 - BC GOAL: On a shift change, Makenna Newkirk played Megan Keller into the offensive zone, with Alex Carpenter skating in behind her. The defender curled and found Carpenter open in front of the goal, where she banged in the puck for the 1-0 lead.
1st, 16:16 // 2-0 - BC GOAL: Dana Trivigno pulled the puck off the boards near the edge of the circle, and sent it across the blue line to Toni Ann Miano at the far point. Miano sent a pass in down low, where Trivigno crashed the net and re-directed the puck past Victoria Hanson for the 2-0 lead and her 100th career point.
2nd, 11:30 // 2-1 - BU GOAL: On the power play, the Terriers dug the puck out from behind the BC goal and Sammy Davis and Sarah Steele traded passes, opening up a lane for Steele to find space through Katie Burt's goal.
2nd, 16:59 // 2-2 - BU GOAL: Maddie Elia stripped the BC defense just inside the BC blue line, and played Rebecca Russo. Russo took a stride and passed back to Elia who completed the 2-on-1 and brought BU back even with BC at 2-2.
3rd, 1:20 // 3-2 - BC GOAL: Lexi Bender kept the BU clearance attempt in the zone and skated in toward goal. Her shot from close range was saved, and Haley Skarupa pounded on the rebound, which went wide where Kristyn Capizzano was on the far post to push the puck in and regain the lead for BC
3rd, 6:39 // 3-3 - BU GOAL: Rebecca Leslie picked a loose puck up in the Terriers' zone and skated through neutral ice with Russo trailing. Leslie then skated out wide, and played Russo on the near post, who found space to beat Katie Burt to tie the score.
OT, 2:17 // 4-3 - BC GOAL: With teams playing 4v4 hockey, Alex Carpenter broke up the BU pass out of the zone at the blue line, keeping the play onside with Haley Skarupa still in the zone. Skarupa turned with the puck and found Carpenter on the 2-on-1 bid. Carpenter's shot beat Hanson and handed the Eagles' the win.
GAME NOTES
- Boston College has scored at least four goals in all 12 games this season
- Dana Trivigno scored her 100th career point with her first-period goal ... she is the 12th player in BC women's hockey history to reach the 100-point plateau ... she has 43 career goals and 57 career assists
- Haley Skarupa's assist on the overtime winner was her 100th career assist ... she is the third player in BC history to reach the 100-assist mark
- Haley Skarupa's two assists pushed her team-best point streak to 10 games
- Alex Carpenter recorded her program-record 24th game-winning goal of her career ... her two-goal effort was also her 26th career multiple-goal game and her fifth this season
- Katie Burt's 30 saves were the second highest single-game total in her career ... earlier this year, she made 32 saves against Minnesota Duluth (Oct. 3)
- Megan Keller's assist on Alex Carpenter's first goal was her 10th assist of the season and the 30th of her career ... she is the 12th defenseman in BC history to reach the 30-assist mark
- Alex Carpenter's first goal at 1:10 into the game was the fastest goal the Eagles had scored this season
- Lexi Bender claimed sole possession of second place on the BC defenseman career assist chart, collecting her 58th career assists today ... Emily Pfalzer '15 is the Eagles' career assist leader among defensemen, recording 79 in her time at The Heights
- Boston College was held scoreless on the power play for the first time in seven games as the Eagles had converted at least once with the man-advantage in each of the past six games
- The Eagles allowed their second power-play goal this season in the second period ... BC entered the game 38-for-39 on the penalty kill, with the only power-play goal allowed coming last Saturday at BU
- BC is undefeated against Boston University in the teams' last 11 regular-season meetings, going 9-0-2 since October 2012 ... the Terriers' only two wins overall in that stretch have come in the 2014 and 2015 Hockey East Tournament championship games ... BU's last in-season win against BC came at Kelley Rink on Oct. 5, 2012
- The win extended the Eagles' program-best start to 12-0-0 ... this is the deepest in a season BC has remained perfect in program history
- The Eagles are now 8-0-0 at home and have extended their home unbeaten streak to 41 games (40-0-1) ... BC's last home loss was Oct. 16, 2013 (3-1 vs. New Hampshire)
- BC is now undefeated in its last 31 Hockey East conference games, dating back to the 2013-14 season ... in this current run, the Eagles are 30-0-1 since a 2-0 loss at Connecticut on Feb. 8, 2014
TEAM RECORDS
Boston University: 6-6-0, 4-3-0 HEA
Boston College: 12-0-0, 6-0-0 HEA
UP NEXT
Boston College plays New Hampshire in a home-and-home series this weekend. BC hosts the Wildcats on Friday, with faceoff set for 2 p.m. at Kelley Rink. The teams will play the return game at the Whittemore Center on Saturday with puck drop set for 2 p.m. in Durham, N.H.