Saturday, February 6, 2016
Boston College Holds On For 5-4 Win At UConn
Senior forward Alex Carpenter has two goals and two assists for Eagles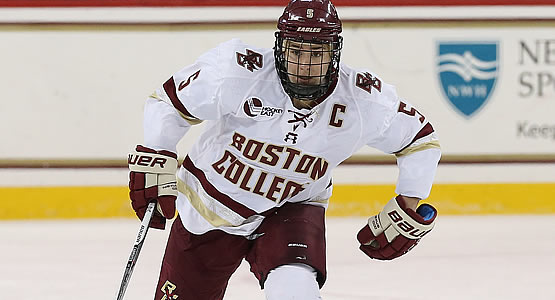 Senior forward Alex Carpenter had two goals and two assists for the Eagles
| | | | | | | |
| --- | --- | --- | --- | --- | --- | --- |
| Prd | Time | Team | Score | Type | Scored By | Assists |
| 1st | 5:28 | BC | 1-0 | EV | Alex Carpenter (35) | Megan Keller/24, Haley Skarupa/31 |
| 1st | 13:56 | CON | 1-1 | EV | Theresa Knutson (15) | Justine Fredette/16, Jesssica Stott/4 |
| 2nd | 3:55 | CON | 2-1 | EV | Kelly Harris (3) | Theresa Knutson/9 |
| 2nd | 5:34 | BC | 2-2 | PP | Dana Trivigno (10) | Lexi Bender/20, Kali Flanagan/17 |
| 2nd | 8:47 | BC | 3-2 | PP | Alex Carpenter (36) | Megan Keller/25, Makenna Newkirk/17 |
| 3rd | 7:32 | CON | 3-3 | EV | Jesssica Stott (1) | Brittany Berisoff/6, Leah Buress/7 |
| 3rd | 12:24 | BC | 4-3 | EV | Haley Skarupa (23) | Lexi Bender/21, Alex Carpenter/30 |
| 3rd | 15:18 | BC | 5-3 | EV GW | Haley Skarupa (24) | Toni Ann Miano/15, Alex Carpenter/31 |
| 3rd | 18:10 | CON | 4-5 | PP EA | Marisa Maccario (3) | Kayla Mee/11 |
| | | | | |
| --- | --- | --- | --- | --- |
| Scoring | 1st | 2nd | 3rd | Final |
| Boston College | 1 | 2 | 2 | 5 |
| Connecticut | 1 | 1 | 2 | 4 |
| | | | | |
| --- | --- | --- | --- | --- |
| Shots on Goal | 1st | 2nd | 3rd | SOG |
| Boston College | 7 | 20 | 11 | 38 |
| Connecticut | 5 | 2 | 6 | 13 |
| | | | |
| --- | --- | --- | --- |
| Team Stats and Records | PP | PIM | SHGF |
| Boston College (29-0-0) | 2/6 | 3/9 | 0 |
| Connecticut (11-13-5) | 1/3 | 6/12 | 0 |
| | | | | | | |
| --- | --- | --- | --- | --- | --- | --- |
| Boston College Goaltending | MIN | GA | 1 | 2 | 3 | Saves |
| Katie Burt (W, 24-0-0) | 59:39 | 4 | 4 | 1 | 4 | 9 |
| Empty Net | 0:21 | 0 | | | | |
| | | | | | | |
| --- | --- | --- | --- | --- | --- | --- |
| Connecticut Goaltending | MIN | GA | 1 | 2 | 3 | Saves |
| Elaine Chuli (L, 6-10-2) | 57:51 | 5 | 6 | 18 | 9 | 33 |
| Empty Net | 2:09 | 0 | | | | |
STORRS, Conn. - Despite putting up four goals against undefeated, No. 1 Boston College, the Huskies fell just short of the Eagles 5-4 on Saturday at the Freitas Ice Forum. Junior Jessica Stott (Niverville, Manitoba) finished with two points against the Eagles, including UConn's third goal to tie the game up at 3-3 in the beginning of the third period.
UConn moves to 11-13-5 overall and 7-9-3 in Hockey East match-ups, while Boston College extends their undefeated record to 29-0 and 20-0 in conference play.
Boston College struck first 5:28 into the first period to take an early 1-0 lead, but sophomore Theresa Knutson (Onalaska, Wis.) tied things up less than ten minutes later. Knutson caught a pass from classmate Justine Fredette (Winnipeg, Manitoba), took the puck in deep for a shot on net and then buried her own rebound to get UConn on the board. Stott took credit for the second assist.
The score was all tied up 1-1 going into the second period until sophomore Kelly Harris (Canton, Mich.) gave the Huskies a 2-1 lead just over three minutes into the middle frame. After BC goaltender Katie Burt got caught far out of her net, Harris knocked in a loose rebound off an initial shot from Knutson to give the Huskies the lead. This marked only the third time all season that BC has trailed an opponent.
The Eagles nabbed back-to-back power play goals in the beginning of the second to turn the tables in their favor 3-2, the first coming less than two minutes after UConn took the lead and the second less than three minutes after that.
Heading into the third, the Huskies trailed the Eagles 3-2, but Stott leveled off the score 3-3 after she sniped her first goal of the season from the point. Seniors Brittany Berisoff (Kelowna, B.C.) and Leah Buress (Windsor, Ont.) took credit on the assists.
BC took a two-goal lead over halfway through the third period, scoring at 12:24 and again at 15:18 to make it 5-3 with less than five minutes to play.
UConn pulled its goalie after Boston College was called for holding at 16:12 to have a 6-on-4 advantage. Sophomore Marisa Maccario (Marblehead, Mass.) brought the Huskies to within one after she scored from the faceoff dot off a pass from freshman Kayla Mee (Winnipeg, Manitoba).
Senior goaltender Elaine Chuli recorded 33 saves against Boston College and helped the Huskies kill off four of six power plays.
UP NEXT...
The Huskies are back at Freitas tomorrow Feb. 7 at 2 p.m. when they host Providence.