Boston College Tops UConn, 4-2, In WHEA Semifinals
Senior forwards Alex Carpenter and Meghan Grieves each post goal and assist for Eagles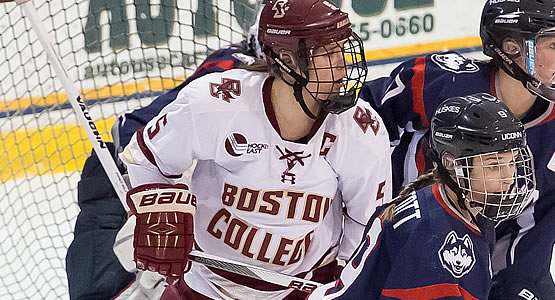 Senior forward Alex Carpenter had a goal and an assist for the Eagles
| | | | | | | |
| --- | --- | --- | --- | --- | --- | --- |
| Prd | Time | Team | Score | Type | Scored By | Assists |
| 1st | 15:21 | BC | 1-0 | PP | Haley Skarupa (31) | Alex Carpenter/40, Makenna Newkirk/25 |
| 2nd | 7:29 | BC | 2-0 | EV | Meghan Grieves (11) | Tori Sullivan/16 |
| 2nd | 16:00 | CON | 1-2 | EV | Theresa Knutson (19) | Margaret Zimmer/7 |
| 3rd | 0:58 | CON | 2-2 | EV | Justine Fredette (8) | Margaret Zimmer/8, Kayla Mee/13 |
| 3rd | 4:44 | BC | 3-2 | PP GW | Alex Carpenter (39) | Kenzie Kent/24, Makenna Newkirk/26 |
| 3rd | 7:47 | BC | 4-2 | PP | Kristyn Capizzano (8) | Meghan Grieves/12, Tori Sullivan/17 |
| | | | | |
| --- | --- | --- | --- | --- |
| Scoring | 1st | 2nd | 3rd | Final |
| Connecticut | 0 | 1 | 1 | 2 |
| Boston College | 1 | 1 | 2 | 4 |
| | | | | |
| --- | --- | --- | --- | --- |
| Shots on Goal | 1st | 2nd | 3rd | SOG |
| Connecticut | 5 | 7 | 10 | 22 |
| Boston College | 17 | 11 | 12 | 40 |
| | | | |
| --- | --- | --- | --- |
| Team Stats and Records | PP | PIM | SHGF |
| Connecticut (17-15-5) | 0/3 | 4/8 | 0 |
| Boston College (37-0-0) | 3/4 | 3/6 | 0 |
| | | | | | | |
| --- | --- | --- | --- | --- | --- | --- |
| Connecticut Goaltending | MIN | GA | 1 | 2 | 3 | Saves |
| Elaine Chuli (L, 12-12-2) | 56:30 | 4 | 16 | 10 | 10 | 36 |
| Empty Net | 3:30 | 0 | | | | |
| | | | | | | |
| --- | --- | --- | --- | --- | --- | --- |
| Boston College Goaltending | MIN | GA | 1 | 2 | 3 | Saves |
| Katie Burt (W, 32-0-0) | 60:00 | 2 | 5 | 6 | 9 | 20 |
NO. ANDOVER, Mass. - The No. 1 Boston College women's hockey team earned a berth in its third-straight Hockey East Tournament championship game with a 4-2 win over Connecticut on Saturday afternoon.
After the Eagles' built a 2-0 lead, Connecticut came back to even the score within a five-minute period spanning the late second period and early third period. However, Alex Carpenter's third-period game-winner broke a 2-2 draw before Kristyn Capizzano added an insurance goal just over three minutes later.
BC is looking to claim its second-ever Hockey East Tournament title. The Eagles' lone tournament championship came in 2011.
2016 Hockey East Tournament | Semifinals
#1 Boston College 4, Connecticut 2
Saturday, March 5, 2016
Lawler Rink, North Andover, Mass.
BC HIGHLIGHTS
- BC built a 2-0 lead before Alex Carpenter scored the eventual game-winning goal at 4:44 of the third period
- Four different players notched multiple-point games, led by Carpenter and Meghan Grieves (one goal, one assist each) and Makenna Newkirk and Tori Sullivan (two assists apiece)
- Carpenter's goal was her 39th of the season and matched the school's single-season goal record (Erin Magee in 1994-95)
- BC went 2-for-4 on the power-play with Haley Skarupa netting her 11th power-play strike of the season and Carpenter adding her ninth
QUOTABLES
Boston College head coach Katie Crowley
"I thought it was a hard-fought game. UConn threw everything at us and I thought our team handled it well. After they got the game-tying goal, I thought we reacted really well after that. We were able to bury a couple. It's really exciting for us to be moving forward. We're really excited for tomorrow's match-up."
"Both (BU and Northeastern) are very good teams. Obviously they both have pretty good offensive threats with two lines that can produce, at least. And they have goaltenders that are pretty good. We haven't really focused on them since the last time we played them. I think Northeastern was the last one of those two we played. They're a feisty team and they're hungry. Both teams want to prove that they're very, very good. They're veteran teams; they're teams that have elite talent on them. They're both very good teams."
"(Our players have) been through this game quite a few times. I think we've learned from those moments. We've evolved. I think this team is deeper probably than any team I've had at BC. They stick together as a team. Whether it's tied, or their up by two or up by one, or down by one, they stick together. They want to succeed and they fight hard for each other. They look to the kid next to them and want to win for them, want to score a goal for them. That's obviously important in a championship game."
"I'll take a page out of Jerry York's book. We can win a trophy tomorrow and that's an exciting thing for our players. We can't overlook that, for sure. I know that they're excited to be back in that game and have that opportunity again. It's always exciting to play for a trophy. And we want to bring another one back to The Heights."
Boston College forward Alex Carpenter
"All year our mindset has been not worrying about happened last year. We're focused on one game at a time. We're worried about playing UConn today. We'll focus on playing either Northeastern or BU tomorrow. We're just focused on what lies ahead, not what happened."
"It's just not getting nervous when you're either tied or down by a goal. The game's going to change drastically over the course of 60 minutes and it's just keeping our heads going forward and trying to put a few in."
Boston College forward Meghan Grieves
"As a line, before a game, we try to talk about doing the little things that Coach asks us, always getting ready to get in deep. And also working hard as a line, forechecking and backchecking hard. We just all come together before the game and make sure we have our goals set and go out and work hard."
"Some of the younger kids on the team do a really good job as if they were veteran players. We have some really, really good young talent, so it's exciting."
HOW IT HAPPENED
1st, 15:21 // 1-0 - BC GOAL (PPG): On the power-play, the puck wrapped around the goal, where Makenna Newkirk shoveled a pass ahead to Alex Carpenter just ahead of her behind the goal line. Carpenter looked up and connected a short pass ahead with Haley Skarupa at the hash marks and Skarupa rifled home her 11th power-play goal of the season.
2nd, 7:29 // 2-0 - BC GOAL: Off Tori Sullivan's faceoff win in front of Katie Burt, Meghan Grieves picked up the puck and raced cross-ice up along the boards in front of the Eagles' bench. She beat the UConn defense into the zone and ripped a wrist shot from just past the faceoff dot, beating Chuli low for the Eagles' second goal.
2nd, 16:00 // 2-1 - UCONN GOAL: Margaret Zimmer picked the puck up off the boards in front of the Eagles' zone and sent Theresa Knutson in for a 2-on-1 chance. Knutson kept the puck and shot it from the top of the faceoff circle, beating Burt high after her shot kicked in from the underside of the crossbar.
3rd, 00:58 // 2-2 - UCONN GOAL: The Huskies won the defensive-zone faceoff and set the puck around the back of the goal. Zimmer played a short pass ahead, where Justin Fredette got on the end after it found space between a pair of BC skaters. She carried it into the Eagles' zone, snuck between a pair of defenders and popped the puck over Burt's poke-check as she crossed through the crease.
3rd, 4:44 // 3-2 - BC GOAL (PPG): Newkirk sent Kent into the neutral zone and she gained the blue line before wrapping a pass behind the goal. Carpenter picked it up on the opposite halfboards and skated into space by the bottom of the faceoff circle. Her initial shot was blocked, but she picked up the rebound and pocketed her 39th goal of the season
3rd, 7:47 // 4-2 - BC GOAL: BC re-gained the two-goal cushion as a Knutson penalty expired. Sullivan won the faceoff in the Huskies' zone and Grieves collected the puck and skated around the back of the net. Her initial shot kicked out in traffic, but Kristyn Capizzano collected up the rebound and shoveled it past Elaine Chuli for the 4-2 lead.
GAME NOTES
Team Notes
- Boston College has advanced to its third-straight Hockey East Championship game with today's victory ... this will be the Eagles' sixth appearance in the title game, with the program's lone championship coming in 2011
- The Eagles are now 37-0-0 on the season, and have extended their program record for wins in a season ... the previous mark was 34 in 2014-15
- BC is now 13-9 all-time in the Hockey East tournament, including a 6-4 mark in the semifinal round
- Tonight's four goals brought the season's goal total to 199 goals, most in program history ... BC's 199 goals represent the seventh-highest scoring output by a team in NCAA history
- BC tallied a pair of power-play goals for the second-straight game and at least two goals on the man-advantage for the fifth time in the last six games they've had at least one power-play opportunity
- BC now has 43 power-play goals this season, extending the best single-season total in program history
- Today marked the 33rd time in 37 games that BC has scored at least four goals
- BC still has yet to surrender a power-play goal in a non-conference action this season, and is now 40-for-40
Player Notes
- Four players recorded multiple-point days: Alex Carpenter (one goal, one assist), Meghan Grieves (one goal, one assist), Makenna Newkirk (two assists) and Tori Sullivan (two assists)
- Carpenter recorded her first multi-point game since Feb. 19 when she had three points against Providence ... she now has 79 points on the season from 39 goals and a nation-leading 40 assists
- Carpenter's goal was her ninth power-play goal of the season and the 26th power-play goal of her career, a school record
- With 39 goals this season, Carpenter has tied the school record for goals in a single season, matching the total set by Erin Magee '99 in 1995-96
- Carpenter's goal was also the game-winning goal, her school-record 27th game-winning goals ... on the season, she has eight which shares the national lead
- Haley Skarupa tallied her 11th power-play goal of the season ... that is the second-highest single-season total in program history behind Deb Spillane, who netted 12 in 2004-05
- Skarupa pushed her season goal-scoring total to 31 goals, matching her then-career best total of 31 that she registered as a junior in 2014-15
- Skarupa pushed her season scoring line vs. UConn to eight points (5 goals, 3 assists) and her career scoring line to 19 points (10 goals, 9 assists) in 13 games
- Skarupa now has 69 points on the season from 31 goals (fourth-most nationally) and 38 assists (second-most nationally)
- Meghan Grieves' goal was her 11th goal of the season and her career total to 22 goals ... today marked the second-straight game in which Grieves tallied a goal
- The assist on Skarupa's first-period goal was also Carpenter's 17th power-play assist of the season - most in the nation - and pushed her power-play scoring line to 25 points, most in the nation
- Kristyn Capizzano netted her eighth goal of the season as an insurance tally in the third period ... she now has 29 points on the season ... Capizzano's goal was her 30th career goal
- Makenna Newkirk tallied two assists to push her season point total to 47 points, tied for third on the team ... she has 21 goals, most in the nation by a freshman, and 26 assists
- Newkirk's 47 points are now just two back of the national scoring lead among freshman, currently held by Minnesota's Sarah Potomak (49 points)
- Newkirk has now tied Allie Thunstrom '10 and Jen Buckley '01 for the third-highest point total by a freshman in program history ... Kelli Stack '11 (54 points) and Skarupa (53 points) have the two highest by BC freshmen
- Tori Sullivan now has 17 assists this season, matching her freshman year total ... this was her first multiple-point game since Jan. 19 when she had a pair of assists in the 2-0 win at Harvard
- Katie Burt moved to 6-1 in her career in the Hockey East tournament with her 20-save effort
THREE STARS
1. Alex Carpenter, BC
2. Meghan Grieves, BC
3. Justine Fredette, UConn
TEAM RECORDS
Connecticut: 17-15-5, 11-10-3 HEA
Boston College: 37-0-0, 24-0-0 HEA
UP NEXT
Today's win sends the Eagles into the championship game of the Hockey East Tournament, where they will face the winner of the other semifinal featuring No. 6 Northeastern and Boston University, which was set to start at 4:30 p.m. at Lawler Rink. The championship will be played tomorrow, Sunday, March 6, at 1:30 p.m. at Lawler Rink. American Sports Network will televise the game live nationally on its various regional partners, while NESN will air the game on a tape-delayed basis at 5 p.m.