Saturday, October 31, 2015
Boston College Sweeps UConn With 4-0 Win
Sophomore defensemen Kali Flanagan and Megan Keller each post goal and two assists for Eagles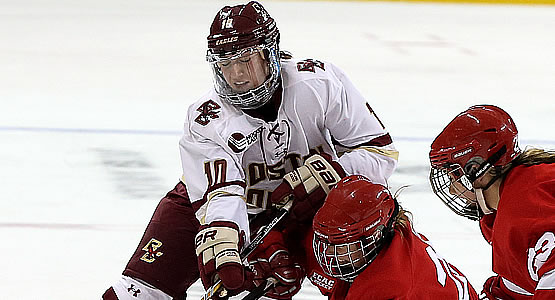 Sophomore defenseman Kali Flanagan had a goal and two assists for the Eagles
| | | | | | | |
| --- | --- | --- | --- | --- | --- | --- |
| Prd | Time | Team | Score | Type | Scored By | Assists |
| 2nd | 4:42 | BC | 1-0 | EV GW | Megan Keller (5) | Kali Flanagan/9, Kenzie Kent/8 |
| 2nd | 19:47 | BC | 2-0 | PP | Haley Skarupa (6) | Megan Keller/6, Kali Flanagan/10 |
| 3rd | 3:20 | BC | 3-0 | PP | Kenzie Kent (3) | Alex Carpenter/9, Megan Keller/7 |
| 3rd | 10:37 | BC | 4-0 | EV | Kali Flanagan (1) | Kristyn Capizzano/6, Haley Skarupa/13 |
| | | | | |
| --- | --- | --- | --- | --- |
| Scoring | 1st | 2nd | 3rd | Final |
| Boston College | 0 | 2 | 2 | 4 |
| Connecticut | 0 | 0 | 0 | 0 |
| | | | | |
| --- | --- | --- | --- | --- |
| Shots on Goal | 1st | 2nd | 3rd | SOG |
| Boston College | 22 | 14 | 9 | 45 |
| Connecticut | 2 | 5 | 4 | 11 |
| | | | |
| --- | --- | --- | --- |
| Team Stats and Records | PP | PIM | SHGF |
| Boston College (10-0-0) | 2/4 | 4/8 | 0 |
| Connecticut (3-3-2) | 0/3 | 5/10 | 0 |
| | | | | | | |
| --- | --- | --- | --- | --- | --- | --- |
| Boston College Goaltending | MIN | GA | 1 | 2 | 3 | Saves |
| Katie Burt (W, 9-0-0) | 59:58 | 0 | 2 | 5 | 4 | 11 |
| Empty Net | 0:02 | 0 | | | | |
| | | | | | | |
| --- | --- | --- | --- | --- | --- | --- |
| Connecticut Goaltending | MIN | GA | 1 | 2 | 3 | Saves |
| Elaine Chuli (L, 1-3-1) | 60:00 | 4 | 22 | 12 | 7 | 41 |
STORRS, Conn. - The UConn women's ice hockey team moved to a 3-3-2 overall record after facing another 4-0 deficit to No. 2 Boston College on Saturday. The Huskies went 0-2 against the Eagles this series, making them 0-3 in conference play. All three conference losses were to ranked opponents.
Senior goaltender Elaine Chuli (Waterford, Ont.) recorded 41 saves in Saturday's match against the ranked Eagles, in addition to her record breaking 59 saves on Friday, for an impressive 100 total saves in the two games against BC.
UConn held Boston College to a 0-0 score going into the first intermission. This was the first time the Eagles had not scored a goal in the first period all season. Chuli recorded 22 saves to shutout BC in the first frame.
Boston College scored two goals in each of the remaining periods to claim another 4-0 win over the Huskies. The Eagles scored early into the middle frame to make it 1-0, and UConn maintained the one-score game until the last fifteen second of the period when BC netted one on the power play.
The Eagles held a 2-0 lead going into the second break, one less goal than Friday's game, where UConn was down by three goals heading into the third.
BC got another one off a power play three minutes into the third, and then sealed the deal with an even strength, 5-on-5 goal to make it 4-0 with less than ten minutes to play.
UConn held Boston College to its minimum number of goals scored per game. The No. 2 ranked Eagles average 5-plus goals per game, and have yet to play a game this season where they have scored less than four goals.
Boston College outshot UConn 45-11. BC goaltender Katie Burt snagged all 11 saves for the Eagles for her second shutout of the weekend third straight shutout in a row.
The Huskies will return to the Freitas Ice Forum to host two opponents, including conference newcomer Merrimack on Saturday, Nov. 7 at 2 p.m. and New Hampshire on Sunday, Nov. 8 at 2 p.m.