Saturday, February 20, 2016
Anastos Hat Trick Helps Boston College Topple Providence, 9-1
Junior forward Andie Anastos posts hat trick and assist for Eagles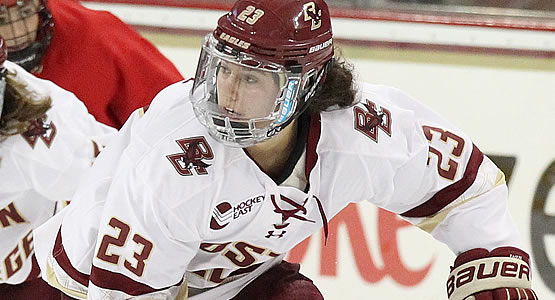 Junior forward Andie Anastos posts hat trick and assist for Eagles
| | | | | | | |
| --- | --- | --- | --- | --- | --- | --- |
| Prd | Time | Team | Score | Type | Scored By | Assists |
| 1st | 14:59 | BC | 1-0 | EV | Andie Anastos (12) | Makenna Newkirk/22, Kaliya Johnson/12 |
| 1st | 17:50 | BC | 2-0 | EV GW | Kenzie Kent (13) | Lexi Bender/23, Haley Skarupa/37 |
| 2nd | 4:16 | BC | 3-0 | PP | Lexi Bender (6) | Toni Ann Miano/17, Andie Anastos/20 |
| 2nd | 6:43 | PRV | 1-3 | PP | Cassidy Carels (9) | Cassidy MacPherson/10, Lexi Romanchuk/12 |
| 2nd | 7:08 | BC | 4-1 | EV | Toni Ann Miano (8) | Dana Trivigno/27 |
| 2nd | 13:51 | BC | 5-1 | PP | Haley Skarupa (28) | Megan Keller/32, Kenzie Kent/22 |
| 3rd | 6:02 | BC | 6-1 | EV | Andie Anastos (13) | Dana Trivigno/28 |
| 3rd | 8:26 | BC | 7-1 | EV | Haley Skarupa (29) | - |
| 3rd | 9:09 | BC | 8-1 | EV | Andie Anastos (14) | Toni Ann Miano/18, Kali Flanagan/18 |
| 3rd | 19:40 | BC | 9-1 | PP | Ryan Little (1) | Alex Carpenter/38, Grace Bizal/10 |
| | | | | |
| --- | --- | --- | --- | --- |
| Scoring | 1st | 2nd | 3rd | Final |
| Boston College | 2 | 3 | 4 | 9 |
| Providence | 0 | 1 | 0 | 1 |
| | | | | |
| --- | --- | --- | --- | --- |
| Shots on Goal | 1st | 2nd | 3rd | SOG |
| Boston College | 11 | 18 | 15 | 44 |
| Providence | 8 | 5 | 8 | 21 |
| | | | |
| --- | --- | --- | --- |
| Team Stats and Records | PP | PIM | SHGF |
| Boston College (34-0-0) | 3/5 | 3/6 | 0 |
| Providence (10-22-2) | 1/3 | 5/10 | 0 |
| | | | | | | |
| --- | --- | --- | --- | --- | --- | --- |
| Boston College Goaltending | MIN | GA | 1 | 2 | 3 | Saves |
| Katie Burt (W, 29-0-0) | 60:00 | 1 | 8 | 4 | 8 | 20 |
| | | | | | | |
| --- | --- | --- | --- | --- | --- | --- |
| Providence Goaltending | MIN | GA | 1 | 2 | 3 | Saves |
| Sarah Bryant (L, 0-7-0) | 27:08 | 4 | 9 | 3 | 0 | 12 |
| Allie Morse | 21:18 | 3 | 0 | 12 | 3 | 15 |
| Madison Myers | 11:34 | 2 | 0 | 0 | 8 | 8 |
PROVIDENCE, R.I. - The Providence College women's hockey team was defeated by No. 1 Boston College, 9-1. The Friars moved to 10-22-2 (6-16-2 WHEA) and the Eagles improved to 34-0-0 (24-0-0 WHEA).
Boston College struck twice in the first period, with a goal from Andie Anastos at 14:59 and from Kenzie Kent at 17:50.
The Eagles added two power play goals in the second period. Lexi Bender scored BC's first power play goal at 4:16 in the second.
Cassidy Carels (Bruxelles, Manitoba) notched her 70th career point with a power play goal at 6:43. Lexi Romanchuk (San Jose, Calif.) moved the puck from the center point to Cassidy MacPherson (Oakville, Ontario) along the half-wall, and then down to Carels along the goal line. Alone with the puck, Carels lifted the puck over BC's Katie Burt's shoulder and into the net.
Boston College struck back 21 seconds later with a goal from Toni Ann Miano. Haley Skarupa added the Eagles fifth goal at 13:51 of the second.
The Eagles made it 6-1 with 13:58 remaining in the third period when Anastos scored her second of the game. Two minutes later Skarupa scored her second of the game. Anastos completed her hat trick at 9:09 in the third.
BC's Ryan Little scored with 20 seconds remaining, to finish the game.
Sarah Bryant (Bethlehem, Pa.) started for the Friars and made 12 saves in 27:08 minutes. Allie Morse (Cottage Grove, Minn.) played 21:18 minutes and made 15 saves. Madison Myers (Colchester, Vt.) played 11:34 and made eight saves.
Next up for the Friars is the Hockey East Quarter finals, played at campus sites. Depending on the rest of the weekend's Hockey East games will finalize where the Friars will play the best of three series.