Wednesday, November 25, 2015
Skarupa's Five Points Help Boston College Topple Providence, 9-1
Senior forward Haley Skarupa has hat trick and two assists for Eagles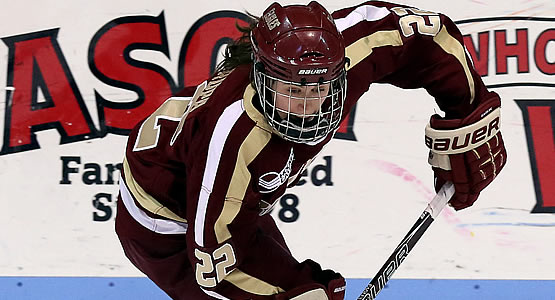 Senior forward Haley Skarupa had a hat trick and two assists for the Eagles
| | | | | | | |
| --- | --- | --- | --- | --- | --- | --- |
| Prd | Time | Team | Score | Type | Scored By | Assists |
| 1st | 4:40 | BC | 1-0 | EV | Makenna Newkirk (10) | Dana Trivigno/11, Kristyn Capizzano/13 |
| 1st | 10:21 | BC | 2-0 | EV GW | Haley Skarupa (11) | Alex Carpenter/14, Kenzie Kent/9 |
| 2nd | 4:03 | BC | 3-0 | EV | Alex Carpenter (20) | Haley Skarupa/17, Megan Keller/12 |
| 2nd | 5:38 | BC | 4-0 | PP | Haley Skarupa (12) | Alex Carpenter/15, Megan Keller/13 |
| 2nd | 6:53 | BC | 5-0 | SH | Kristyn Capizzano (5) | Dana Trivigno/12, Kaliya Johnson/5 |
| 2nd | 19:59 | BC | 6-0 | EV | Meghan Grieves (5) | Tori Sullivan/7, Grace Bizal/2 |
| 3rd | 1:41 | PRV | 1-6 | PP | Cassidy Carels (2) | Christina Putigna/9, Brooke Boquist/3 |
| 3rd | 8:04 | BC | 7-1 | EV | Haley Skarupa (13) | Alex Carpenter/16, Kenzie Kent/10 |
| 3rd | 12:52 | BC | 8-1 | EV | Haley McLean (1) | Molly Slowe/1, Ryan Little/1 |
| 3rd | 17:20 | BC | 9-1 | EV | Kenzie Kent (4) | Grace Bizal/3, Haley Skarupa/18 |
| | | | | |
| --- | --- | --- | --- | --- |
| Scoring | 1st | 2nd | 3rd | Final |
| Providence | 0 | 0 | 1 | 1 |
| Boston College | 2 | 4 | 3 | 9 |
| | | | | |
| --- | --- | --- | --- | --- |
| Shots on Goal | 1st | 2nd | 3rd | SOG |
| Providence | 5 | 6 | 7 | 18 |
| Boston College | 15 | 20 | 17 | 52 |
| | | | |
| --- | --- | --- | --- |
| Team Stats and Records | PP | PIM | SHGF |
| Providence (3-10-0) | 1/4 | 4/8 | 0 |
| Boston College (16-0-0) | 1/4 | 4/8 | 1 |
| | | | | | | |
| --- | --- | --- | --- | --- | --- | --- |
| Providence Goaltending | MIN | GA | 1 | 2 | 3 | Saves |
| Madison Myers (L, 2-5-0) | 26:53 | 5 | 13 | 4 | 0 | 17 |
| Alanna Serviss | 33:07 | 4 | 0 | 12 | 14 | 26 |
| | | | | | | |
| --- | --- | --- | --- | --- | --- | --- |
| Boston College Goaltending | MIN | GA | 1 | 2 | 3 | Saves |
| Gabriella Switaj (W, 3-0-0) | 60:00 | 1 | 5 | 6 | 6 | 17 |
CHESTNUT HILL, Mass. - Fourteen different Eagles recorded at least one point - headlined by Haley Skarupa's fifth career hat trick - as the second-ranked Boston College women's hockey team topped Providence, 9-1, on Wednesday afternoon.
The win improved the Eagles' record to 16-0-0 on the season and 10-0-0 in Hockey East play. Providence fell to 3-10-0 overall and 3-6-0 in conference action.
BC had a 2-0 lead after the first period, but a four-goal second stanza put the game out of reach for the Friars, who broke Gabri Switaj's shutout bid with a power-play goal early in the third period.
#2 Boston College 9, Providence 1
Kelley Rink at Conte Forum // Chestnut Hill, Mass.
Wednesday, November 25, 2015
BC HIGHLIGHTS
- 14 different Eagles recorded points today, the most in a game this season
- The Eagles' top line recorded 12 points, with five from Haley Skarupa - including the hat trick - four from Alex Carpenter and three from Kenzie Kent ... the line had five of the Eagles' nine goals
- Gabri Switaj improved to 3-0-0 on the season with the 17-save performance in goal
QUOTABLES
Head coach Katie Crowley
"Today we were able to play all four lines and everyone got in. They did a great job. Some of those kids haven't seen a lot of ice time. I thought in this game they were really good so I was excited to see that. I was also excited to see everyone working together. I thought we were really good on turnovers - if we made them or they made them - adjusting, and we're going to need that when we play (fourth-ranked) Northeastern (on Saturday) in their rink. It's a big game for us on Saturday and we have to be focused and ready to go. I thought we passed the puck really well today, handled pucks well. Hopefully we continue to do that on Saturday."
HOW IT HAPPENED
1st, 4:40 // 1-0 - BC GOAL: Dana Trivigno played Kristyn Capizzano in for a quick shot, which was saved. Trivigno picked up the rebound and fed Makenna Newkirk coming in hard on the far side, where the freshman beat Madison Myers high with the goaltender down from the original shot.
1st, 10:21 // 2-0 - BC GOAL: Lexi Bender found Kenzie Kent along the half boards, who played Haley Skarupa at center ice. The winger found Carpenter near the blue line and she skated deep in the zone before playing a pass back to Skarupa skating into the slot for the re-direction.
2nd, 4:03 // 3-0 - BC GOAL: Megan Keller started the play deep in the Eagles zone, playing the puck up to Carpenter at center ice near the BC bench. Carpenter fed Skarupa into the Friars' zone before she got the puck back and beat Myers high.
2nd, 5:38 // 4-0 - BC GOAL (PPG): With the puck on the perimeter, Keller cycled out toward the boards and Carpenter replaced her at the point, skated in and launched a shot that was re-directed by Skarupa down low in front of the goal.
2nd, 6:53 // 5-0 - BC GOAL (SHG): While down a player, Trivigno took the faceoff and won the draw over to Kaliya Johnson, who returned the puck back to Trivigno. She broke up the boards on a two-on-one with Capizzano. Trivigno's initial shot was saved, but Capizzano poked in the rebound.
2nd, 19:59 // 6-0 - BC GOAL: Grace Bizal played the puck up the boards to Meghan Grieves, she skated in and fed Tori Sullivan behind the goal. Her quick pass found Grieves in front for the deflection just before the second intermission horn.
3rd, 1:41 // 6-1 - PC GOAL (PPG): Providence cycled the puck around and after Gabri Switaj saved Christina Putigna's shot, Cassidy Carels ended up with the puck and beat Switaj.
3rd, 8:04 // 7-1 - BC GOAL: Skarupa collected the hat trick when she sent Carpenter's centering pass in past Alanna Serviss. Kent got the play going, finding Carpenter at the blue line with space. Carpenter skated the wing and slid a pass under the defender, finding Skarupa at the doorstep
3rd, 12:52 // 8-1 - BC GOAL: Haley McLean scored her first goal of the season. Ryan Little skated the puck off the boards near the point, skated toward the far face-off circle. Her shot was saved and Molly Slowe got the quick rebound for McLean, who slid in and lifted the puck up over Serviss.
3rd, 17:20 // 9-1 - BC GOAL: Skarupa played the puck to the point where Bizal's shot was deflected wide of goal and Kent was on the doorstep for the tap-in
GAME NOTES
- Boston College won its 12th straight game against Providence
- A total of 14 BC skaters recorded points tonight, the most in a single game this season
- BC's nine goals are the most the Eagles have scored this season, and the team's highest total since defeating Northeastern 9-1 on Jan. 11, 2015
- Haley Skarupa recorded her fifth career hat trick with her three-goal, two assist effort today ... it was her first hat trick since Feb. 16, 2014 at Maine ... it was BC's fifth hat trick this season (three by Alex Carpenter, one by Makenna Newkirk)
- Skarupa pushed her career point total to 196 points (93 goals, 103 assists) ... she is just four points shy of 200 career points ... when she hits 200 points, she will become just the third BC women's hockey player to reach that mark and the seven hockey player - men or women - to reach the 200-point plateau
- Skarupa's 18 assists are tied for second nationally, while her 31 points are fifth-most nationally
- Skarupa's second goal was her 16th-career power-play goal, moving her into a tie for seventh place on the BC career power-play goal chart
- Carpenter regained the national point lead with her four-point afternoon ... her 20 goals on the season are second nationally, and her 16 assists are tied for the fourth-highest total nationally
- Kenzie Kent snapped her five-game pointless streak with her first three-point game of the season and best game since a four-point effort against Harvard on Nov. 28, 2014
- With her assist on Skarupa's first goal, Kent collected her 50th career point ... she is the 35th player in BC history to reach the 50-point plateau
- Four players recorded two points: Grace Bizal, Megan Keller, Dana Trivigno and Kristyn Capizzano
- Bizal recorded her first-ever two-point night, with both coming on assists ... they were her second and third assists of the season and her first since Oct. 12
- Keller collected her first multiple-point game since a three-point outing at Connecticut on Oct. 31 ... it was her fifth multi-point game of the season
- Trivigno extended her point streak to seven games with her two-assist effort ... during that run, she has registered 13 points to bring her season total to 16 points ... she now has 107 career points and is just six points back of 10th place on the BC career scoring chart (113, Mary Restuccia '12) .. Trivigno also moved into a tie for 10th place on the BC career assist chart ... she now has 63 career assists and is tied with Jennifer Buckley '01.
- Kristyn Capizzano extended her point streak to nine games, the team's longest active streak ... she now has 18 points through 16 games, four shy of her 22-point total in 38 games last season
- Capizzano's shorthanded goal was the first shorthanded goal of her BC career
- The Eagles' third line - Ryan Little, Molly Slowe and Haley McLean - all picked up their first points of the season on McLean's third-period goal ... it was McLean's 20th career point, and the first career points for both Little and Slowe.
- Makenna Newkirk scored her 10th goal this season, extending her national goal-scoring lead among freshmen
- Gabri Switaj improved to 3-0-0 this season while making her third start of the campaign ... she lowered her goals against average to 1.67 with the one-goal performance today ... she is now 5-0-0 in her career in four starts
- The win extended the Eagles' program-best start to 16-0-0 ... this is the deepest in a season BC has remained perfect in program history
- BC extended its home unbeaten run to 44 games (43-0-1) that dates back to Oct. 16, 2013
- BC is now undefeated in its last 35 Hockey East conference games, dating back to the 2013-14 season ... in this current run, the Eagles are 34-0-1 since a 2-0 loss at Connecticut on Feb. 8, 2014
TEAM RECORDS
Providence: 3-10-0, 3-6-0 HEA
Boston College: 16-0-0, 10-0-0 HEA
UP NEXT
Boston College returns to action on Saturday, Nov. 28, when the team heads into Boston to face fourth-ranked Northeastern at Matthews Arena. Puck drop is set for 2 p.m., and the Huskies will stream the game live on gonu.com.