Carpenter's Five Points Lead Boston College Past St. Lawrence, 7-4
Senior forward Alex Carpenter posts goal and four assists for Eagles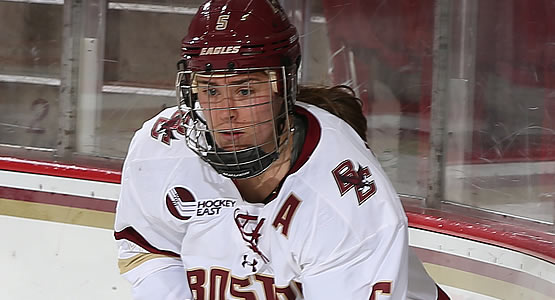 Senior forward Alex Carpenter had a goal and four assists for the Eagles
| | | | | | | |
| --- | --- | --- | --- | --- | --- | --- |
| Prd | Time | Team | Score | Type | Scored By | Assists |
| 1st | 7:57 | BC | 1-0 | EV | Toni Ann Miano (1) | Alex Carpenter/1, Kenzie Kent/3 |
| 1st | 19:52 | BC | 2-0 | PP | Megan Keller (2) | Alex Carpenter/2, Haley Skarupa/3 |
| 2nd | 0:17 | BC | 3-0 | EV | Alex Carpenter (5) | Lexi Bender/2, Kenzie Kent/4 |
| 2nd | 1:43 | STL | 1-3 | EV | Nadine Edney (1) | Justine Reyes/1, Dominique Korakianitis/1 |
| 2nd | 8:28 | STL | 2-3 | EV | Dominique Korakianitis (1) | Hannah Miller/2, Amanda McClure/1 |
| 2nd | 19:28 | BC | 4-2 | PP | Haley Skarupa (1) | Megan Keller/2, Kali Flanagan/1 |
| 3rd | 3:16 | BC | 5-2 | PP GW | Megan Keller (3) | Alex Carpenter/3 |
| 3rd | 3:24 | BC | 6-2 | EV | Tori Sullivan (1) | Meghan Grieves/3, Andie Anastos/1 |
| 3rd | 7:24 | STL | 3-6 | EV | Lydia Grauer (1) | - |
| 3rd | 14:39 | STL | 4-6 | EV | Abbey McRae (1) | Amanda McClure/2 |
| 3rd | 18:53 | BC | 7-4 | EV EN | Makenna Newkirk (1) | Alex Carpenter/4 |
| | | | | |
| --- | --- | --- | --- | --- |
| Scoring | 1st | 2nd | 3rd | Final |
| St. Lawrence | 0 | 2 | 2 | 4 |
| Boston College | 2 | 2 | 3 | 7 |
| | | | | |
| --- | --- | --- | --- | --- |
| Shots on Goal | 1st | 2nd | 3rd | SOG |
| St. Lawrence | 3 | 12 | 9 | 24 |
| Boston College | 19 | 13 | 13 | 45 |
| | | | |
| --- | --- | --- | --- |
| Team Stats and Records | PP | PIM | SHGF |
| St. Lawrence (0-4-1) | 0/2 | 7/14 | 0 |
| Boston College (3-0-0) | 3/7 | 2/4 | 0 |
| | | | | | | |
| --- | --- | --- | --- | --- | --- | --- |
| St. Lawrence Goaltending | MIN | GA | 1 | 2 | 3 | Saves |
| Sonjia Shelly (L, 0-3-0) | 57:24 | 6 | 17 | 11 | 10 | 38 |
| Empty Net | 2:36 | 1 | | | | |
| | | | | | | |
| --- | --- | --- | --- | --- | --- | --- |
| Boston College Goaltending | MIN | GA | 1 | 2 | 3 | Saves |
| Katie Burt (W, 3-0-0) | 59:50 | 4 | 3 | 10 | 7 | 20 |
| Empty Net | 0:10 | 0 | | | | |
CHESTNUT HILL, Mass. - Alex Carpenter recorded five points and Megan Keller scored two goals to help lift the No. 2 Boston College women's hockey team to a 7-4 win over St. Lawrence on Sunday afternoon. Carpenter and Keller were among the four Eagles who recorded multiple-point games as BC out-shot the Saints 45-24 in the game.
#2 Boston College 7, St. Lawrence 4
Kelley Rink, Chestnut Hill, Mass.
Sunday, October 11, 2015
BC HIGHLIGHTS
- BC went 3-for-7 on the power play, scoring three goals with the extra skater for the first time since Nov. 15, 2014
- Alex Carpenter scored five points on one goal and four assists, factoring in five of the team's seven goals
- Megan Keller scored two goals, both on the power play, the first multiple-goal game of the blueliner's career
- Haley Skarupa scored her first goal of the season - a power-play goal - in the second period and also added an assist
- Four of the Eagles' six defensemen recorded points today
QUOTABLES
Head coach Katie Crowley
"It was an ugly win. There were some fluke things that happened to us, but I think we have to clean things up a little bit. We're making some mistakes where we're getting a little too ahead of ourselves. I think we need to step it back and relax a little bit and chill out. We'll work on those things and try to show some video and try to get better ... We knew (St. Lawrence) was going to come at us hard. They're feisty and they never quit. And that's a team you're going to have to be on your game for a full 60 minutes. Our kids are learning that; you can't take a shift off, you can't a period off. So they're starting to figure that out."
HOW IT HAPPENED
- BC scored two goals in the first, two in the second and three in the third, while St. Lawrence struck for two goals in the second and third periods
- Defenders Toni Ann Miano and Megan Keller put BC up 2-0 headed into the first period, with Miano pocketing her rebound, while Keller stuck on the power play with :08 left in the first period
- Alex Carpenter scored from the slot to push the score to 3-1 just :17 into the second period
- St. Lawrence drew within one goal when Nadine Edney (1:43) and Dominque Korakianitis (8:28) scored in the second period.
- Haley Skarupa converted the Eagles' second power-play goal at 19:28 of the second period to push the BC lead back to two goals
- Keller scored again - this time slotting home a pass from Carpenter on a break on the power play - at 3:16 of the third period, and eight seconds later at 3:24, Tori Sullivan scored her first of the season while converting a sequence started by Andie Anastos and Meghan Grieves in their own end
- St. Lawrence again clawed back with a pair of goals - at 7:24 and 14:39 - by Lydia Grauer and Abbey McRae, respectively, but Makenna Newkirk scored her first collegiate goal at 18:53 when the Saints pulled goaltender Sonjia Shelly
GAME NOTES
- Alex Carpenter's five points moved her career total to 199 ... today she moved into second place on the BC career scoring chart, passing Erin Magee '99, who had 198 career points ... Carpenter is now just 10 points back of Kelli Stack's '11 career record of 209 points
- Carpenter now has 95 career goals and 104 career assists ... she sits third on the career goals list and second on the assist chart
- Boston College's seven goals were the team's most this season so far, and most since scoring eight against Providence in game 2 of the 2014 Hockey East Quarterfinals on Feb. 28, 2014
- BC's three power-play goals were the team's most in a single game since also scoring three against New Hampshire on Nov. 15, 2014 ... overall, BC went 3-for-7 with the extra skater
- BC allowed four goals for the first time since falling 4-1 to Boston University in the Hockey East Championship on March 8, 2015
- Megan Keller's two-goal outing was the first multi-goal game of her career ... she now has seven career goals, three of which she has scored in the first three games of the 2015-16 season
- Kenzie Kent recorded her ninth career two-assist game
- Haley Skarupa scored her 81st career goal today, her first of the season ... she is now five goals back of fourth place on the BC career goals chart behind Allie Thunstrom (86)
- Toni Ann Miano and Tori Sullivan both scored their first goals of the season today ... Miano now has five career goals, while Sullivan has 12
- Makenna Newkirk became the first BC freshman to score a goal this season ... she now has three points, picking up one point in each of the Eagles' three games
- Meghan Grieves extended her point streak to three games when she picked up the primary assist on Tori Sullivan's goal in the third period ... she has one assist in each game this season
- Kali Flanagan also picked up her first point of the season today ... it was her first assist since Feb. 27, 2014 and the seventh of her career
- BC's home unbeaten run is now 36 games, including 30 straight wins, dating back to Oct. Oct. 19, 2013 ... the last time the Eagles lost at Kelley Rink was Oct. 16, 2013, a 3-1 loss to New Hampshire
THREE STARS
1. Alex Carpenter, BC
2. Megan Keller, BC
3. Sonjia Shelly, SLU
TEAM RECORDS
St. Lawrence: 1-4-0, 0-0-0 ECAC
Boston College: 3-0-0, 0-0-0 HEA
UP NEXT
Boston College and St. Lawrence close their two-game series at Kelley Rink tomorrow, Monday, Oct. 12. Face off is set for 1 p.m. A live stream of the game will be available on bceagles.tv.