Friday, November 13, 2015
Boston College Skates Past New Hampshire, 6-1
Senior forward Haley Skarupa has two goals and assist for Eagles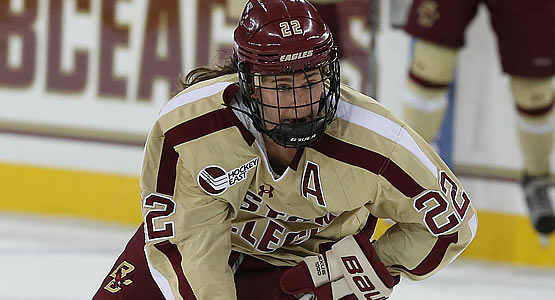 Senior forward Haley Skarupa had two goals and an assist for the Eagles
| | | | | | | |
| --- | --- | --- | --- | --- | --- | --- |
| Prd | Time | Team | Score | Type | Scored By | Assists |
| 1st | 5:11 | BC | 1-0 | PP | Andie Anastos (6) | Makenna Newkirk/8, Dana Trivigno/7 |
| 1st | 6:08 | BC | 2-0 | EV GW | Haley Skarupa (8) | Kristyn Capizzano/8, Kaliya Johnson/4 |
| 2nd | 1:25 | BC | 3-0 | EV | Dana Trivigno (4) | Haley Skarupa/16, Kristyn Capizzano/9 |
| 2nd | 13:40 | UNH | 1-3 | EV | Amy Boucher (4) | - |
| 2nd | 18:19 | BC | 4-1 | EV | Haley Skarupa (9) | Toni Ann Miano/8, Kristyn Capizzano/10 |
| 2nd | 19:33 | BC | 5-1 | EV | Alex Carpenter (18) | Makenna Newkirk/9, Kali Flanagan/11 |
| 3rd | 15:01 | BC | 6-1 | PP | Andie Anastos (7) | Makenna Newkirk/10, Dana Trivigno/8 |
| | | | | |
| --- | --- | --- | --- | --- |
| Scoring | 1st | 2nd | 3rd | Final |
| New Hampshire | 0 | 1 | 0 | 1 |
| Boston College | 2 | 3 | 1 | 6 |
| | | | | |
| --- | --- | --- | --- | --- |
| Shots on Goal | 1st | 2nd | 3rd | SOG |
| New Hampshire | 5 | 8 | 10 | 23 |
| Boston College | 13 | 19 | 8 | 40 |
| | | | |
| --- | --- | --- | --- |
| Team Stats and Records | PP | PIM | SHGF |
| New Hampshire (2-10-0) | 0/1 | 3/6 | 0 |
| Boston College (13-0-0) | 2/3 | 1/2 | 0 |
| | | | | | | |
| --- | --- | --- | --- | --- | --- | --- |
| New Hampshire Goaltending | MIN | GA | 1 | 2 | 3 | Saves |
| Kyra Smith (L, 1-2-0) | 60:00 | 6 | 11 | 16 | 7 | 34 |
| | | | | | | |
| --- | --- | --- | --- | --- | --- | --- |
| Boston College Goaltending | MIN | GA | 1 | 2 | 3 | Saves |
| Gabriella Switaj (W, 2-0-0) | 59:54 | 1 | 5 | 7 | 10 | 22 |
| Empty Net | 0:06 | 0 | | | | |
CHESTNUT HILL, Mass. - Four different players recorded three points as the second-ranked Boston College women's hockey team skated to a 6-1 win over New Hampshire on Friday afternoon at Kelley Rink.
Haley Skarupa scored two goals and added one assist, while Dana Trivigno recorded one goal and added two assists. Makenna Newkirk and Kristyn Capizzano each had three assists on the afternoon. Andie Anastos scored two goals, while Alex Carpenter added a strike.
Gabri Switaj made a career-high 22 saves in her second win of the season for Boston College (13-0-0, 7-0-0 HEA). New Hampshire (2-10-0, 2-6-0 HEA) saw its lone goal from through Amy Boucher.
#2 Boston College 6, New Hampshire 1
Kelley Rink at Conte Forum // Chestnut Hill, Mass.
Friday, November 13, 2015
BC HIGHLIGHTS
- Haley Skarupa and Andie Anastos each tallied two goals, while Skarupa also added an assist to push her nation-leading 16th assist of the season
- Dana Trivigno recorded one goal and two assists
- Both Kristyn Capizzano and Makenna Newkirk collected three assists
- BC went 2-for-2 on the power play, with both goals coming from Anastos
- Gabri Switaj made just her third career start, and made a career-high 22 saves in the win
QUOTABLES
Head coach Katie Crowley
"One thing we talked about was coming into today's game coming off the big win against BU on Tuesday. You're at the high there and not to overlook today's game ... (Andie Anastos, Dana Trivigno and Makenna Newkirk) had two power-play goals and they did a great job out there. (UNH) was very physical on Alex (Carpenter) and her line, and the other three lines did a good job when they were asked to go. That's what we're going to need: people to step up at different times ... I think Gabri (Switaj) did great. In that first period, she didn't see a lot of shots, then in the second and third, she saw a few more. I think there were a few in tight that she a did a great job of getting out of the front of the next so they didn't have another opportunity for a rebound. She's been doing great in practice. We figured it was a good time to give Katie (Burt) a rest, but also a good time to give Gabri a chance to step in and show what's she's got."
HOW IT HAPPENED
1st, 5:11 // 1-0 - BC GOAL (PPG): On the power play, Andie Anastos dug the puck out of the corner and fed Dana Trivigno along the boards. She played Toni Ann Miano at the point, who returned it as Trivigno cut inside. Trivigno found Makenna Newkirk along the goal line on the far side and the freshman connected with Anastos on the edge of the crease for the 1-0 lead.
1st, 6:08 // 2-0 - BC GOAL: Kaliya Johnson threaded a pass through the neutral zone to Kristyn Capizzano, who broke in along the far boards and cut inside. She sent a pass in toward goal through the crease and found Haley Skarupa skating in on the near post for the uncontested re-direction.
2nd, 1:25 // 3-0 - BC GOAL: Toni Ann Miano received the puck at the point and sent it toward goal. Kristyn Capizzano picked it up in front, skated behind the goal and tried a wrap-around shot. The puck was loose in the crease and Haley Skarupa got it over to Dana Trivigno on the other side for the goal through traffic.
2nd, 13:40 // 3-1 - UNH GOAL: The Wildcats' jumped on a loose puck in the neutral zone and Amy Boucher was played into the Eagles' end. Her initial shot was blocked by Kaliya Johnson, but she got on the rebound and found space behind Gabri Switaj for a goal.
2nd, 18:19 // 4-1 - BC GOAL: Haley Skarupa skated to the offensive zone and laid the puck off for Kristyn Capizzano. She skated in with her pass clearing the crease and fing Toni Ann Miano at the point, who sent the puck back in where Skarupa re-directed it past UNH goaltender Krya Smith.
2nd, 19:33 // 5-1 - BC GOAL: Kali Flanagan picked the puck up behind the goal and skated through the Eagles' end, finding Alex Carpenter along the boards. Carpenter sprinted through center ice and into the UNH zone, skating around a UNH defender. She played the puck to Makenna Newkirk, whose backwards, backhanded pass was waiting for Carpenter as she circled around the back of the goal and converted into an open net.
3rd, 15:01 // 6-1 - BC GOAL (PPG): Grace Bizal sent the puck in on goal from the point and it was blocked out to the boards, where Dana Trivigno picked it up and skate down low. She sent the puck around the back of the net to Makenna Newkirk on the other side, who found Andie Anastos on the doorstep for the second time in the game.
GAME NOTES
- Boston College has scored at least four goals in all 13 games this season
- Haley Skarupa's assist on Dana Trivigno's goal was her 16th of the season, a mark that led the nation at the close of the game
- Haley Skarupa's pushed her team-best point streak to 11 games
- Dana Trivigno recorded her second three-point game in the last three contests ... she has seven points in the Eagles' last three games
- Kristyn Capizzano's three assists set a new single-game high ... she entered the game with a previous best of two assists in seven games
- Makenna Newkirk collected her first-career three-assist effort and the fourth three-point game of her career ... she has seven points in the last three games on three goals and four assists
- Andie Anastos registered her fifth career two-goal game and her second of the season ... her first goal was her first power-play goal since Nov. 1, 2014 and her two PPGs today matched both her freshman and sophomore season totals of two each year
- Gabri Switaj drew her second start of the season and collected her second win in as many tries ... she is now 4-0-0 on her career ... her 22 saves bested her previous single-game high of 20, which she made in a 4-3 win over No. 4 Boston University on Jan. 7, 2015
- Alex Carpenter scored her nation-leading 18th goal of the season
- Kali Flanagan recorded her 11th assist of the season, the team's third highest total
- Toni Ann Miano picked up her eighth assist of the year ... she now has 20 on her career
- Kaliya Johnson registered her fourth assist of the season and first since Oct. 24 in an 8-0 win at No. 9 Cornell
- BC won its eighth straight meeting against New Hampshire as it moved its all-time record against UNH to 17-38-5
- UNH's second-period goal was the Wildcats' first goal against BC since Feb. 28, 2014 ... the Eagles had shut out New Hampshire in each of the last four meetings
The win extended the Eagles' program-best start to 13-0-0 ... this is the deepest in a season BC has remained perfect in program history
- The Eagles are now 9-0-0 at home and have extended their home unbeaten streak to 42 games (41-0-1) ... BC's last home loss was Oct. 16, 2013 (3-1 vs. New Hampshire)
- BC is now undefeated in its last 32 Hockey East conference games, dating back to the 2013-14 season ... in this current run, the Eagles are 30-0-1 since a 2-0 loss at Connecticut on Feb. 8, 2014
TEAM RECORDS
New Hampshire: 2-10-0, 2-6-0 HEA
Boston College: 13-0-0, 7-0-0 HEA UP NEXT
Boston College and New Hampshire will play the back end of the teams' home-and-home series on Saturday, Nov. 14, with puck drop set for 2 p.m. at the Whittemore Center in Durham, N.H.