Boston University Defeated By Clarkson, 4-2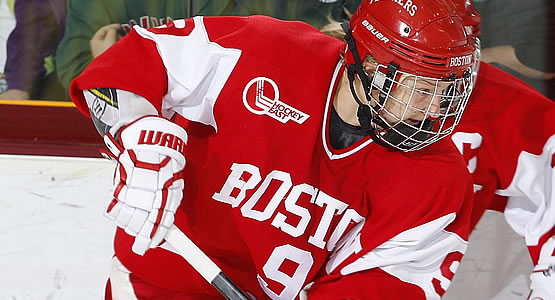 Senior forward Sarah Lefort had two assists for the Terriers
| | | | | | | |
| --- | --- | --- | --- | --- | --- | --- |
| Prd | Time | Team | Score | Type | Scored By | Assists |
| 1st | 18:16 | BU | 1-0 | PP | Kayla Tutino (1) | Sarah Lefort/1, Victoria Bach/5 |
| 2nd | 0:37 | BU | 2-0 | EV | Maddie Elia (1) | Sarah Lefort/2, Victoria Hanson/1 |
| 2nd | 2:28 | CLK | 1-2 | EV | Emma Keenan (1) | - |
| 2nd | 19:52 | CLK | 2-2 | EV | Loren Gabel (3) | - |
| 3rd | 1:28 | CLK | 3-2 | EV GW | Kelly Mariani (3) | Olivia Howe/4, Josiane Pozzebon/1 |
| 3rd | 13:19 | CLK | 4-2 | EV | Cayley Mercer (4) | Renata Fast/3, Savannah Harmon/5 |
| | | | | |
| --- | --- | --- | --- | --- |
| Scoring | 1st | 2nd | 3rd | Final |
| Clarkson | 0 | 2 | 2 | 4 |
| Boston University | 1 | 1 | 0 | 2 |
| | | | | |
| --- | --- | --- | --- | --- |
| Shots on Goal | 1st | 2nd | 3rd | SOG |
| Clarkson | 13 | 17 | 11 | 41 |
| Boston University | 10 | 18 | 6 | 34 |
| | | | |
| --- | --- | --- | --- |
| Team Stats and Records | PP | PIM | SHGF |
| Clarkson (6-0-0) | 0/3 | 6/12 | 0 |
| Boston University (3-2-0) | 1/4 | 5/10 | 0 |
| | | | | | | |
| --- | --- | --- | --- | --- | --- | --- |
| Clarkson Goaltending | MIN | GA | 1 | 2 | 3 | Saves |
| Shea Tiley (W, 5-0-0) | 60:00 | 2 | 9 | 17 | 6 | 32 |
| | | | | | | |
| --- | --- | --- | --- | --- | --- | --- |
| Boston University Goaltending | MIN | GA | 1 | 2 | 3 | Saves |
| Victoria Hanson (L, 2-2-0) | 58:34 | 4 | 13 | 15 | 9 | 37 |
| Empty Net | 1:26 | 0 | | | | |
BOSTON, Mass. - Senior captain Kayla Tutino and junior Maddie Elia each scored their first goal of the season, but the No. 9 Boston University women's ice hockey team suffered a 4-2 setback against No. 4/5 Clarkson on Friday night at Walter Brown Arena.
BU (3-2-0) held a 2-0 lead 37 seconds into the second period, but Clarkson (6-0-0) tallied twice in each of the final two frames to seal the result. Senior Sarah Lefort had a two-point night with a pair of assists, and was joined on the score sheet by sophomore Victoria Bach and junior goaltender Victoria Hanson. In addition to her helper, Hanson made a season-high 37 saves.
With BU on its first power-play chance of the game, Tutino put the Terriers ahead with 1:42 left in a tightly contested first period. Bach got the puck from just behind the goal line and dished it to Lefort, who quickly poked it away from a Clarkson stick and right to Tutino on the left post, who buried it into the wide-open net. It was the first goal the Clarkson penalty kill had allowed in 19 opportunities.
Elia extended the lead to 2-0 just 37 seconds into the second stanza. With the teams playing 4-on-4, Hanson stopped a Clarkson shot and the rebound popped out to Lefort. She pushed it ahead to Elia, who skated up the left wing, deked past a defender and slid the puck under Shea Tiley's (32 saves) pads for her first goal of the season.
Less than two minutes later, Emma Kennan uncorked a shot from the point that had eyes and got past Hanson to make it a 2-1 BU lead. The Terriers were territorially the best team in the middle frame, but the Golden Knights evened the score with less than 10 seconds remaining in the period when Loren Gabel snuck a puck underneath Hanson's pads.
Clarkson took a 3-2 lead 1:28 into the final frame when Kelly Mariani pounced on a rebound from an Olivia Howe shot and lit the lamp. The Terriers had a 5-on-3 power play about midway through the period, but were unable to break through and tie the game. Cayley Mercer added an insurance goal at the 13:19 mark to make it a 4-2 lead for Clarkson.
The two teams will conclude the weekend series on Saturday at 3 p.m.