Saturday, October 17, 2015
Boston University Falls To Clarkson, 4-1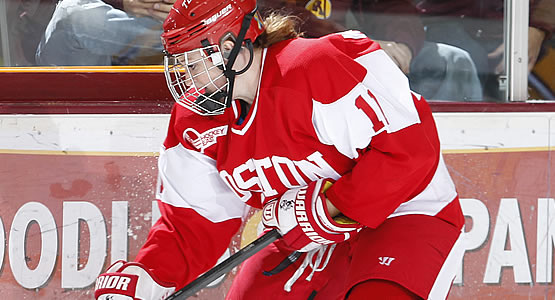 Senior forward Dakota Woodworth had an assist for the Terriers
| | | | | | | |
| --- | --- | --- | --- | --- | --- | --- |
| Prd | Time | Team | Score | Type | Scored By | Assists |
| 1st | 15:54 | CLK | 1-0 | EV | Olivia Howe (3) | Cayley Mercer/6 |
| 2nd | 9:43 | CLK | 2-0 | EV GW | Olivia Howe (4) | Kelly Mariani/2, Cayley Mercer/7 |
| 2nd | 18:34 | BU | 1-2 | EV | Sammy Davis (5) | Dakota Woodworth/1 |
| 3rd | 6:39 | CLK | 3-1 | EV | Geneviève Bannon (1) | Savannah Harmon/6 |
| 3rd | 18:21 | CLK | 4-1 | EV EN | Geneviève Bannon (2) | Loren Gabel/2, Shannon MacAulay/1 |
| | | | | |
| --- | --- | --- | --- | --- |
| Scoring | 1st | 2nd | 3rd | Final |
| Clarkson | 1 | 1 | 2 | 4 |
| Boston University | 0 | 1 | 0 | 1 |
| | | | | |
| --- | --- | --- | --- | --- |
| Shots on Goal | 1st | 2nd | 3rd | SOG |
| Clarkson | 14 | 11 | 16 | 41 |
| Boston University | 7 | 4 | 12 | 23 |
| | | | |
| --- | --- | --- | --- |
| Team Stats and Records | PP | PIM | SHGF |
| Clarkson (7-0-0) | 0/5 | 3/6 | 0 |
| Boston University (3-3-0) | 0/2 | 6/12 | 0 |
| | | | | | | |
| --- | --- | --- | --- | --- | --- | --- |
| Clarkson Goaltending | MIN | GA | 1 | 2 | 3 | Saves |
| Shea Tiley (W, 6-0-0) | 60:00 | 1 | 7 | 3 | 12 | 22 |
| | | | | | | |
| --- | --- | --- | --- | --- | --- | --- |
| Boston University Goaltending | MIN | GA | 1 | 2 | 3 | Saves |
| Erin O'Neil (L, 1-1-0) | 59:36 | 3 | 13 | 10 | 14 | 37 |
| Empty Net | 0:24 | 1 | | | | |
BOSTON - Freshman Sammy Davis scored her team-leading fifth goal of the season, but No. 4/5 Clarkson, bested the No. 9 Boston University women's ice hockey team, 4-1, on Saturday afternoon at Walter Brown Arena.
BU (3-3-0) was within one at 2-1 after 40 minutes, but the Golden Knights scored twice in the third period to improve to 7-0-0. The Terriers still hold the all-time series lead over Clarkson at 5-3-1.
Senior Dakota Woodworth assisted on Davis' goal, while sophomore Erin O'Neil tied her career high with 37 saves, including 14 in the final frame. O'Neil and the Terriers were especially excellent on the penalty kill, keeping Clarkson without a power-play goal on five different occasions, with O'Neil making eight saves in the process.
Clarkson opened the scoring at the 15:54 mark of the first frame when Olivia Howe got a puck past O'Neil. Howe then scored again halfway through the second stanza to give the Golden Knights a 2-0 advantage.
Davis got the Terriers back within one with 1:26 to play in the second period. After the Terriers lost an offensive-zone faceoff, Woodworth picked off a Clarkson pass at the left half-wall and drove to the net. Before she skated behind the cage, she dropped the puck in front for Davis, who buried it from the top of the crease.
The Terriers nearly evened the score early in the final period, but Genevieve Bannon put the game out of reach with her first goal of the season at the 6:39 mark. She added an empty-netter with 1:39 remaining in regulation.
BU will return to Hockey East play next weekend with two games against league foes. The Terriers will first head to Matthews Arena to face crosstown rival Northeastern on Saturday (2 p.m.) before they return to Walter Brown on Sunday to host Vermont (3 p.m.).