Lefort's Four Points Lead Boston University Past UConn, 4-3
Senior forward Sarah Lefort has two goals and two assists for Terriers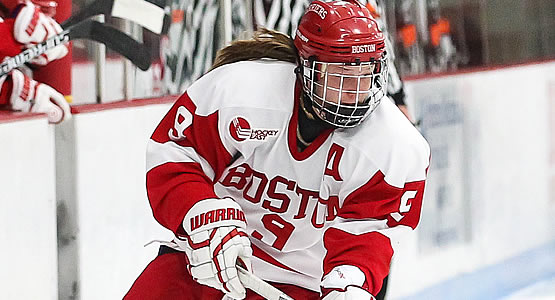 Senior forward Sarah Lefort had two goals and two assists for the Terriers
| | | | | | | |
| --- | --- | --- | --- | --- | --- | --- |
| Prd | Time | Team | Score | Type | Scored By | Assists |
| 1st | 0:37 | BU | 1-0 | EV | Kayla Tutino (5) | Sarah Lefort/12, Victoria Bach/12 |
| 1st | 9:36 | CON | 1-1 | EV | Jordy Zacharias (5) | Caitlin Hewes/2, Justine Fredette/9 |
| 1st | 13:35 | BU | 2-1 | SH | Sarah Lefort (7) | - |
| 2nd | 0:35 | BU | 3-1 | EV DP | Victoria Bach (11) | Sarah Lefort/13 |
| 2nd | 14:17 | CON | 2-3 | PP | Theresa Knutson (7) | Justine Fredette/10, Jaime Fox/3 |
| 3rd | 12:36 | CON | 3-3 | EV | Jordy Zacharias (6) | Theresa Knutson/6 |
| 3rd | 14:20 | BU | 4-3 | EV GW | Sarah Lefort (8) | Victoria Bach/13, Kayla Tutino/10 |
| | | | | |
| --- | --- | --- | --- | --- |
| Scoring | 1st | 2nd | 3rd | Final |
| Connecticut | 1 | 1 | 1 | 3 |
| Boston University | 2 | 1 | 1 | 4 |
| | | | | |
| --- | --- | --- | --- | --- |
| Shots on Goal | 1st | 2nd | 3rd | SOG |
| Connecticut | 7 | 9 | 7 | 23 |
| Boston University | 15 | 15 | 7 | 37 |
| | | | |
| --- | --- | --- | --- |
| Team Stats and Records | PP | PIM | SHGF |
| Connecticut (7-8-3) | 1/5 | 3/6 | 0 |
| Boston University (12-7-1) | 0/2 | 6/12 | 1 |
| | | | | | | |
| --- | --- | --- | --- | --- | --- | --- |
| Connecticut Goaltending | MIN | GA | 1 | 2 | 3 | Saves |
| Elaine Chuli (L, 3-7-1) | 59:55 | 4 | 13 | 14 | 6 | 33 |
| Empty Net | 0:05 | 0 | | | | |
| | | | | | | |
| --- | --- | --- | --- | --- | --- | --- |
| Boston University Goaltending | MIN | GA | 1 | 2 | 3 | Saves |
| Erin O'Neil (W, 8-2-1) | 60:00 | 3 | 6 | 8 | 6 | 20 |
BOSTON, Mass. - Senior Sarah Lefort's game-winner with 5:40 remaining in regulation capped off a four-point afternoon and propelled the Boston University women's ice hockey team to a 4-3 victory over UConn on Sunday afternoon at Walter Brown Arena.
UConn (7-8-3, 3-5-1 WHEA) tied the game, 3-3, with 7:24 to play in the third period before Lefort's heroics secured three of four points for BU (12-7-1, 9-3-1 WHEA) from its weekend series with the Huskies. She also notched a shorthanded goal and assisted on goals from senior captain Kayla Tutino and sophomore Victoria Bach.
Lefort extended her point streak to eight games with her first four-point effort of the season. She has 17 points (7g, 10a) during that stretch and became the fourth Terrier to reach the 20-point plateau this season.
Bach continued her recent stretch of strong play with two assists in addition to her goal. She has tallied eight points (4g, 4a) in the last three games and has factored on the Terriers' last two-game winners.
Tutino also added a helper for a two-point day as the Terriers' top line accounted for all nine points on Sunday. Sophomore Erin O'Neil made 20 saves to improve to 8-2-1 on the season.
The Terriers took a 1-0 lead just 37 seconds into the proceedings. Bach smartly played the puck off the boards for Lefort, and the senior skated up the right wing, creating a 2-on-1 with Tutino. Lefort connected with Tutino, and the senior captain finished for her fifth goal of the season.
UConn answered at the 9:36 mark when Jordy Zacharias tipped home a Caitlin Hewes shot, but the game did not remain level for long as Lefort scored the Terriers' second shorthanded goal of the weekend with 6:25 to play in the opening period. She forced a turnover at the UConn blue line and raced in alone on Elaine Chuli (33 saves). Lefort calmly went five-hole for her seventh goal of the season.
Bach gave BU another quick start 35 seconds into the second stanza when she beat Chuli glove side. The two-goal lead was cut in half when Theresa Knutson scored on a Husky power play at the 14:17 mark of the period, and Knutson assisted on Zacharias' second goal of the game which tied the tilt at 3-3.
A sensational display of stickhandling by Bach led to Lefort's winner. Tutino gained entry into the UConn zone and dropped the puck for Bach. She dangled through the defense before dishing the puck to Lefort at the right post. She knocked in the pass to secure the result for the Terriers.
BU will play one more game before the semester break when it travels to Providence on Wednesday, Dec. 9. Puck drop is scheduled for 7 p.m.