Saturday, November 21, 2015
Boston University Earns Weekend Sweep With 4-2 Win Over Merrimack
Senior forward Sarah Lefort registers three assists for Terriers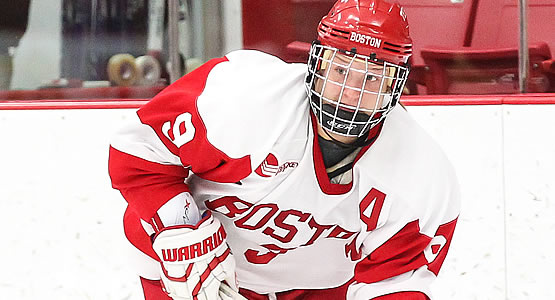 Senior forward Sarah Lefort had three assists for the Terriers
| | | | | | | |
| --- | --- | --- | --- | --- | --- | --- |
| Prd | Time | Team | Score | Type | Scored By | Assists |
| 1st | 0:12 | BU | 1-0 | EV | Rebecca Russo (7) | Rebecca Leslie/17 |
| 1st | 6:19 | BU | 2-0 | EV EA DP | Samantha Sutherland (3) | Sammy Davis/6, Sarah Lefort/7 |
| 1st | 7:36 | BU | 3-0 | PP GW | Alexis Crossley (1) | Sarah Lefort/8, Kayla Tutino/8 |
| 1st | 15:52 | BU | 4-0 | EV | Kayla Tutino (3) | Victoria Bach/9, Sarah Lefort/9 |
| 1st | 19:59.7 | MER | 1-4 | EV | Jessica Kuhlman (1) | Paige Sorensen/5, Jillian Battista/1 |
| 3rd | 1:19 | MER | 2-4 | EV | Jessica Bonfe (1) | Marie Delarbre/1, Baye Flanagan/1 |
| | | | | |
| --- | --- | --- | --- | --- |
| Scoring | 1st | 2nd | 3rd | Final |
| Merrimack | 1 | 0 | 1 | 2 |
| Boston University | 4 | 0 | 0 | 4 |
| | | | | |
| --- | --- | --- | --- | --- |
| Shots on Goal | 1st | 2nd | 3rd | SOG |
| Merrimack | 3 | 6 | 6 | 15 |
| Boston University | 16 | 7 | 14 | 37 |
| | | | |
| --- | --- | --- | --- |
| Team Stats and Records | PP | PIM | SHGF |
| Merrimack (2-12-0) | 0/3 | 2/4 | 0 |
| Boston University (10-6-0) | 1/2 | 3/6 | 0 |
| | | | | | | |
| --- | --- | --- | --- | --- | --- | --- |
| Merrimack Goaltending | MIN | GA | 1 | 2 | 3 | Saves |
| Chaislyn Burgio (L, 0-2-0) | 58:26 | 4 | 12 | 7 | 14 | 33 |
| Empty Net | 1:34 | 0 | | | | |
| | | | | | | |
| --- | --- | --- | --- | --- | --- | --- |
| Boston University Goaltending | MIN | GA | 1 | 2 | 3 | Saves |
| Erin O'Neil (W, 6-2-0) | 59:45 | 2 | 2 | 6 | 5 | 13 |
| Empty Net | 0:15 | 0 | | | | |
BOSTON - Thanks to a four-goal first period, the Boston University women's ice hockey team skated to a 4-2 victory over Merrimack on Saturday afternoon at Walter Brown Arena.
BU (10-6-0, 8-3-0 WHEA) is on a four-game win streak, its longest such stretch of the season. Merrimack fell to 2-12-0 and 1-7-0 in Hockey East despite bringing itself back to within two goals after falling behind, 4-0, 16 minutes into the game.
Senior Rebecca Russo scored just 12 seconds into the contest to give BU a 1-0 lead. Juniors Samantha Sutherland and Alexis Crossley also lit the lamp, as did senior captain Kayla Tutino. Senior Sarah Lefort factored on all three of those markers for her second three-assist contest of the weekend. Tutino also added a helper for a two-point afternoon while sophomore Victoria Bach, freshman Sammy Davis and sophomore Rebecca Leslie also added one assist apiece.
Sophomore goaltender Erin O'Neil needed to make just 13 saves to improve to 6-2-0. O'Neil and the Terriers kept Merrimack scoreless on all three of its power plays, including two in the final frame, to help secure a four-point weekend.
After Russo got the Terriers off to a blazing start, Sutherland made it 2-0 at the 6:19 mark. With O'Neil to the bench for an extra attacker during a delayed penalty, Davis skated around the zone until the sixth skater reached the offensive end. She then dished the puck to Sutherland, who roofed a shot over Chaislyn Burgio (33 saves) for her third goal of the season.
Crossley collected her first goal as a Terrier just 1:15 after Sutherland's goal on the ensuing power play. She fired a shot from the top of the zone that had eyes past Burgio. Tutino then made it 4-0 at the 15:52 mark when her and Bach completed a 2-on-1. Bach skated up the right wing and slid a nifty pass to Tutino. The senior captain made no mistake for her third marker of the season.
Merrimack got on the board with 0.3 seconds remaining in the opening frame when Jessica Kuhlman beat O'Neil from the right post before the buzzer sounded. The Warriors made it 4-2 early in the third period thanks to a Jessica Bonfe goal, but that was as close as Merrimack got to the Terriers. BU outshot the Warriors, 14-6, in the final frame and held a 37-15 advantage in shots over the full 60 minutes.
BU will spend the post-Thanksgiving weekend in Burlington, Vermont, as they take part in the Windjammer Classic. The Terriers will face Cornell on Nov. 28 before they take on Ohio State on Nov. 29. Both games, hosted by the University of Vermont, are scheduled to begin at 1 p.m.