Sunday, November 15, 2015
Boston University Earns Weekend Sweep With 3-2 Win Over Maine
Senior forward Dakota Woodworth posts goal and assist for Terriers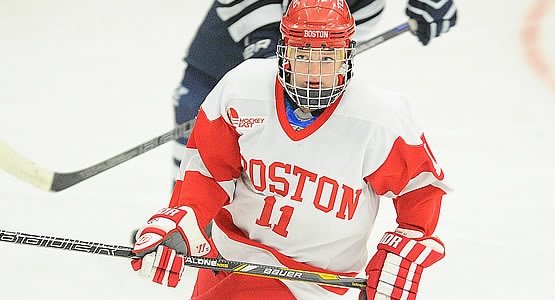 Senior forward Dakota Woodworth had a goal and an assist for the Terriers
| | | | | | | |
| --- | --- | --- | --- | --- | --- | --- |
| Prd | Time | Team | Score | Type | Scored By | Assists |
| 1st | 13:09 | BU | 1-0 | EV | Dakota Woodworth (1) | Alexis Woloschuk/4, Sammy Davis/4 |
| 2nd | 7:05 | BU | 2-0 | EV | Samantha Sutherland (2) | Sammy Davis/5, Dakota Woodworth/3 |
| 3rd | 3:17 | MNE | 1-2 | EV | Audra Richards (7) | Jess Vallotton/2, Victoria Hummel/1 |
| 3rd | 9:30 | BU | 3-1 | PP GW | Sarah Lefort (4) | Rebecca Leslie/16, Kayla Tutino/5 |
| 3rd | 13:44 | MNE | 2-3 | EV | Audra Richards (8) | Brooklyn Langlois/5, Victoria Hummel/2 |
| | | | | |
| --- | --- | --- | --- | --- |
| Scoring | 1st | 2nd | 3rd | Final |
| Maine | 0 | 0 | 2 | 2 |
| Boston University | 1 | 1 | 1 | 3 |
| | | | | |
| --- | --- | --- | --- | --- |
| Shots on Goal | 1st | 2nd | 3rd | SOG |
| Maine | 12 | 8 | 11 | 31 |
| Boston University | 13 | 17 | 14 | 44 |
| | | | |
| --- | --- | --- | --- |
| Team Stats and Records | PP | PIM | SHGF |
| Maine (6-8-0) | 0/2 | 4/8 | 0 |
| Boston University (8-6-0) | 1/4 | 2/4 | 0 |
| | | | | | | |
| --- | --- | --- | --- | --- | --- | --- |
| Maine Goaltending | MIN | GA | 1 | 2 | 3 | Saves |
| Meghann Treacy (L, 5-8-0) | 58:35 | 3 | 12 | 16 | 13 | 41 |
| Empty Net | 1:25 | 0 | | | | |
| | | | | | | |
| --- | --- | --- | --- | --- | --- | --- |
| Boston University Goaltending | MIN | GA | 1 | 2 | 3 | Saves |
| Erin O'Neil (W, 5-2-0) | 59:54 | 2 | 12 | 8 | 9 | 29 |
| Empty Net | 0:06 | 0 | | | | |
BOSTON - The Boston University women's ice hockey team completed a weekend sweep of Maine with a 3-2 win on Sunday afternoon at Walter Brown Arena.
BU (8-6-0, 6-3-0 WHEA) got a goal in each period to defeat Maine (6-8-0, 3-6-0 WHEA) for the third time this season. Senior Dakota Woodworth opened the scoring and assisted on junior Samantha Sutherland's second-period strike while freshman Sammy Davis picked up two assists. Senior Sarah Lefort's power-play goal halfway through the third period proved to be the game winner, with assists on the marker going to sophomore Rebecca Leslie and senior captain Kayla Tutino.
Senior Alexis Woloschuk also earned an assist on Sunday. Sophomore Erin O'Neil made 29 saves to improve to 5-2-0 on the season.
Woodworth got the Terriers on the board first at the 13:09 mark of the first period. Davis battled behind the net to win the puck to Woodworth in the right corner. She dished it to Woloschuk at the point, and the senior fired a shot that Meghann Treacy (41 saves) saved. The rebound popped out to Woodworth, however, and she slid the puck underneath Treacy for her first goal of the season.
Sutherland made it 2-0 7:05 into the second stanza. Woodworth kept the puck in the bottom half of the Maine zone, where Davis fired a shot that Treacy stopped. Sutherland was at the top of the crease to corral the rebound and slot home her second goal of the season.
Maine finally scored 3:17 into the final period, but Lefort regained the two-goal advantage for the Terriers just over six minutes later on a power play to make it 3-1. The Black Bears tallied one more when Audra Richards redirected a shot past O'Neil for her second goal of the game, but they were unable to secure an equalizer to avoid the sweep.
BU will have another Hockey East home-and-home series next weekend when the Terriers face off against Merrimack for the first time in program history. The Warriors, playing in their inaugural season, will host the Terriers on Friday night (7 p.m.) before the teams skate at Walter Brown on Saturday at 3 p.m.