Boston University Rallies Past Maine, 4-2
Freshman forward Sammy Davis scores two goals for Terriers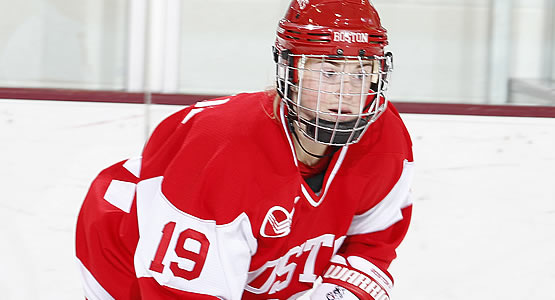 Sophomore forward Rebecca Leslie had a goal and an assist for the Terriers
| | | | | | | |
| --- | --- | --- | --- | --- | --- | --- |
| Prd | Time | Team | Score | Type | Scored By | Assists |
| 1st | 17:42 | MNE | 1-0 | EV | Audra Richards (4) | Morgan Sakundiak/1 |
| 2nd | 0:26 | MNE | 2-0 | EV | Emilie Brigham (1) | - |
| 2nd | 2:55 | BU | 1-2 | EV | Sammy Davis (2) | Sarah Steele/1, Samantha Sutherland/1 |
| 2nd | 10:32 | BU | 2-2 | EV | Rebecca Russo (2) | Connor Galway/1, Savannah Newton/1 |
| 3rd | 16:56 | BU | 3-2 | PP GW | Sammy Davis (3) | Rebecca Leslie/2, Rebecca Russo/1 |
| 3rd | 18:26 | BU | 4-2 | SH EN | Rebecca Leslie (1) | Victoria Bach/2 |
| | | | | |
| --- | --- | --- | --- | --- |
| Scoring | 1st | 2nd | 3rd | Final |
| Boston University | 0 | 2 | 2 | 4 |
| Maine | 1 | 1 | 0 | 2 |
| | | | | |
| --- | --- | --- | --- | --- |
| Shots on Goal | 1st | 2nd | 3rd | SOG |
| Boston University | 10 | 17 | 16 | 43 |
| Maine | 5 | 6 | 9 | 20 |
| | | | |
| --- | --- | --- | --- |
| Team Stats and Records | PP | PIM | SHGF |
| Boston University (2-0-0) | 1/5 | 4/8 | 1 |
| Maine (1-1-0) | 0/3 | 6/12 | 0 |
| | | | | | | |
| --- | --- | --- | --- | --- | --- | --- |
| Boston University Goaltending | MIN | GA | 1 | 2 | 3 | Saves |
| Erin O'Neil | 21:46 | 2 | 4 | 0 | 0 | 4 |
| Victoria Hanson (W, 2-0-0) | 38:14 | 0 | 0 | 5 | 9 | 14 |
| | | | | | | |
| --- | --- | --- | --- | --- | --- | --- |
| Maine Goaltending | MIN | GA | 1 | 2 | 3 | Saves |
| Meghann Treacy (L, 1-1-0) | 59:44 | 3 | 10 | 15 | 14 | 39 |
| Empty Net | 0:16 | 1 | | | | |
ORONO, Maine -- The University of Maine Women's Ice Hockey team drops their home opener against the Boston University Terriers 4-2.
With the loss Maine drops to 1-1-0 overall and 1-1-0 in Hockey East play, while Boston University improves to 2-0-0 overall and 2-0-0 in Hocket East.
Maine opened with the first goal from Audra Richards (Maplewood, Minn.) for her fourth goal of the year, it was assisted by Morgan Sakundiak (Calgary, Alberta).
At the end of the first, Maine carried a 1-0 advantage despite being outshot 10-5 in the first period.
The Black Bears were then able to score their second unanswered goal in the second period from Emilie Brigham (Anoka, Minn.). It was her first goal of the season and was unassisted. Maine held a 2-0 lead.
Boston University was able to break through for a goal of their own two minutes later off of a goal from Sammy Davis to close the gap 2-1.
Midway through the second Rebecca Russo tallied the second goal of the game for the Terriers.
Maine and Boston University were tied at 2-2 going into the third period. The Terriers outshot Maine, 17-6 in the second period.
With four minutes remaining in the third, the Terriers' Sammy Davis scored her second goal of the game on a power play to give Boston University a 3-2 lead. Boston University was able to net another goal late in the third on an empty net to give the Terriers a 4-2 win.
Boston University outshot Maine by a 43-20 margin.
The Black Bears return to action Oct. 9 against Quinnipiac at 7:00 p.m.