Tuesday, February 2, 2016
Northeastern Edges Past Boston University, 3-2, In Women's Beanpot
Senior forward Kendall Coyne scores two goals for Huskies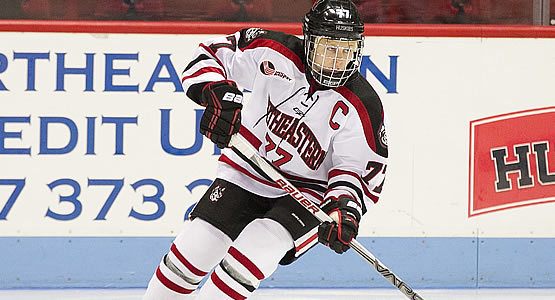 Senior forward Kendall Coyne scored two goals for the Huskies
| | | | | | | |
| --- | --- | --- | --- | --- | --- | --- |
| Prd | Time | Team | Score | Type | Scored By | Assists |
| 1st | 10:43 | BU | 1-0 | EV | Rebecca Russo (13) | Rebecca Leslie/29, Alexis Crossley/9 |
| 2nd | 2:51 | NOE | 1-1 | EV | Kendall Coyne (37) | Hayley Scamurra/23 |
| 2nd | 14:47 | NOE | 2-1 | EV | Lauren Kelly (4) | Ainsley MacMillan/9, Paige Savage/14 |
| 3rd | 12:13 | NOE | 3-1 | EV GW | Kendall Coyne (38) | Denisa Křížová/32 |
| 3rd | 18:04 | BU | 2-3 | PP EA | Alexis Crossley (6) | Rebecca Leslie/30 |
| | | | | |
| --- | --- | --- | --- | --- |
| Scoring | 1st | 2nd | 3rd | Final |
| Northeastern | 0 | 2 | 1 | 3 |
| Boston University | 1 | 0 | 1 | 2 |
| | | | | |
| --- | --- | --- | --- | --- |
| Shots on Goal | 1st | 2nd | 3rd | SOG |
| Northeastern | 6 | 19 | 5 | 30 |
| Boston University | 13 | 5 | 14 | 32 |
| | | | |
| --- | --- | --- | --- |
| Team Stats and Records | PP | PIM | SHGF |
| Northeastern (24-4-1) | 0/2 | 6/12 | 0 |
| Boston University (17-10-2) | 1/5 | 3/6 | 0 |
| | | | | | | |
| --- | --- | --- | --- | --- | --- | --- |
| Northeastern Goaltending | MIN | GA | 1 | 2 | 3 | Saves |
| Brittany Bugalski (W, 17-3-1) | 59:48 | 2 | 12 | 5 | 13 | 30 |
| Empty Net | 0:12 | 0 | | | | |
| | | | | | | |
| --- | --- | --- | --- | --- | --- | --- |
| Boston University Goaltending | MIN | GA | 1 | 2 | 3 | Saves |
| Erin O'Neil (L, 11-5-2) | 57:33 | 3 | 6 | 17 | 4 | 27 |
| Empty Net | 2:27 | 0 | | | | |
BOSTON - Junior Alexis Crossley scored with 1:56 remaining in regulation to cut the Northeastern lead to 3-2, but the No. 5 Huskies held on for a 3-2 win over the Boston University women's ice hockey team in the opening round of the 38th Women's Beanpot on Tuesday night at Walter Brown Arena.
BU (17-10-2) took a 1-0 lead into the second period thanks to senior Rebecca Russo's goal, but Northeastern (24-4-1) scored twice in the second stanza and once more in the third to advance to the Beanpot title game against No. 1 Boston College. The Terriers will face Harvard in next Tuesday's consolation game (4:30 p.m.).
Sophomore Rebecca Leslie notched her 29th and 30th assists on the season to move into a tie for second with Isabel Menard ('13) on the all-time list for most assists in a single season. Marie-Philip Poulin holds the record with 36 in the 2012-13 campaign.
Crossley assisted on Russo's marker to complete her second straight two-point game. Sophomore goaltender Erin O'Neil made 27 saves, including 17 in the second period.
Russo opened the scoring with a wicked wrist shot 10:43 into the proceedings. Crossley poked the puck free to Leslie, and the sophomore carried the puck into the offensive zone. She then dropped the puck back for Russo in the right circle, and the senior ripped a shot past Brittany Bugalski (30 saves) for her 13th goal of the season.
Kendall Coyne began a three-goal run for the Huskies with a marker 2:51 into the second period. Lauren Kelly made 2-1 late in the frame before Coyne scored again to make it 3-1 with 7:47 to play in regulation.
BU nearly tied it 35 seconds into the third period when Lefort and sophomore Victoria Bach created a 2-on-1, but Bugalski robbed Bach after the sophomore got behind the Husky defense. The Terriers thought they tied the tilt at the 5:32 mark when a Russo shot snuck through Bugalski's pads. However, the referee blew the whistle before the puck crossed the line, and the Huskies remained on top.
Crossley's goal came with the Terriers on a 6-on-3 power play. The move by head coach Brian Durocher to pull O'Neil in favor of an extra attacker paid off when Crossley's blast from the top of the zone beat Bugalski. BU pulled O'Neil again in favor of an extra attacker, but the Terriers were unable to secure an equalizer.
The Terriers will have a week off before they host Harvard next Tuesday in the consolation game. That contest will take place at 4:30 before the championship contest at 7:30.