Friday, February 19, 2016
Boston University Edges Past Northeastern, 3-2
Sophomore forward Victoria Bach and senior forward Jordan Juron each post goal and assist for Terriers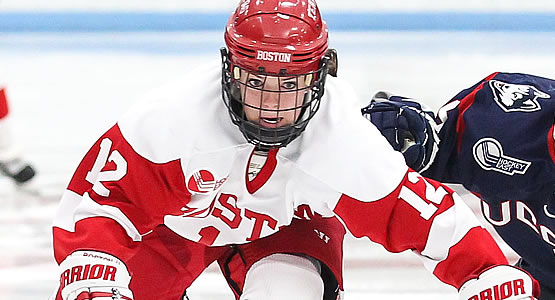 Sophomore forward Victoria Bach had a goal and an assist for the Terriers
| | | | | | | |
| --- | --- | --- | --- | --- | --- | --- |
| Prd | Time | Team | Score | Type | Scored By | Assists |
| 1st | 9:33 | BU | 1-0 | SH | Dakota Woodworth (6) | Jordan Juron/7, Lillian Ribeirinha-Braga/13 |
| 2nd | 9:20 | NOE | 1-1 | EV | Kendall Coyne (42) | Denisa Křížová/33, Brittany Bugalski/1 |
| 2nd | 17:58 | BU | 2-1 | EV | Jordan Juron (5) | Victoria Bach/21, Alexis Woloschuk/11 |
| 3rd | 3:09 | BU | 3-1 | EV GW | Victoria Bach (20) | Kayla Tutino/18, Erin O'Neil/1 |
| 3rd | 19:52 | NOE | 2-3 | EV EA | Denisa Křížová (18) | Halle Silva/5, McKenna Brand/10 |
| | | | | |
| --- | --- | --- | --- | --- |
| Scoring | 1st | 2nd | 3rd | Final |
| Northeastern | 0 | 1 | 1 | 2 |
| Boston University | 1 | 1 | 1 | 3 |
| | | | | |
| --- | --- | --- | --- | --- |
| Shots on Goal | 1st | 2nd | 3rd | SOG |
| Northeastern | 14 | 16 | 20 | 50 |
| Boston University | 12 | 9 | 7 | 28 |
| | | | |
| --- | --- | --- | --- |
| Team Stats and Records | PP | PIM | SHGF |
| Northeastern (25-7-1) | 0/5 | 3/6 | 0 |
| Boston University (20-11-2) | 0/3 | 5/10 | 1 |
| | | | | | | |
| --- | --- | --- | --- | --- | --- | --- |
| Northeastern Goaltending | MIN | GA | 1 | 2 | 3 | Saves |
| Brittany Bugalski (L, 18-6-1) | 58:17 | 3 | 11 | 8 | 6 | 25 |
| Empty Net | 1:43 | 0 | | | | |
| | | | | | | |
| --- | --- | --- | --- | --- | --- | --- |
| Boston University Goaltending | MIN | GA | 1 | 2 | 3 | Saves |
| Erin O'Neil (W, 14-5-2) | 59:55 | 2 | 14 | 15 | 19 | 48 |
| Empty Net | 0:05 | 0 | | | | |
BOSTON - Sophomore goaltender Erin O'Neil made a career-high 48 saves to help lead the Boston University women's ice hockey team to a 3-2 victory over No. 6 Northeastern on Friday night at Walter Brown Arena.
BU (20-11-2, 17-4-2 WHEA) celebrated its eight seniors prior to puck drop, and those seniors were instrumental in the Terriers' first win over a ranked opponent this season. Senior Jordan Juron notched a goal and an assist while classmate Dakota Woodworth also lit the lamp. Lillian Ribeirinha-Braga, Alexis Woloschuk and captain Kayla Tutino were the other seniors to find their way onto the score sheet, as they all had one assist apiece.
In addition to her 48 stops, O'Neil also assisted on sophomore Victoria Bach's game-winning goal. Bach's goal was her 20th of the season and secured her second straight 20-goal campaign. She also assisted on Juron's marker for her 21st helper of the season. The victory also clinched the Terriers' sixth straight 20-win season.
O'Neil's performance was highlighted by stopping 17 of Kendall Coyne's 18 shots on goal. Coyne entered the weekend as the nation's leading goal scorer.
Woodworth opened the scoring 9:33 into the proceedings with the Terriers' NCAA-leading eighth shorthanded goal of the season. Ribeirinha-Braga played the puck forward to Juron, who then skated into the Northeastern zone. She deftly dished the puck to Woodworth, and the senior assistant captain put it past Brittany Bugalski (25 saves) for a 1-0 lead.
The Terriers killed off an abbreviated 5-on-3 during the second period as part of a 5-for-5 evening by the penalty kill to keep Northeastern off the board, but Coyne tied the game at the 9:20 mark of the frame.
Juron responded with 2:02 left in the period to give the Terriers a 2-1 advantage. She won a neutral-zone battle and got the puck to Bach, who created a 2-on-1 with Juron. Bach slid a pass to the senior and Juron finished for her fifth marker of the campaign.
Bach scored the eventual game-winner at the 3:09 mark of the third period when she collected a Tutino pass and beat Bugalski. The Huskies peppered O'Neil with 20 shots during the final frame, and only Denisa Krizova's extra-attacker shot with 7.5 seconds remaining in regulation beat O'Neil.
Thanks to the Terriers' win, second place in Hockey East will be on the line Saturday at Matthews Arena when Northeastern hosts BU in the regular-season finale. Puck drop is scheduled for 2 p.m.