Four Goals In Second Period Send Boston University Past Providence, 4-2
Junior Maddie Elia, senior Rebecca Russo and sophomore Victoria Bach each record goal and assist for Terriers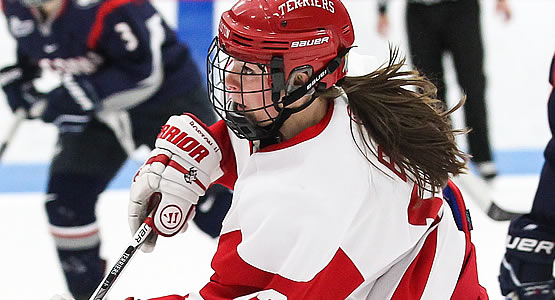 Sophomore forward Victoria Bach had a goal and an assist for the Terriers
| | | | | | | |
| --- | --- | --- | --- | --- | --- | --- |
| Prd | Time | Team | Score | Type | Scored By | Assists |
| 1st | 4:32 | PRV | 1-0 | EV | Blair Parent (3) | Brittney Thunstrom/2 |
| 1st | 18:13 | PRV | 2-0 | EV | Blair Parent (4) | Christina Putigna/15, Cassidy MacPherson/4 |
| 2nd | 0:33 | BU | 1-2 | EV | Maddie Elia (11) | Rebecca Leslie/27, Rebecca Russo/15 |
| 2nd | 4:40 | BU | 2-2 | EV | Rebecca Russo (12) | Maddie Elia/8, Rebecca Leslie/28 |
| 2nd | 11:07 | BU | 3-2 | EV GW | Mary Grace Kelley (1) | Victoria Bach/16 |
| 2nd | 11:19 | BU | 4-2 | EV | Victoria Bach (16) | Sarah Lefort/17, Kayla Tutino/14 |
| | | | | |
| --- | --- | --- | --- | --- |
| Scoring | 1st | 2nd | 3rd | Final |
| Boston University | 0 | 4 | 0 | 4 |
| Providence | 2 | 0 | 0 | 2 |
| | | | | |
| --- | --- | --- | --- | --- |
| Shots on Goal | 1st | 2nd | 3rd | SOG |
| Boston University | 16 | 13 | 5 | 34 |
| Providence | 12 | 5 | 14 | 31 |
| | | | |
| --- | --- | --- | --- |
| Team Stats and Records | PP | PIM | SHGF |
| Boston University (16-9-2) | 0/3 | 4/8 | 0 |
| Providence (8-17-1) | 0/4 | 3/6 | 0 |
| | | | | | | |
| --- | --- | --- | --- | --- | --- | --- |
| Boston University Goaltending | MIN | GA | 1 | 2 | 3 | Saves |
| Erin O'Neil (W, 10-4-2) | 60:00 | 2 | 10 | 5 | 14 | 29 |
| | | | | | | |
| --- | --- | --- | --- | --- | --- | --- |
| Providence Goaltending | MIN | GA | 1 | 2 | 3 | Saves |
| Sarah Bryant (L, 0-4-0) | 58:47 | 4 | 16 | 9 | 5 | 30 |
| Empty Net | 1:13 | 0 | | | | |
PROVIDENCE, R.I. - The Providence College women's hockey team was defeated by Boston University, 4-2. Four second period goals lifted the Terriers over the Friars. Providence moves to 8-17-1 (4-11-1 WHEA) and Boston University improves to 16-9-2 (13-4-2 WHEA).
Senior goaltender Sarah Bryant (Bethlehem, Pa.) started in net for the Friars and made 30 saves in the game.
The Friars jumped out to an early lead, scoring only four minutes into the first period. Blair Parent (Anoka, Minn.) pressured the puck in the offensive zone and created a turnover for Brittney Thunstrom (Coon Rapids, Minn.) to pick up. Thunstrom circled behind the net and fed Parent in the slot. Parent one-timed the puck past Boston University's Erin O'Neil.
Parent struck a second time with 2:47 remaining in the first period. Cassidy MacPherson (Oakville, Ontario) broke the puck out to Christina Putigna (Grimsby, Ontario) along the half wall. Putigna cleared the red line and dumped the puck on the Terrier goal. Parent crashed the net and knocked in a bouncing puck to give the Friars a 2-0 lead.
Boston University got on the board 33 seconds into the second period with a goal from Maddie Elia.
Rebecca Russo evened the score at two, with a Terrier goal at the 4:40 mark of the second period.
Boston University collected two more goals within 12 seconds, mid way through the second period. Mary Grace Kelley scored at 11:07 and Victoria Bach tallied the fourth Terrier goal at 11:19.
Despite registering 14 shots in the third period, and 31 shots in the game, the Friars were unable to score in the third period and the game ended in a 4-2 decision for Boston University.
The Friars are back in action on Jan. 30 at 1:00 p.m. to host the Maine Black Bears at Schneider Arena.