Wednesday, January 20, 2016
Boston University Defeated By Quinnipiac, 6-1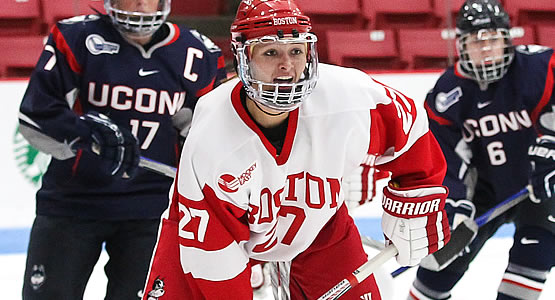 Senior forward Jordan Juron scored a goal for the Terriers
| | | | | | | |
| --- | --- | --- | --- | --- | --- | --- |
| Prd | Time | Team | Score | Type | Scored By | Assists |
| 1st | 13:01 | QUI | 1-0 | EV | Meghan Turner (7) | Nicole Brown/12, Miranda Lantz/4 |
| 1st | 13:47 | QUI | 2-0 | EV GW | Nicole Connery (9) | Emma Woods/18, Taylar Cianfarano/17 |
| 1st | 19:52 | QUI | 3-0 | PP | Kristen Tamberg (2) | Emma Greco/2 |
| 2nd | 1:31 | QUI | 4-0 | PP | Taylar Cianfarano (21) | Kristen Tamberg/11, Lindsey West/4 |
| 2nd | 4:32 | BU | 1-4 | PP | Jordan Juron (4) | Rebecca Leslie/25, Lillian Ribeirinha-Braga/10 |
| 2nd | 6:11 | QUI | 5-1 | EV | Taylar Cianfarano (22) | Lindsey West/5 |
| 3rd | 18:34 | QUI | 6-1 | EV | Melissa Samoskevich (11) | Danielle Marmer/2, Kristen Tamberg/12 |
| | | | | |
| --- | --- | --- | --- | --- |
| Scoring | 1st | 2nd | 3rd | Final |
| Boston University | 0 | 1 | 0 | 1 |
| Quinnipiac | 3 | 2 | 1 | 6 |
| | | | | |
| --- | --- | --- | --- | --- |
| Shots on Goal | 1st | 2nd | 3rd | SOG |
| Boston University | 5 | 6 | 4 | 15 |
| Quinnipiac | 8 | 11 | 15 | 34 |
| | | | |
| --- | --- | --- | --- |
| Team Stats and Records | PP | PIM | SHGF |
| Boston University (14-9-2) | 1/3 | 4/8 | 0 |
| Quinnipiac (20-1-4) | 2/3 | 4/8 | 0 |
| | | | | | | |
| --- | --- | --- | --- | --- | --- | --- |
| Boston University Goaltending | MIN | GA | 1 | 2 | 3 | Saves |
| Erin O'Neil (L, 9-4-2) | 59:59 | 6 | 5 | 9 | 14 | 28 |
| Empty Net | 0:01 | 0 | | | | |
| | | | | | | |
| --- | --- | --- | --- | --- | --- | --- |
| Quinnipiac Goaltending | MIN | GA | 1 | 2 | 3 | Saves |
| Sydney Rossman (W, 20-1-4) | 60:00 | 1 | 5 | 5 | 4 | 14 |
HAMDEN, Conn. - Senior Jordan Juron scored her fourth goal of the season but the Boston University women's ice hockey team suffered a 6-1 setback at No. 4 Quinnipiac on Wednesday at High Point Solutions Arena.
Playing in its third road game in five days, BU (14-9-2) was unable to erase a 3-0 first-period deficit as Quinnipiac improved to 20-1-4 on the season.
Juron's goal came in the second period thanks to assists from sophomore Rebecca Leslie and senior Lillian Ribeirinha-Braga. Leslie extended her point streak to five games with her 25th helper of the season while Ribeirinha-Braga has collected four assists over the last four games. Sophomore Erin O'Neil made 28 saves between the pipes.
BU outplayed the Bobcats through the first 10 minutes of the contest, but Quinnipiac killed off a Terrier power play and used that momentum to score the first two goals of the game in a span of 46 seconds before adding a late power-play marker to take a 3-0 lead into the second stanza.
Quinnipiac extended its lead to 4-0 before Juron got the Terriers on the board with a power-play goal early in the second period. Leslie carried the puck into the offensive zone and dished it to Juron between the circles. The senior forward slid the puck inside the right post and cut the deficit to three.
The Bobcats regained their four-goal advantage thanks to a breakaway goal from Taylar Cianfarano, her second of the game. Melissa Samoskevich added a goal late in the third period to seal the scoreline.
BU will be back in action on Feb. 23 when the Terriers host Providence at Agganis Arena. Puck drop is scheduled for 3 p.m.