Saturday, February 13, 2016
Leslie Lifts Boston University To 6-4 Win Over New Hampshire
Sophomore forward Rebecca Leslie and senior forward Rebecca Russo each record two goals and assist for Terriers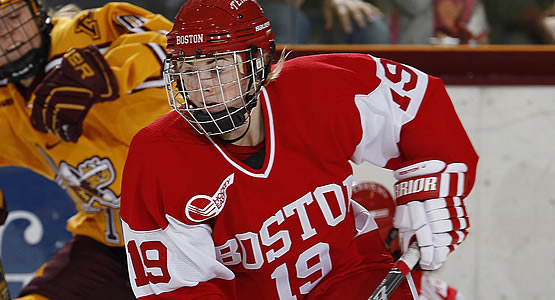 Sophomore forward Rebecca Leslie had two goals and an assist for the Terriers
| | | | | | | |
| --- | --- | --- | --- | --- | --- | --- |
| Prd | Time | Team | Score | Type | Scored By | Assists |
| 1st | 10:37 | UNH | 1-0 | EV | Cassandra Vilgrain (8) | Julia Fedeski/8, Amy Boucher/12 |
| 1st | 14:55 | UNH | 2-0 | EV | Cassandra Vilgrain (9) | Jonna Curtis/16, Amy Schlagel/11 |
| 2nd | 0:30 | BU | 1-2 | EV | Rebecca Leslie (9) | Maddie Elia/10, Rebecca Russo/19 |
| 2nd | 7:16 | UNH | 3-1 | PP | Amy Boucher (12) | Amy Schlagel/12, Marie-Jo Pelletier/7 |
| 3rd | 0:12 | BU | 2-3 | EV | Rebecca Russo (14) | Rebecca Leslie/32 |
| 3rd | 5:54 | BU | 3-3 | PP | Rebecca Russo (15) | Maddie Elia/11 |
| 3rd | 9:31 | BU | 4-3 | EV | Sammy Davis (14) | Dakota Woodworth/5, Jordan Juron/5 |
| 3rd | 12:12 | UNH | 4-4 | EV | Jonna Curtis (15) | - |
| 3rd | 16:32 | BU | 5-4 | SH GW | Rebecca Leslie (10) | Victoria Bach/19, Lillian Ribeirinha-Braga/12 |
| 3rd | 19:44 | BU | 6-4 | EV EN | Alexis Crossley (7) | Dakota Woodworth/6 |
| | | | | |
| --- | --- | --- | --- | --- |
| Scoring | 1st | 2nd | 3rd | Final |
| New Hampshire | 2 | 1 | 1 | 4 |
| Boston University | 0 | 1 | 5 | 6 |
| | | | | |
| --- | --- | --- | --- | --- |
| Shots on Goal | 1st | 2nd | 3rd | SOG |
| New Hampshire | 11 | 13 | 10 | 34 |
| Boston University | 6 | 9 | 23 | 38 |
| | | | |
| --- | --- | --- | --- |
| Team Stats and Records | PP | PIM | SHGF |
| New Hampshire (10-20-1) | 1/4 | 5/10 | 0 |
| Boston University (18-11-2) | 1/5 | 4/8 | 1 |
| | | | | | | |
| --- | --- | --- | --- | --- | --- | --- |
| New Hampshire Goaltending | MIN | GA | 1 | 2 | 3 | Saves |
| Kyra Smith (L, 9-12-1) | 58:54 | 5 | 6 | 8 | 18 | 32 |
| Empty Net | 1:06 | 1 | | | | |
| | | | | | | |
| --- | --- | --- | --- | --- | --- | --- |
| Boston University Goaltending | MIN | GA | 1 | 2 | 3 | Saves |
| Erin O'Neil (W, 12-5-2) | 60:00 | 4 | 9 | 12 | 9 | 30 |
BOSTON, Mass. - The Boston University women's ice hockey team scored five times in the third period to erase a 3-1 deficit and earn a 6-4 win over New Hampshire on Saturday afternoon at Walter Brown Arena.
BU (18-11-2, 15-4-2 WHEA) and New Hampshire (10-20-1, 7-14-0 WHEA) played a wild final 20 minutes, with the Terriers scoring three straight goals to take a 4-3 lead halfway through the frame. Jonna Curtis leveled the score for UNH at the 12:12 mark, but sophomore Rebecca Leslie's shorthanded goal with 3:38 remaining in regulation put BU ahead for good.
Leslie finished with two goals and one assist for a three-point afternoon. Senior Rebecca Russo also had two goals and an assist for the Terriers, with both of her markers coming within the first 5:54 of the third period to tie the game. Freshman Sammy Davis lit the lamp for the 14th time this season while junior Alexis Crossley's empty-netter with 15.1 seconds left sealed the victory.
Thanks to her game-winner, Leslie is now tied for the NCAA lead with four shorthanded goals. She also has an assist in 23 games, more than any other player in the nation.
Junior Maddie Elia and senior Dakota Woodworth each chipped in two assists, while senior Jordan Juron, sophomore Victoria Bach and senior Lillian Ribeirinha-Braga each had a helper apiece. Sophomore Erin O'Neil made 30 saves between the pipes.
Cassandra Vilgrain scored twice in the first period to give the Wildcats a 2-0 lead, but Leslie got BU on the board just 30 seconds into the second period. UNH netminder Kyra Smith (32 saves) stopped Elia's first shot, but the rebound kicked to Leslie at the right post. Leslie finished the play for her ninth goal of the season.
Amy Boucher regained a two-goal lead for the Wildcats at the 7:16 mark of the middle frame, but Russo responded just 12 seconds into the third period to spark the Terrier comeback. She tallied her 15th goal of the season at the 5:54 juncture before Davis gave BU its first lead of the game with 10:29 to play.
Curtis' unassisted goal evened the score for just over four minutes before Leslie delivered her heroics. Ribeirinha-Braga moved the puck forward for Bach, and the sophomore led Leslie into the offensive zone. Leslie moved into the slot and fired a low shot that snuck past Smith for her 10th goal of the season.
The two teams will conclude their regular-season series at New Hampshire on Sunday at 2 p.m.