Sunday, February 14, 2016
Bach's Three Points Lead Boston University Past New Hampshire, 6-2
Sophomore forward Victoria Bach has two goals and assist for Terriers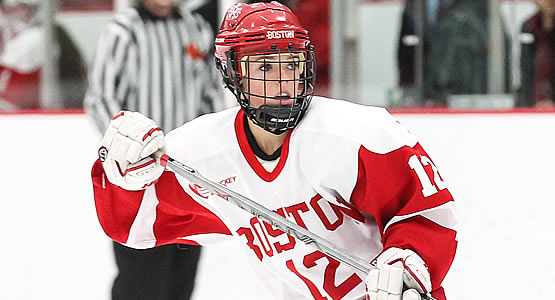 Sophomore forward Victoria Bach had two goals and an assist for the Terriers
| | | | | | | |
| --- | --- | --- | --- | --- | --- | --- |
| Prd | Time | Team | Score | Type | Scored By | Assists |
| 2nd | 7:24 | BU | 1-0 | EV | Victoria Bach (18) | Jordan Juron/6, Sarah Steele/6 |
| 2nd | 9:02 | UNH | 1-1 | EV | Cassandra Vilgrain (10) | Sara Carlson/12, Jonna Curtis/17 |
| 2nd | 9:49 | BU | 2-1 | EV | Victoria Bach (19) | Sarah Lefort/20, Kayla Tutino/17 |
| 2nd | 18:56 | BU | 3-1 | EV GW | Rebecca Leslie (11) | Maddie Elia/12, Rebecca Russo/20 |
| 3rd | 5:41 | UNH | 2-3 | PP | Amy Schlagel (8) | Amy Boucher/13 |
| 3rd | 15:00 | BU | 4-2 | EV | Sammy Davis (15) | Sarah Steele/7, Alexis Woloschuk/10 |
| 3rd | 17:05 | BU | 5-2 | EV EN | Sammy Davis (16) | Victoria Bach/20 |
| 3rd | 18:28 | BU | 6-2 | EV EN | Maddie Elia (14) | - |
| | | | | |
| --- | --- | --- | --- | --- |
| Scoring | 1st | 2nd | 3rd | Final |
| Boston University | 0 | 3 | 3 | 6 |
| New Hampshire | 0 | 1 | 1 | 2 |
| | | | | |
| --- | --- | --- | --- | --- |
| Shots on Goal | 1st | 2nd | 3rd | SOG |
| Boston University | 7 | 7 | 9 | 23 |
| New Hampshire | 10 | 10 | 11 | 31 |
| | | | |
| --- | --- | --- | --- |
| Team Stats and Records | PP | PIM | SHGF |
| Boston University (19-11-2) | 0/2 | 4/8 | 0 |
| New Hampshire (10-21-1) | 1/2 | 4/8 | 0 |
| | | | | | | |
| --- | --- | --- | --- | --- | --- | --- |
| Boston University Goaltending | MIN | GA | 1 | 2 | 3 | Saves |
| Erin O'Neil (W, 13-5-2) | 60:00 | 2 | 10 | 9 | 10 | 29 |
| | | | | | | |
| --- | --- | --- | --- | --- | --- | --- |
| New Hampshire Goaltending | MIN | GA | 1 | 2 | 3 | Saves |
| Vilma Vaattovaara (L, 1-7-0) | 57:56 | 4 | 7 | 4 | 6 | 17 |
| Empty Net | 2:04 | 2 | | | | |
DURHAM, N.H. - Amy Schlagel (Blaine, Minn.) pulled the University of New Hampshire women's ice hockey team within a goal, 3-2, at 5:41 of the third period but Boston University scored three late goals, including a pair of empty-netters, to pull away for a 6-2 victory Sunday afternoon at the Whittemore Center.
The game was part of Hockey East's Skating Strides Against Breast Cancer initiative, which is now in its 10th year of existence to promote awareness and raise funds in the fight against breast cancer.
GAME INFORMATION
Date: Feb. 14, 2016 (2 p.m.)
Location: Whittemore Center (Durham, N.H.)
Score: Boston University 6, University of New Hampshire 2
Updated Records: BU (19-11-2, 16-4-2 WHEA), UNH (10-21-1, 7-15-0 WHEA)
Goal Scorers:
BU- Victoria Bach (2), Sammy Davis (2), Maddie Elia (1), Rebecca Leslie (1)
UNH- Amy Schlagel (1), Cassandra Vilgrain (1)
Goaltenders:
BU- Erin O'Neil 10-9-10-29 (2GA- 60:00) (win)
UNH- Vilma Vaattovaara 7-4-6-17 (4GA- 57:56) (loss)
Next Game: Saturday, Feb. 20 (2 p.m.) vs. University of Connecticut
Tickets: Online at www.unhwildcats.com or by calling 603-862-4000
WHAT HAPPENED
- Following a scoreless first period, BU outscored UNH 3-1 in both the second and third periods.
- Victoria Bach gave the Terriers a 1-0 lead at 7:24.
- Cassandra Vilgrain (Calgary, Alberta) tied the score 1-1 at 9:02. BU goalie Erin O'Neil stopped the initial shot from the right circle by Sara Carlson (Hutchinson, Minn.), but Vilgrain poked the puck into the net from the top of the crease. Jonna Curtis (Elk River, Minn.) was credited with the secondary assist.
- Bach struck again 47 seconds later when her shot from the slot eluded UNH netminder Vilma Vaattovaara (Veikkola, Finland).
- Rebecca Leslie extended the advantage to 3-1 with 64 seconds left in the middle stanza. Leslie, alone at the left doorstep, redirected Maddie Elia's pass from the right circle into the cage.
- Amy Schlagel (Blaine, Minn.) netted a power-play goal at 5:41 of the third period to lift UNH within 3-2. Amy Boucher (Edmonton, Alberta) won the neutral-zone faceoff back to Schlagel, who looped around to the left wing and advanced into the circle before rifling a shot under the crossbar.
- The Terriers took a 4-2 lead at 15:00 when Sarah Steele's shot from the right point was tipped in the slot by Sammy Davis.
- UNH pulled Vaattovaara in favor of an extra skater with 3:44 remaining but Davis scored an empty-net goal 49 seconds later to give BU a 5-2 lead at 17:05.
- Vaattovaara was reinserted into the game but returned to the bench with 2:46 on the clock. Elia corralled a loose puck in the high slot and deposited a shot into the empty net to close the scoring at 18:28.
WILDCAT NOTEBOOK
- Vilgrain scored three goals in the weekend series against the Terriers.
- Boucher, Curtis and Schlagel all finished the weekend with one goal and two assists.
- Vaattovaara made her first appearance in goal since Nov. 7 at Providence College. Kyra Smith (Littleton, Colo.) had started 21 consecutive games between Vaattovaara's starts.
ARMY ROTC THREE STARS OF THE GAME
1. Victoria Bach, BU
2. Sammy Davis, BU
3. Amy Schlagel, UNH
PENALTIES
Boston U.: 4-8
New Hampshire: 4-8
POWER PLAYS
Boston U.: 0-2 (2 shots)
New Hampshire: 1-2 (4 shots)
BOSTON U. LEADERS
Points (3): Victoria Bach (2g, 1a)
Goals (2): Victoria Bach, Sammy Davis
Assists (2): Sarah Steele
Shots (6): Victoria Bach, Sammy Davis
Blocked Shots (2): Sammy Davis
NEW HAMPSHIRE LEADERS
Points (1): Amy Boucher (1a), Sara Carlson (1a), Jonna Curtis (1a), Amy Schlagel (1g), Cassandra Vilgrain (1g)
Goals (1): Amy Schlagel, Cassandra Vilgrain
Assists (1): Amy Boucher, Sara Carlson, Jonna Curtis
Shots (6): Jonna Curtis
Blocked Shots (2): Kate Haslett, Marie-Jo Pelletier, Jenna Rheault