Sunday, February 28, 2016
Boston University Tops Vermont, 6-1, To Take Quarterfinal Series
Junior forward Maddie Elia posts goal and two assists for Terriers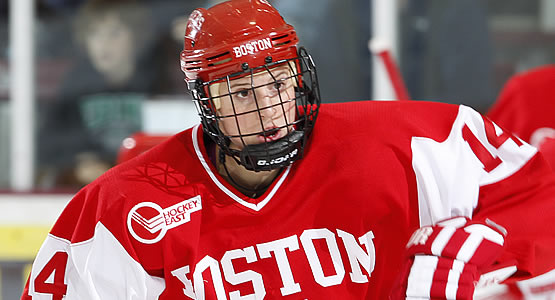 Junior forward Maddie Elia had a goal and two assists for the Terriers
| | | | | | | |
| --- | --- | --- | --- | --- | --- | --- |
| Prd | Time | Team | Score | Type | Scored By | Assists |
| 1st | 4:12 | BU | 1-0 | PP | Kayla Tutino (10) | Sarah Lefort/22, Alexis Crossley/10 |
| 1st | 5:10 | BU | 2-0 | EV GW | Maddie Elia (15) | Rebecca Russo/22, Alexis Woloschuk/13 |
| 2nd | 3:12 | BU | 3-0 | EV | Sarah Lefort (13) | Victoria Bach/25 |
| 2nd | 4:12 | BU | 4-0 | EV | Rebecca Leslie (13) | Lillian Ribeirinha-Braga/14, Rebecca Russo/23 |
| 2nd | 11:54 | BU | 5-0 | EV | Rebecca Leslie (14) | Maddie Elia/13, Mary Grace Kelley/2 |
| 2nd | 19:44 | BU | 6-0 | EV | Mary Grace Kelley (2) | Maddie Elia/14 |
| 3rd | 14:32 | VER | 1-6 | EV | Mackenzie MacNeil (5) | Gina Repaci/6, Daria O'Neill/11 |
| | | | | |
| --- | --- | --- | --- | --- |
| Scoring | 1st | 2nd | 3rd | Final |
| Vermont | 0 | 0 | 1 | 1 |
| Boston University | 2 | 4 | 0 | 6 |
| | | | | |
| --- | --- | --- | --- | --- |
| Shots on Goal | 1st | 2nd | 3rd | SOG |
| Vermont | 5 | 13 | 15 | 33 |
| Boston University | 20 | 10 | 8 | 38 |
| | | | |
| --- | --- | --- | --- |
| Team Stats and Records | PP | PIM | SHGF |
| Vermont (9-25-3) | 0/4 | 4/8 | 0 |
| Boston University (22-13-2) | 1/4 | 4/8 | 0 |
| | | | | | | |
| --- | --- | --- | --- | --- | --- | --- |
| Vermont Goaltending | MIN | GA | 1 | 2 | 3 | Saves |
| Madison Litchfield (L, 6-16-3) | 39:40 | 6 | 18 | 6 | 0 | 24 |
| Molly Depew | 20:00 | 0 | 0 | 0 | 8 | 8 |
| Empty Net | 0:20 | 0 | | | | |
| | | | | | | |
| --- | --- | --- | --- | --- | --- | --- |
| Boston University Goaltending | MIN | GA | 1 | 2 | 3 | Saves |
| Erin O'Neil (W, 16-7-2) | 60:00 | 1 | 5 | 13 | 14 | 32 |
BOSTON - The Boston University women's ice hockey team advanced to the Hockey East semifinals after a 6-1 victory over Vermont in game three of a Hockey East quarterfinal series on Sunday afternoon at Walter Brown Arena.
BU (22-13-2) will face Northeastern at Lawler Rink on the campus of Merrimack College on Saturday, March 5, at 4:30 p.m. Boston College and UConn will play in the first semifinal of the day at 1:30 p.m. Vermont finished its season at 9-25-3.
Five different Terriers found the back of the net on Sunday and five skaters had at least two points. Junior Maddie Elia led the way with three points thanks to a goal and two assists. Her linemates also had strong games, as sophomore Rebecca Leslie tallied two goals and senior Rebecca Russo added a pair of helpers.
Senior Sarah Lefort set a new program record with her 182nd career point thanks to the primary assist on senior captain Kayla Tutino's goal. Lefort later lit the lamp to complete a two-point afternoon. She finished the day with 92 goals and 91 assists for 183 points, surpassing Marie-Philip Poulin's record of 181 points.
Freshman Mary Grace Kelley recorded the first two-point game of her collegiate career on the strength of one goal and one assist. She was one of eight different Terriers with an assist on Sunday. Junior Alexis Crossley, sophomore Victoria Bach, and seniors Alexis Woloschuk and Lillian Ribeirinha-Braga also had one assist apiece.
Sophomore Erin O'Neil made 32 saves, including 27 over the final two frames. The one blemish on her record came with 5:28 remaining in regulation and the Terriers holding a six-goal lead.
Tutino got BU on the board just 4:12 into the proceedings with a power-play goal and the Terriers scored again just 58 seconds later when Elia potted her 15th goal of the season.
A four-goal second period put the game out of reach. Lefort notched her 13th marker of the season at the 3:12 mark. Exactly one minute later, Leslie scored the first of her two straight goals. Her 14th goal of the season at the 11:54 juncture made it 5-0. Kelley extended the lead to 6-0 with 15.8 seconds on the clock.
The Terriers held Vermont scoreless on the Catamounts' four power-play opportunities. During the three games, UVM managed just one goal on eight extra-player chances.
BU and Northeastern have faced off in each of the last two league semifinals, with the Terriers winning both times. They also met in the 2013 title game, which BU won, 5-2.