Tuesday, November 3, 2015
Boston University Rolls Past Yale, 7-1
Sophomore forward Rebecca Leslie and senior forward Rebecca Russo each record five-point games for Terriers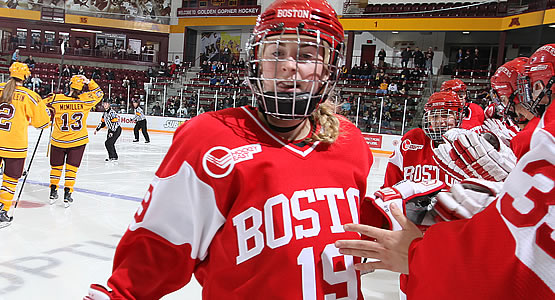 Sophomore forward Rebecca Leslie had two goals and an assist for the Terriers
| | | | | | | |
| --- | --- | --- | --- | --- | --- | --- |
| Prd | Time | Team | Score | Type | Scored By | Assists |
| 1st | 13:44 | BU | 1-0 | EV | Sarah Steele (2) | Rebecca Russo/6, Alexis Woloschuk/2 |
| 1st | 16:55 | BU | 2-0 | EV GW | Maddie Elia (5) | Rebecca Leslie/9, Rebecca Russo/7 |
| 2nd | 11:56 | YAL | 1-2 | EV | Jamie Haddad (1) | Krista Yip-Chuck/2, Julia Yetman/1 |
| 2nd | 18:00 | BU | 3-1 | EV | Jordan Juron (2) | Samantha Sutherland/2, Dakota Woodworth/2 |
| 2nd | 18:55 | BU | 4-1 | SH | Rebecca Leslie (3) | Rebecca Russo/8 |
| 3rd | 5:37 | BU | 5-1 | EV | Maddie Elia (6) | Rebecca Leslie/10, Rebecca Russo/9 |
| 3rd | 7:47 | BU | 6-1 | EV | Rebecca Leslie (4) | Maddie Elia/3, Alexis Woloschuk/3 |
| 3rd | 8:25 | BU | 7-1 | EV | Maddie Elia (7) | Rebecca Russo/10, Rebecca Leslie/11 |
| | | | | |
| --- | --- | --- | --- | --- |
| Scoring | 1st | 2nd | 3rd | Final |
| Yale | 0 | 1 | 0 | 1 |
| Boston University | 2 | 2 | 3 | 7 |
| | | | | |
| --- | --- | --- | --- | --- |
| Shots on Goal | 1st | 2nd | 3rd | SOG |
| Yale | 6 | 15 | 13 | 34 |
| Boston University | 11 | 9 | 12 | 32 |
| | | | |
| --- | --- | --- | --- |
| Team Stats and Records | PP | PIM | SHGF |
| Yale (1-3-0) | 0/6 | 4/8 | 0 |
| Boston University (6-4-0) | 0/4 | 6/12 | 1 |
| | | | | | | |
| --- | --- | --- | --- | --- | --- | --- |
| Yale Goaltending | MIN | GA | 1 | 2 | 3 | Saves |
| Hanna Mandl (L, 1-3-0) | 40:00 | 4 | 9 | 7 | 0 | 16 |
| Rachelle Graham | 19:57 | 3 | 0 | 0 | 9 | 9 |
| Empty Net | 0:03 | 0 | | | | |
| | | | | | | |
| --- | --- | --- | --- | --- | --- | --- |
| Boston University Goaltending | MIN | GA | 1 | 2 | 3 | Saves |
| Erin O'Neil (W, 4-1-0) | 54:32 | 1 | 6 | 14 | 9 | 29 |
| Ashlyn Aiello | 5:22 | 0 | 0 | 0 | 4 | 4 |
| Empty Net | 0:06 | 0 | | | | |
BOSTON - Junior Maddie Elia notched a hat trick and linemates Rebecca Leslie and Rebecca Russo each recorded five-point games to lead the Boston University women's ice hockey team to a 7-1 win over Yale on Tuesday night at Walter Brown Arena.
Elia added an assist for a four-point night, combining with Russo and Leslie for five goals and nine assists. This was just the fourth game in which the trio had skated together this season. Russo collected a program-record five assists, breaking a mark that was most recently set by Marie-Philip Poulin on Feb. 27, 2015.
Sophomore Erin O'Neil got the start between the pipes and made 29 saves before making way for sophomore Ashlyn Aiello who stopped all four shots she faced in her first collegiate appearance.
Junior Sarah Steele scored her second goal in three games while senior Jordan Juron also tallied her second goal of the season. Senior Alexis Woloschuk had her first career two-point game with a pair of assists, while senior Dakota Woodworth and junior Samantha Sutherland each added a helper.
Lost in the offensive onslaught was the terrific play of the Terrier penalty killers. BU held Yale scoreless on six power plays, all of which came in the final two periods. One of Leslie's two goals was a shorthanded tally, her second such strike of the season.
Yale almost jumped out to a 1-0 lead just 20 seconds into the proceedings, but Phoebe Staenz was ruled to have kicked the puck into the net, so the goal was disallowed.
Steele gave the Terriers a 1-0 lead at the 13:44 mark of the opening period. Russo dove to keep the puck away from a Yale player in the neutral zone, where Steele picked it up and carried it into the offensive end. She fired a shot on goal that beat Hanna Mandl (16 saves).
Elia extended the lead 3:11 after Steele's strike thanks to a great forecheck from Russo. She outraced a Yale defender to the puck behind the Bulldogs' net and dished it in front to Leslie. The sophomore forward fought off a Yale player and eventually passed it to Elia at the top of the crease, who ripped a shot past Mandl for her fifth marker of the season.
O'Neil made two terrific saves early in the second period to keep the Terriers on top. Swiss Olympian Phoebe Staenz had the puck all alone in tight on O'Neil, but O'Neil robbed her twice, with the second save coming thanks to a great extension of her right leg.
The Bulldogs finally broke through at the 11:56 juncture of the second stanza. BU was at the tail end of a penalty kill and had done well to block a barrage of Bulldog shots, but two seconds after the power play was over, Jamie Haddad wristed a shot into the top corner.
Juron regained the Terriers' two-goal advantage with 2:00 to play in the period thanks to assists by Sutherland and Woodworth. Then, 55 seconds later, Leslie notched a shorthanded goal when her and Russo converted a 2-on-1 chance immediately following a defensive-zone draw.
BU scored three times in a 2:48 span during the third period to put the game well out of reach. Two of Elia's three goals came during this stretch, with Leslie also potting one. Russo and Leslie assisted on both of Elia's third-period markers, and Russo had a helper on Leslie's strike as well.
BU will look to extend its win streak to four games on Saturday when the Terriers welcome No. 2 Boston College to Walter Brown Arena in a rematch of the last two Hockey East championship games. Puck drop is set for 3 p.m.