UConn Rallies To Tie Colgate, 3-3
Senior forward Brittany Berisoff scores game-tying goal for Huskies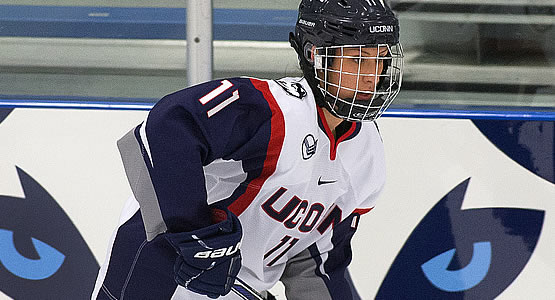 Senior forward Brittany Berisoff scored the game-tying goal for the Huskies
| | | | | | | |
| --- | --- | --- | --- | --- | --- | --- |
| Prd | Time | Team | Score | Type | Scored By | Assists |
| 2nd | 4:52 | CLG | 1-0 | PP | Megan Sullivan (3) | Shelby Perry/3, Olivia Zafuto/5 |
| 2nd | 7:05 | CON | 1-1 | EV | Margaret Zimmer (1) | Leah Lum/1, Madison Badeau/2 |
| 2nd | 17:50 | CLG | 2-1 | PP | Bailey Larson (1) | Annika Zalewski/2, Shelby Perry/4 |
| 3rd | 7:42 | CLG | 3-1 | PP | Annika Zalewski (3) | Shelby Perry/5, Bailey Larson/5 |
| 3rd | 10:36 | CON | 2-3 | PP | Leah Buress (1) | Brittany Berisoff/1, Leah Lum/2 |
| 3rd | 14:22 | CON | 3-3 | EV GT | Brittany Berisoff (3) | Justine Fredette/1 |
| | | | | | |
| --- | --- | --- | --- | --- | --- |
| Scoring | 1st | 2nd | 3rd | OT | Final |
| Colgate | 0 | 2 | 1 | 0 | 3 |
| Connecticut | 0 | 1 | 2 | 0 | 3 |
| | | | | | |
| --- | --- | --- | --- | --- | --- |
| Shots on Goal | 1st | 2nd | 3rd | OT | SOG |
| Colgate | 15 | 18 | 8 | 2 | 43 |
| Connecticut | 6 | 4 | 13 | 3 | 26 |
| | | | |
| --- | --- | --- | --- |
| Team Stats and Records | PP | PIM | SHGF |
| Colgate (3-0-1) | 3/4 | 9/18 | 0 |
| Connecticut (1-1-2) | 1/8 | 5/10 | 0 |
| | | | | | | | |
| --- | --- | --- | --- | --- | --- | --- | --- |
| Colgate Goaltending | MIN | GA | 1 | 2 | 3 | OT | Saves |
| Ashlynne Rando (T, 3-0-1) | 65:00 | 3 | 6 | 3 | 11 | 3 | 23 |
| | | | | | | | |
| --- | --- | --- | --- | --- | --- | --- | --- |
| Connecticut Goaltending | MIN | GA | 1 | 2 | 3 | OT | Saves |
| Elaine Chuli (T, 0-1-1) | 65:00 | 3 | 15 | 16 | 7 | 2 | 40 |
STORRS, Conn. - The UConn women's hockey team posted a pair of third period goals to erase a two-goal deficit and come away with a 3-3 tie against visiting Colgate University Sunday afternoon from the Freitas Ice Forum in Storrs. UConn senior goaltender Elaine Chuli (Waterford, Ontario) made 40 save in net for the Huskies.
UConn's Margaret Zimmer (St. Charles, Ill.), Leah Buress (Windsor, Ontario) and Brittany Berisoff (Elowna, British Columbia) all scored their first goals of the season for the Huskies.
The Raiders got their special teams going in the second period putting a pair of power play goals on the board. Freshman Shelby Perry collected the puck off the half boards and fed a pass to sophomore Megan Sullivan sitting in the slot who buried it for a 1-0 lead at 4:52.
The Huskies pulled even just under three minutes later on a break-away chance Zimmer. Sophomore defenseman Leah Lum (Richmond, British Columbia) cleared the zone and broke Zimmer out up the right wing through the neutral zone. Zimmer bared down on Colgate netminder Ashlynne Rando and beat her glove side to knot the game at 1-1.
Colgate went back on the power play late in the second and again found the back of the net. Sophomor Annika Zalewski ripped a wrist shot that beat Chuli but caught the crossbar. Freshman Bailey Larson was sitting at the far post and cleaned up the loose puck for a 2-1 lead at 17:50. The Raiders opened the third with their third power play goal of the afternoon to take a two-goal lead.
Zalewski picked up her third goal of the season burying a feed from Shelby Perry to put the Raiders up 3-1 at 7:42. Colgate finished the afternoon going three-of-four with the extra skater.
The Huskies began their comeback at 10:36 of the period as Buress collected a pass from Berisoff and used a spin move to slide the puck past Rando five-hole to cut the deficit to 3-2. The UConn power play picked up their third goal, coming at 14:22. With just five seconds left with the extra skater, Bedrisoff chipped the puck past Rando just before hitting the ice to knot the game at 3-3.
UConn got another power play opportunity in overtime as Jessie Eldridge was called for hooking 1:56 in. The Huskies put plenty of offensive pressure on Colgate but Rando was up to the task, stopping three shots on the UConn power play to end the threat.
The Huskies will next head to Penn State for a weekend series, October 24th and 25th.