Merrimack College Topped By Colgate, 4-3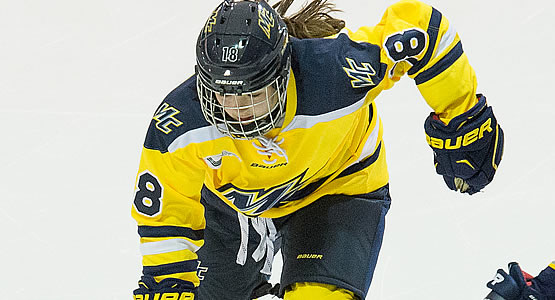 Freshman forward Katelyn Rae scored two goals for the Warriors
| | | | | | | |
| --- | --- | --- | --- | --- | --- | --- |
| Prd | Time | Team | Score | Type | Scored By | Assists |
| 1st | 17:16 | CLG | 1-0 | EV | Shae Labbe (4) | Olivia Zafuto/6, Cat Quirion/2 |
| 2nd | 2:42 | MER | 1-1 | EV | Katelyn Rae (2) | Jessica Bonfe/1 |
| 2nd | 5:34 | MER | 2-1 | SH | Katelyn Rae (3) | - |
| 2nd | 11:28 | CLG | 2-2 | EV | Lauren Wildfang (2) | Jessie Eldridge/1, Breanne Wilson-Bennett/2 |
| 3rd | 4:01 | MER | 3-2 | PP | Jackie Pieper (3) | Paige Voight/5, Paige Sorensen/2 |
| 3rd | 5:11 | CLG | 3-3 | EV | Annika Zalewski (4) | Lauren Wildfang/4, Nicole Gass/3 |
| 3rd | 17:13 | CLG | 4-3 | EV GW | Breanne Wilson-Bennett (3) | Jessie Eldridge/2, Kaila Pinkney/1 |
| | | | | |
| --- | --- | --- | --- | --- |
| Scoring | 1st | 2nd | 3rd | Final |
| Colgate | 1 | 1 | 2 | 4 |
| Merrimack | 0 | 2 | 1 | 3 |
| | | | | |
| --- | --- | --- | --- | --- |
| Shots on Goal | 1st | 2nd | 3rd | SOG |
| Colgate | 11 | 11 | 9 | 31 |
| Merrimack | 5 | 5 | 1 | 11 |
| | | | |
| --- | --- | --- | --- |
| Team Stats and Records | PP | PIM | SHGF |
| Colgate (4-0-1) | 0/2 | 3/6 | 0 |
| Merrimack (1-6-0) | 1/2 | 3/6 | 1 |
| | | | | | | |
| --- | --- | --- | --- | --- | --- | --- |
| Colgate Goaltending | MIN | GA | 1 | 2 | 3 | Saves |
| Julia Vandyk (W, 1-0-0) | 60:00 | 3 | 5 | 3 | 0 | 8 |
| | | | | | | |
| --- | --- | --- | --- | --- | --- | --- |
| Merrimack Goaltending | MIN | GA | 1 | 2 | 3 | Saves |
| Samantha Ridgewell (L, 1-5-0) | 59:15 | 4 | 10 | 10 | 7 | 27 |
| Empty Net | 0:45 | 0 | | | | |
NO. ANDOVER, Mass. - The Merrimack College women's ice hockey team was unable to hold on to a one-goal lead in the third period and came up short against Colgate on Friday afternoon by a score of 4-3 at Lawler Rink.
The Basics
Score: Colgate 4, Merrimack 3
Records: Merrimack (1-6-0, 1-1-0 HEA) | Colgate (4-0-1, 0-0-0 ECAC)
Location: Lawler Rink | North Andover, Mass.

How It Happened
Colgate would score the lone goal of the opening period with just under three minutes remaining until the first intermission. Freshman Shae Labbe would net the first for the Raiders and fourth for Labbe on the season. Labbe's line of 4-4-8 through five games this season ranks her second in the nation among rookies with 1.60 points per game.
The Warriors would respond quickly in the middle period as freshman Jessica Bonfe (Woodbury, Minn.) would intercept a breakout pass from Colgate in the offensive zone. Bonfe would collect herself and find freshman Katelyn Rae (Courtice, Ontario) breaking to the net who would find the back of the net from close range to tie the game at one.
Rae would add another just under three minutes later while the Warriors were shorthanded. Similar to Bonfe, Rae would intercept a pass in the offensive zone during the penalty kill. That interception would quickly put her in on a breakaway, and she would capitalize for her third of the season and second of the game to put Merrimack up a score. Colgate, however, would tie the game back up at two before the second intermission.
Again, the Warriors would strike first coming out of the intermission, this one coming on the power play. Sophomore captain Jackie Pieper (Edina, Minn.) would position herself in front of the net and tip a shot from freshman Paige Voight (St. Michael, Minn.) by the goaltender to take a 3-2 lead with 16 minutes to play in the game. That lead would not be enough, as Colgate would score two unanswered goals in the final 16 minutes to top Merrimack.
Inside The Numbers
Pieper now leads the Warriors with three goals on the season, with all three goals coming on special teams. She has two power-play goals, and one shorthanded.
Voight picked up her fifth assist on the season on Pieper's power-play goal. Her current line of 2-5-7 through seven games has her tied for 10th in the country among rookies with an average of one point per game.
Freshman goaltender and reigning Hockey East Rookie of the Week Samantha Ridgewell (Outlook, Saskatchewan) continues to keep the Warriors in games, as she would make 27 saves in this contest compared to Colgate's eight.
Up Next
The Warriors are back on the ice tomorrow to close out the weekend series with Colgate. Puck drops at 2:00 p.m.