Saturday, October 17, 2015
Providence College Defeated By Colgate, 6-2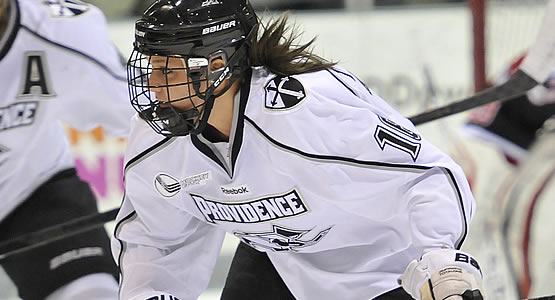 Providence College senior forward Brittney Thunstrom (pictured)
| | | | | | | |
| --- | --- | --- | --- | --- | --- | --- |
| Prd | Time | Team | Score | Type | Scored By | Assists |
| 1st | 7:27 | CLG | 1-0 | EV | Annika Zalewski (2) | - |
| 1st | 11:32 | CLG | 2-0 | EV | Kaila Pinkney (1) | Lauren Wildfang/2, Shae Labbe/3 |
| 1st | 13:05 | CLG | 3-0 | EV GW | Megan Sullivan (1) | Shelby Perry/2 |
| 2nd | 9:53 | CLG | 4-0 | EV | Megan Sullivan (2) | Bailey Larson/3, Breanne Wilson-Bennett/1 |
| 3rd | 2:59 | PRV | 1-4 | EV | Brooke Boquist (1) | Emily Landry/1 |
| 3rd | 15:50 | PRV | 2-4 | PP | Danielle Hardy (1) | Brooke Boquist/1, Christina Putigna/1 |
| 3rd | 17:09 | CLG | 5-2 | PP | Jessie Eldridge (2) | Shae Labbe/4, Lauren Wildfang/3 |
| 3rd | 19:18 | CLG | 6-2 | EV | Jessie Eldridge (3) | Shannon Ormel/1, Bailey Larson/4 |
| | | | | |
| --- | --- | --- | --- | --- |
| Scoring | 1st | 2nd | 3rd | Final |
| Colgate | 3 | 1 | 2 | 6 |
| Providence | 0 | 0 | 2 | 2 |
| | | | | |
| --- | --- | --- | --- | --- |
| Shots on Goal | 1st | 2nd | 3rd | SOG |
| Colgate | 9 | 9 | 13 | 31 |
| Providence | 7 | 6 | 11 | 24 |
| | | | |
| --- | --- | --- | --- |
| Team Stats and Records | PP | PIM | SHGF |
| Colgate (3-0-0) | 1/7 | 5/10 | 0 |
| Providence (0-3-0) | 1/4 | 8/16 | 0 |
| | | | | | | |
| --- | --- | --- | --- | --- | --- | --- |
| Colgate Goaltending | MIN | GA | 1 | 2 | 3 | Saves |
| Ashlynne Rando (W, 3-0-0) | 60:00 | 2 | 7 | 6 | 9 | 22 |
| | | | | | | |
| --- | --- | --- | --- | --- | --- | --- |
| Providence Goaltending | MIN | GA | 1 | 2 | 3 | Saves |
| Sarah Bryant (L, 0-3-0) | 13:05 | 3 | 5 | 0 | 0 | 5 |
| Madison Myers | 46:55 | 3 | 1 | 8 | 11 | 20 |
PROVIDENCE, R.I. - The Providence College women's ice hockey team was defeated by Colgate, 6-2 on Oct. 17. The Friars moved to 0-3-0 overall, while Colgate improved to 3-0-0 overall. The Raiders tallied three goals in the first period. Annika Zalewski notched the first, unassisted goal at 7:27. Goals two and three came from Kalia Pinkney (11:32) and Megan Sullivan (13:05).
Sarah Bryant (Bethlehem, Pa.) earned her third start of the season and freshman netminder Madison Myers (Colchester, Vt.) entered the game to make 20 saves.
Megan Sullivan added her second goal of the game, pushing the Raiders' lead to 4-0 in the second period.
The Friars got on the board 17 minutes into the third period, when Emily Landry (Orangeville, Ontario) carried the puck into the offensive zone and fed a wide open Brooke Boquist (Thunder Bay, Ontario) in the high slot. Boquist powered the puck through Ashlynne Rando's five-hole.
At the 15:50 minute mark, Danielle Hardy (Nanaimo, British Colombia) collected her first collegiate goal on the Friar power play. Christina Putigna (Grimsby, Ontario) shot from the tops of the circles. Cassidy Carels (Bruxelles, Manitoba) found Putigna's rebound but could not put it home. Hardy buried Carels' rebound to close Colgate's lead to two goals.
The Raiders pulled ahead with two more goals to close the period, both from Jessie Eldridge.
The Friars will return to action on Oct. 18 at 2:00 p.m. versus the Syracuse Orange at Schneider Arena.