Friday, November 13, 2015
UConn Huskies Topped By Clarkson, 3-1
Senior goaltender Elaine Chuli makes 52 saves for Huskies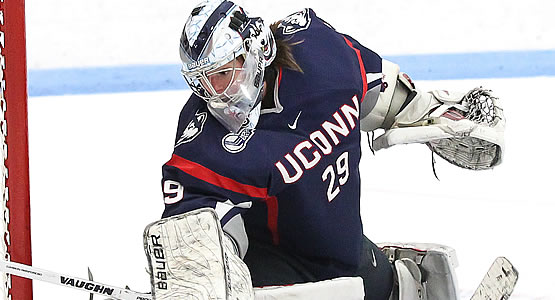 Senior goaltender Elaine Chuli made 52 saves for the Huskies
| | | | | | | |
| --- | --- | --- | --- | --- | --- | --- |
| Prd | Time | Team | Score | Type | Scored By | Assists |
| 1st | 13:51 | CON | 1-0 | EV | Jordy Zacharias (3) | Margaret Zimmer/2, Leah Lum/4 |
| 2nd | 18:11 | CLK | 1-1 | EV | Shannon MacAulay (3) | Savannah Harmon/8 |
| 2nd | 19:14 | CLK | 2-1 | EV GW | Savannah Harmon (4) | Cayley Mercer/11 |
| 3rd | 17:49 | CLK | 3-1 | EV | Olivia Howe (6) | Geneviève Bannon/12, Cayley Mercer/12 |
| | | | | |
| --- | --- | --- | --- | --- |
| Scoring | 1st | 2nd | 3rd | Final |
| Connecticut | 1 | 0 | 0 | 1 |
| Clarkson | 0 | 2 | 1 | 3 |
| | | | | |
| --- | --- | --- | --- | --- |
| Shots on Goal | 1st | 2nd | 3rd | SOG |
| Connecticut | 4 | 10 | 1 | 15 |
| Clarkson | 12 | 21 | 22 | 55 |
| | | | |
| --- | --- | --- | --- |
| Team Stats and Records | PP | PIM | SHGF |
| Connecticut (4-5-2) | 0/2 | 3/6 | 0 |
| Clarkson (12-1-2) | 0/2 | 2/4 | 0 |
| | | | | | | |
| --- | --- | --- | --- | --- | --- | --- |
| Connecticut Goaltending | MIN | GA | 1 | 2 | 3 | Saves |
| Elaine Chuli (L, 2-4-1) | 57:55 | 3 | 12 | 19 | 21 | 52 |
| Empty Net | 2:05 | 0 | | | | |
| | | | | | | |
| --- | --- | --- | --- | --- | --- | --- |
| Clarkson Goaltending | MIN | GA | 1 | 2 | 3 | Saves |
| Shea Tiley (W, 10-1-2) | 59:48 | 1 | 3 | 10 | 1 | 14 |
| Empty Net | 0:12 | 0 | | | | |
POTSDAM, N.Y. - The UConn women's hockey team (4-5-2, 1-4-0 WHEA) could not hang on to its 1-0 lead and dropped a 3-1 decision to No. 4/5 Clarkson (12-1-2, 1-1-2 ECAC) on Friday.
Senior goaltender Elaine Chuli (Waterford, Ont.) gave her second 50-plus save performance of the season, racking up 52 stops in 60 minutes of play.
UConn took a 1-0 lead in the first period when freshman Jordy Zacharias (Winnipeg, Manitoba) scored 13 minutes into the game to put UConn on top. This marked Zacharias' third goal in her inaugural season with the Huskies. Senior Margaret Zimmer (St. Charles Ill.) and sophomore Leah Lum (Richmond, B.C.) earned credit on the assists.
The Huskies held onto the lead for the remainder of the first period and for the majority of the second. The Golden Knights struck with less than two minutes on the clock in the second period, scoring back-to-back goals before the second intermission to take the lead.
Clarkson's Shannon MacAulay notched the equalizer with 1:49 on the clock good for her second goal of the season. A minute later, Savannah Harmon netted the game-winner to give Clarkson the 2-1 lead with just seconds on the clock before the second break.
UConn fought back in the third, but Clarkson tacked on an insurance goal late in the third when Olivia Howe, the second leading scorer for the Knights, knocked in her fifth goal of the season to seal it 3-1 with just over two minutes left on the clock.
The Huskies are back it tomorrow, Nov. 15 at Cheel Arena to face off against the Golden Knights for game-two at 3 p.m.