Saturday, November 14, 2015
UConn Falls To Clarkson, 3-2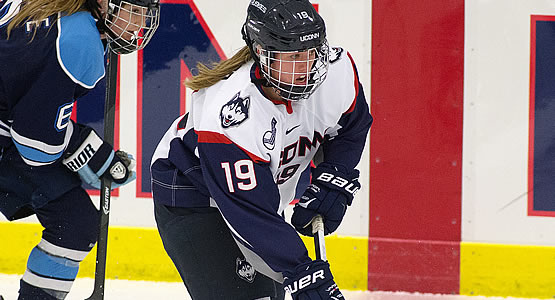 Senior forward Margaret Zimmer scored a goal for the Huskies
| | | | | | | |
| --- | --- | --- | --- | --- | --- | --- |
| Prd | Time | Team | Score | Type | Scored By | Assists |
| 2nd | 17:23 | CLK | 1-0 | EV | Cayley Mercer (13) | Savannah Harmon/9 |
| 3rd | 8:37 | CON | 1-1 | PP | Margaret Zimmer (2) | Jordy Zacharias/2 |
| 3rd | 11:47 | CON | 2-1 | PP | Jordy Zacharias (4) | Leah Lum/5, Kayla Mee/2 |
| 3rd | 17:27 | CLK | 2-2 | EV | Erin Ambrose (2) | - |
| 3rd | 18:57 | CLK | 3-2 | PP GW | Olivia Howe (7) | Shannon MacAulay/4, Savannah Harmon/10 |
| | | | | |
| --- | --- | --- | --- | --- |
| Scoring | 1st | 2nd | 3rd | Final |
| Connecticut | 0 | 0 | 2 | 2 |
| Clarkson | 0 | 1 | 2 | 3 |
| | | | | |
| --- | --- | --- | --- | --- |
| Shots on Goal | 1st | 2nd | 3rd | SOG |
| Connecticut | 4 | 6 | 9 | 19 |
| Clarkson | 20 | 11 | 15 | 46 |
| | | | |
| --- | --- | --- | --- |
| Team Stats and Records | PP | PIM | SHGF |
| Connecticut (4-6-2) | 2/5 | 3/6 | 0 |
| Clarkson (13-1-2) | 1/3 | 5/10 | 0 |
| | | | | | | |
| --- | --- | --- | --- | --- | --- | --- |
| Connecticut Goaltending | MIN | GA | 1 | 2 | 3 | Saves |
| Elaine Chuli (L, 2-5-1) | 60:00 | 3 | 20 | 10 | 13 | 43 |
| | | | | | | |
| --- | --- | --- | --- | --- | --- | --- |
| Clarkson Goaltending | MIN | GA | 1 | 2 | 3 | Saves |
| Shea Tiley (W, 11-1-2) | 60:00 | 2 | 4 | 6 | 7 | 17 |
POTSDAM, N.Y. - The UConn women's ice hockey team (4-6-2, 1-4-0 WHEA) fought back to take the lead against No. 4/5 Clarkson (13-1-2, 1-1-2 ECAC) in third period on Saturday, but back-to-back goals in the last two minutes left the Huskies short, 3-2, in game-two against the Golden Knights.
The first period remained scoreless, despite Clarkson putting up 20 shots on goal compared to UConn's four. Leading scorer, senior Brittany Berisoff (Kelowna, B.C.) registered three out of the four shots for UConn.
The Huskies pushed back in the second period, registering six shots and holding Clarkson to half of what they put up in the first. Again, Berisoff recorded three of the six shots, which left her with credit for over 50 percent of the shots taken in the first two frames.
The score remained 0-0 throughout the majority of the middle period, but Clarkson's leading scorer Cayley Mercer snuck one in with two minutes on the clock to take a 1-0 lead going into the second intermission.
UConn tied it up in the third period when senior Margaret Zimmer (St. Charles, Ill.)scored a power play goal to even the score 1-1 nine minutes into the third.
Two minutes later, Clarkson was called for slashing and UConn took the man advantage once again. Freshman Jordy Zacharias (Winnipeg, Manitoba) capitalized 11 seconds into the power play to give the Huskies the 2-1 lead with less than ten minutes to play in the game.
Clarkson found the back of the net and tied it up again with two minutes on the clock. The Golden Knights struck again at the one minute warning to secure a last-minute 3-2 win to sweep the Huskies.
UConn kept itself in the game, despite being outshot 46-19 by Clarkson. Senior goaltender Elaine Chuli (Waterford, Ont.) made 43 stops for the Huskies, bringing her total to 95 saves in the two-game series against the Golden Knights.
The Huskies will return to the Freitas Ice Forum on Friday, Nov. 20 at 7 p.m. when they host Vermont before traveling to Maine on Sunday, Nov. 22 when they take on the Black Bears at 3 p.m. at Alfond Arena.