New Hampshire Defeated By Clarkson, 4-2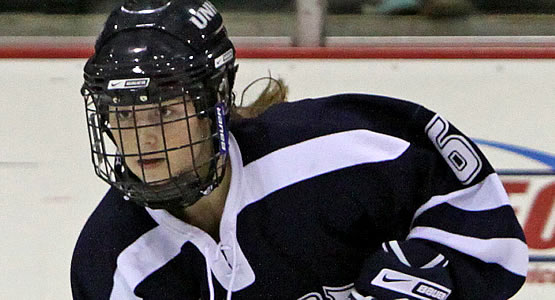 Junior forward Jonna Curtis had a goal for the Wildcats
| | | | | | | |
| --- | --- | --- | --- | --- | --- | --- |
| Prd | Time | Team | Score | Type | Scored By | Assists |
| 1st | 3:27 | UNH | 1-0 | EV | Sara Carlson (1) | Taylor Wenczkowski/3 |
| 1st | 18:42 | CLK | 1-1 | EV | Cayley Mercer (5) | Geneviève Bannon/6 |
| 2nd | 4:25 | CLK | 2-1 | PP | Loren Gabel (4) | Geneviève Bannon/7 |
| 2nd | 15:54 | CLK | 3-1 | EV GW | Cayley Mercer (6) | Olivia Howe/5, Kelly Mariani/3 |
| 3rd | 1:30 | CLK | 4-1 | EV | Cayley Mercer (7) | Olivia Howe/6, Kelly Mariani/4 |
| 3rd | 9:15 | UNH | 2-4 | EV | Jonna Curtis (3) | - |
| | | | | |
| --- | --- | --- | --- | --- |
| Scoring | 1st | 2nd | 3rd | Final |
| New Hampshire | 1 | 0 | 1 | 2 |
| Clarkson | 1 | 2 | 1 | 4 |
| | | | | |
| --- | --- | --- | --- | --- |
| Shots on Goal | 1st | 2nd | 3rd | SOG |
| New Hampshire | 4 | 4 | 11 | 19 |
| Clarkson | 14 | 11 | 9 | 34 |
| | | | |
| --- | --- | --- | --- |
| Team Stats and Records | PP | PIM | SHGF |
| New Hampshire (0-6-0) | 0/3 | 2/4 | 0 |
| Clarkson (8-0-0) | 1/2 | 3/6 | 0 |
| | | | | | | |
| --- | --- | --- | --- | --- | --- | --- |
| New Hampshire Goaltending | MIN | GA | 1 | 2 | 3 | Saves |
| Vilma Vaattovaara (L, 0-3-0) | 56:25 | 4 | 13 | 9 | 8 | 30 |
| Empty Net | 3:35 | 0 | | | | |
| | | | | | | |
| --- | --- | --- | --- | --- | --- | --- |
| Clarkson Goaltending | MIN | GA | 1 | 2 | 3 | Saves |
| Shea Tiley (W, 7-0-0) | 60:00 | 2 | 3 | 4 | 10 | 17 |
POTSDAM, N.Y. - Vilma Vaattovaara (Veikkola, Finland) recorded saves for the University of New Hampshire women's ice hockey team, but Cayley Mercer's hat trick lifted fourth-ranked Clarkson University to Friday afternoon's 4-2 victory at Cheel Arena.
UNH moves to 0-6-0 overall, including 0-2-0 against nationally-ranked teams, while Clarkson remains unbeaten and untied through eight games. The Golden Knights recorded a 34-19 shot advantage that included 14-4 in the first period and 11-4 in the second.
Sara Carlson (Hutchinson, Minn.) scored her first goal of the season and Jonna Curtis (Elk River, Minn.) netted her team-leading third of the year to account for the Wildcats' goals. Taylor Wenczkowski (Rochester, N.H.) was credited with her third assist.
Genevieve Bannon, Olivia Howe and Kelly Marina tallied two assists apiece for Clarkson. Loren Gabel also scored and Shea Tiley made 17 saves, 10 of which came in the third period.
UNH and Clarkson conclude the two-game series Oct. 24 (3 p.m.) at Cheel Arena. The Wildcats' next home game is Nov. 1 (2 p.m.) against Boston University. Tickets for that game at the Whittemore Center and all other women's ice hockey home games are available by calling 603-862-4000, ext. 5 or visiting www.unhwildcats.com.
Carlson gave UNH an early 1-0 lead at 3:27 when she beat a defender at Tiley from close range on a high shot.
The Golden Knights began to wrest momentum away in the next three minutes, but shots by Mariani, Emma Keenan and Savannah Harmon all went wide of the net. Clarkson continued to fire shots, but Vaattovaara denied both Mercer and Howe, and three other shot attempts were blocked by UNH skaters, including two by Marie-Jo Pelletier (Dalhousie, New Brunswick).
Clarkson went on the first power play of the game at 13:22, but Vaattovaara stopped three shots to preserve the Wildcats' one-goal lead.
Mercer, with the assistance of Bannon, leveled the score 1-1 at 18:42 of the first period. Clarkson continued to pressure, but Titus and Brielle Bellerive were denied by Vaattovaara.
The Golden Knights went back on the power play at 2:44 of the second stanza and Gabel scored on a backdoor play to give them a 2-1 lead at 4:25. Bannon, with the diagonal pass from the top-left circle, set up Gabel.
UNH generated pressure midway through the period, but Cassandra Vilgrain (Calgary, Alberta) was denied twice by Tiley. Clarkson advanced the puck to the other end of the ice, but Vaattovaara kept the 'Cats within a goal with two saves against Mercer and another off Josiane Pozzebon's stick.
Mercer struck again at 15:54 to give the home team a 3-1 lead.
New Hampshire went on its first power play of the game at 16:50, but the only two shots attempted during the two-minute skater advantage - both by Jenna Rheault (Deering, N.H.) - sailed wide of the cage.
Mercer completed the hat trick at 1:30 of the third period to mark Clarkson's fourth consecutive goal and give the Golden Knights a 4-1 advantage.
The Wildcats didn't convert their next power play into a goal, but Curtis scored an unassisted goal 44 seconds later to trim the deficit to 4-2 at 9:15.
Vaattovaara was pulled in favor of an extra skater at 16:07 of the final frame, and that led to a Clarkson penalty and subsequent UNH power play at 17:18. The Wildcats continued to play with an empty net to give them a two-skater advantage before Vaattovaara reentered the game with 1:21 remaining. She returned to the bench 18 seconds later to once again give the 'Cats a two-skater advantage. CU did not allow a shot the rest of the way, however.