Saturday, October 24, 2015
New Hampshire Downed By Clarkson, 6-4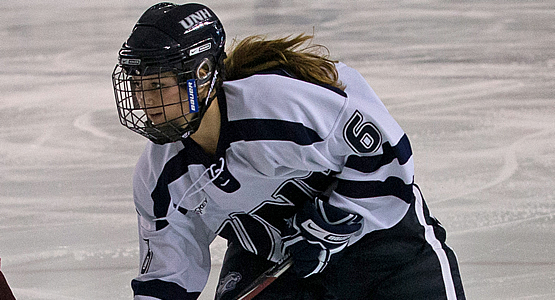 Junior forward Jonna Curtis scored two goals for the Wildcats
| | | | | | | |
| --- | --- | --- | --- | --- | --- | --- |
| Prd | Time | Team | Score | Type | Scored By | Assists |
| 1st | 6:19 | CLK | 1-0 | EV | Cayley Mercer (8) | Emma Keenan/3 |
| 1st | 9:06 | CLK | 2-0 | EV | Loren Gabel (5) | Geneviève Bannon/8, Shannon MacAulay/2 |
| 1st | 14:04 | UNH | 1-2 | EV | Jonna Curtis (4) | Julia Fedeski/2, Kate Haslett/1 |
| 2nd | 3:16 | CLK | 3-1 | EV | Cayley Mercer (9) | Olivia Howe/7, Renata Fast/4 |
| 2nd | 12:36 | UNH | 2-3 | EV | Jenna Rheault (1) | Marie-Jo Pelletier/1, Devan Taylor/1 |
| 2nd | 13:42 | CLK | 4-2 | PP | Cayley Mercer (10) | Savannah Harmon/7, Renata Fast/5 |
| 2nd | 17:39 | UNH | 3-4 | EV | Jonna Curtis (5) | Sara Carlson/3 |
| 3rd | 11:05 | CLK | 5-3 | EV GW | Rhyen McGill (5) | Geneviève Bannon/9, Loren Gabel/3 |
| 3rd | 18:09 | UNH | 4-5 | EV EA | Amy Schlagel (2) | Jonna Curtis/2, Kate Haslett/2 |
| 3rd | 18:28 | CLK | 6-4 | EV EN | Loren Gabel (6) | - |
| | | | | |
| --- | --- | --- | --- | --- |
| Scoring | 1st | 2nd | 3rd | Final |
| New Hampshire | 1 | 2 | 1 | 4 |
| Clarkson | 2 | 2 | 2 | 6 |
| | | | | |
| --- | --- | --- | --- | --- |
| Shots on Goal | 1st | 2nd | 3rd | SOG |
| New Hampshire | 5 | 9 | 9 | 23 |
| Clarkson | 12 | 15 | 9 | 36 |
| | | | |
| --- | --- | --- | --- |
| Team Stats and Records | PP | PIM | SHGF |
| New Hampshire (0-7-0) | 0/1 | 2/4 | 0 |
| Clarkson (9-0-0) | 1/2 | 1/2 | 0 |
| | | | | | | |
| --- | --- | --- | --- | --- | --- | --- |
| New Hampshire Goaltending | MIN | GA | 1 | 2 | 3 | Saves |
| Vilma Vaattovaara (L, 0-4-0) | 59:21 | 5 | 10 | 13 | 7 | 30 |
| Empty Net | 0:39 | 1 | | | | |
| | | | | | | |
| --- | --- | --- | --- | --- | --- | --- |
| Clarkson Goaltending | MIN | GA | 1 | 2 | 3 | Saves |
| McKenzie Johnson (W, 2-0-0) | 60:00 | 4 | 4 | 7 | 8 | 19 |
POTSDAM, N.Y. - Jonna Curtis (Elk River, Minn.) recorded two goals and an assist but the University of New Hampshire women's ice hockey team's comeback fell short in Saturday afternoon's 6-4 loss against fourth-ranked Clarkson University at Cheel Arena,
UNH is now 0-7-0 overall with the last three losses coming at the expense of nationally-ranked teams. Clarkson is still unbeaten and untied at 9-0-0.
Curtis matched her career high of two goals and finished with a season high of three points. Kate Haslett (Rothesay, New Brunswick) tallied two assists for her first career multiple-point game. Amy Schlagel (Blaine, Minn.) scored a goal, and both Sara Carlson (Hutchinson, Minn.) and Julia Fedeski (Algonquin Highlands, Ontario) were credited with an assist as six of UNH's seven defensemen tallied a point.
Jenna Rheault (Deering, N.H.) scored a goal for her first career point and fellow freshman Marie-Jo Pelletier (Dalhousie, New Brunswick) and forward Devan Taylor (North Billerica, Mass.) both tallied an assist for their first career point.
Vilma Vaattovaara (Veikkola, Finland) made double-digit saves in both the first (10) and second (13) periods and finished with 30 saves in both games of the series at Clarkson. McKenzie Johnson made 19 saves in net for the Golden Knights, who were led offensively by Cayley Mercer (three goals), Loren Gabel (two goals, one assist), Genevie Bannon (two assists) and Renata Fast (two assists).
UNH returns to action Oct. 30 (7 p.m.) at the University of Vermont. The Wildcats' next home game is Nov. 1 (2 p.m.) against Boston University. Tickets for that game at the Whittemore Center and all other women's ice hockey home games are available by calling 603-862-4000, ext. 5 or visiting www.unhwildcats.com.
Clarkson went on the first power play of the game at 2:07 but the Golden Knights were kept scoreless on the skater advantage by Vaattovaara, who stopped shots by Savannah Harmon and Gabel.
CU turned a scoreless tie into a quick 2-0 lead with goals 2 minutes, 47 seconds apart. Mercer struck first at 6:19 and Gabel extended the advantage to two goals at 9:06.
Vaattovaara kept the 'Cats within two goals with saves against Mercer and Corie Jacobson, then Rhyen McGill hit the post.
Curtis scored her second goal in as many days - and fourth of the season - at 14:04 to pull the Wildcats within 2-1. Fedeski and Haslett were credited with assists.
UNH outshot the Golden Knights 3-2 the remainder of the first period but the home team took a 2-1 lead and 12-5 shot advantage into the first intermission.
Both teams scored twice in the second period as the home team tallied a 15-9 shot advantage.
The Wildcats peppered Johnson with four shots the opening 72 seconds of the second period, but she turned aside Nicoline Jensen (Rodovre, Denmark), Pelletier and then Amy Boucher (Edmonton, Albert) twice to keep Clarkson in front by a goal.
The Golden Knights scored on their first shot of the middle stanza - Mercer's shot at 3:16 -- to build a 3-1 lead. Vaattovaara made three more saves the next two minutes to keep the 'Cats within striking distance.
Rheault, with the assistance of Pelletier and Taylor, once again pulled UNH within a goal, 3-2, at 12:36. Clarkson went on the power play at 13:12, however, and Mercer scored 30 seconds later to reestablish a two-goal lead of 4-2.
The Wildcats converted offensive chances into a goal that trimmed the deficit to 4-3 at 17:39 of the second stanza. Rheault's initial shot was stopped by Johnson and then Carlson's shot was blocked by a Clarkson skater ,but Curtis corralled the puck and potted her second goal of the game.
New Hampshire went on the power play at 2:49 of the final frame with the chance to tie the score, but CU's penalty kill did not allow a shot.
Eight minutes into the third period, Vaattovaara denie Bannon twice to keep the score 4-3. Less than a minute later, Johnson was forced to preserve the lead with saves against both Jensen and Carlson.
Rhyen McGill gave the Golden Knights its third two-goal lead of the game, 5-3, with a atally at 11:05 that was set up by Bannon and Gabel.
UNH pulled Vaattovaara in favor of an extra skater with 2:16 remaining in regulation and Schlagel scored 25 seconds later to once again lift the 'Cats within one goal, 5-4, at 18:09. Curtis and Haslett were credited with assists.
Vaattovaara reentered the game, but skated back to the bench nine seconds later to give New Hampshire an extra attacker. This time, however, it was Clarkson that scored quickly as Gabel sent the puck into the empty net at 18:28.
UNH's goalie stayed in the net the rest of the way and the Wildcats did not record another shot on goal the final 92 seconds.