Saturday, November 7, 2015
Chuli, UConn Shut Out Merrimack, 1-0
Senior goaltender Elaine Chuli earns fifth career shutout with 23 saves for Huskies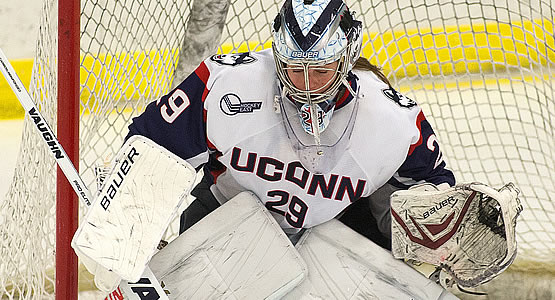 Senior goaltender Elaine Chuli made 23 saves for the Huskies
| | | | | | | |
| --- | --- | --- | --- | --- | --- | --- |
| Prd | Time | Team | Score | Type | Scored By | Assists |
| 1st | 17:55 | CON | 1-0 | PP GW | Brittany Berisoff (5) | Leah Lum/3 |
| | | | | |
| --- | --- | --- | --- | --- |
| Scoring | 1st | 2nd | 3rd | Final |
| Merrimack | 0 | 0 | 0 | 0 |
| Connecticut | 1 | 0 | 0 | 1 |
| | | | | |
| --- | --- | --- | --- | --- |
| Shots on Goal | 1st | 2nd | 3rd | SOG |
| Merrimack | 11 | 5 | 7 | 23 |
| Connecticut | 6 | 18 | 10 | 34 |
| | | | |
| --- | --- | --- | --- |
| Team Stats and Records | PP | PIM | SHGF |
| Merrimack (2-8-0) | 0/1 | 4/8 | 0 |
| Connecticut (4-3-2) | 1/4 | 1/2 | 0 |
| | | | | | | |
| --- | --- | --- | --- | --- | --- | --- |
| Merrimack Goaltending | MIN | GA | 1 | 2 | 3 | Saves |
| Samantha Ridgewell (L, 2-7-0) | 59:28 | 1 | 5 | 18 | 10 | 33 |
| Empty Net | 0:32 | 0 | | | | |
| | | | | | | |
| --- | --- | --- | --- | --- | --- | --- |
| Connecticut Goaltending | MIN | GA | 1 | 2 | 3 | Saves |
| Elaine Chuli (W, 2-3-1) | 59:38 | 0 | 11 | 5 | 7 | 23 |
| Empty Net | 0:22 | 0 | | | | |
STORRS, Conn. - A late first period goal from senior Brittany Berisoff (Kelowna, B.C.) lifted the UConn women's ice hockey team past Merrimack, 1-0 on Saturday, earning its first conference win of the season. That marked Berisoff's fifth goal the season, the most of any Husky, and 14th of her career. She currently leads the team with seven points.
The 1-0 win moved the Huskies to a 4-3-2 overall record with a 1-3 record in Hockey East play while the Warriors drop to 2-8 overall and 1-3 in conference games.
UConn took the lead late in the first period despite being outshot by Merrimack 11-6 in the first frame. Merrimack was called for a body check just over 17 minutes in and UConn went up on the power play.
Berisoff capitalized less than a minute into the man-advantage off a pass from sophomore Leah Lum (Richmond, B.C.). Berisoff originally had the puck down by the hash marks on the boards on the near side when she passed it up to Lum at the point.
Lum fed it back down to Berisoff at the hash marks and she ripped the puck on net and it deflected off Merrimack's goalie and into the back of the net.
UConn came out strong in the second period, outshooting Merrimack 18-5 in the middle frame. Sophomore Justine Fredette (Winnipeg, Manitoba) rang one off the pipe early into the second, but the score remained 1-0 going into the break.
Merrimack almost tied it up in the third when Allison Sexton fired a shot from the point and it deflected off Fredette's stick up towards the goal, but UConn goaltender Elaine Chuli (Waterford, Ont.) was able to knock it up over the net with her glove.
UConn outshot Merrimack 34-23 total in the game. Chuli recorded 23 saves for her second shutout of the season. Her first was in the 1-0 victory on the road, in the first game against Penn State. Merrimack goaltender Samantha Ridgewell posted 33 saves against the Huskies for only one goal against.
The Huskies return to the Freitas Ice Forum Sunday, Nov. 8 to host the New Hampshire Wildcats at 2 p.m.