Friday, February 12, 2016
Buress Scores in Overtime to Lift UConn Past Maine, 2-1
Senior forward Leah Buress scores at 2:41 of overtime for Huskies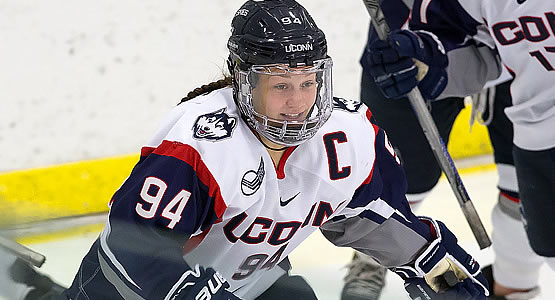 Senior forward Leah Buress scored the game-winning goal for the Huskies
| | | | | | | |
| --- | --- | --- | --- | --- | --- | --- |
| Prd | Time | Team | Score | Type | Scored By | Assists |
| 1st | 10:48 | CON | 1-0 | EV | Leah Lum (9) | Brittany Berisoff/7, Jaime Fox/6 |
| 3rd | 14:27 | MNE | 1-1 | PP | Emilie Brigham (4) | Audra Richards/8 |
| OT | 2:41 | CON | 2-1 | EV GW | Leah Buress (5) | Caitlin Hewes/5 |
| | | | | | |
| --- | --- | --- | --- | --- | --- |
| Scoring | 1st | 2nd | 3rd | OT | Final |
| Maine | 0 | 0 | 1 | 0 | 1 |
| Connecticut | 1 | 0 | 0 | 1 | 2 |
| | | | | | |
| --- | --- | --- | --- | --- | --- |
| Shots on Goal | 1st | 2nd | 3rd | OT | SOG |
| Maine | 7 | 11 | 19 | 3 | 40 |
| Connecticut | 9 | 7 | 2 | 3 | 21 |
| | | | |
| --- | --- | --- | --- |
| Team Stats and Records | PP | PIM | SHGF |
| Maine (10-20-2) | 1/4 | 4/8 | 0 |
| Connecticut (13-13-5) | 0/4 | 4/8 | 0 |
| | | | | | | | |
| --- | --- | --- | --- | --- | --- | --- | --- |
| Maine Goaltending | MIN | GA | 1 | 2 | 3 | OT | Saves |
| Meghann Treacy (L, 9-17-2) | 62:30 | 2 | 8 | 7 | 2 | 2 | 19 |
| Empty Net | 0:11 | 0 | | | | | |
| | | | | | | | |
| --- | --- | --- | --- | --- | --- | --- | --- |
| Connecticut Goaltending | MIN | GA | 1 | 2 | 3 | OT | Saves |
| Elaine Chuli (W, 8-10-2) | 62:41 | 1 | 7 | 11 | 18 | 3 | 39 |
STORRS, Conn. - UConn senior Leah Buress (Windsor, Ont.) scored the game-winning goal in overtime to lift the Huskies (13-13-5, 9-9-3 WHEA) past Maine (10-20-2, 6-16-1 WHEA) in a 2-1 overtime thriller Friday at the Freitas Ice Forum in Storrs.
Sophomore Leah Lum (Richmond, B.C.) tapped home a rebound to open up the scoring 10:48 into the first period, giving UConn an early 1-0 lead. Freshman Jaime Fox (Unionville,Ont.) passed it from the point to an open Brittany Berisoff (Kelowna,B.C.), who tipped it on net and Lum tucked away the rebound.
UConn almost took a two-goal lead after sophomore Theresa Knutson (Onalaska,Wis.) rang a power play chance of the post 10 minutes into the second period, but score remained 1-0.
Senior goaltender Elaine Chuli (Waterford, Ont.) stood tall between the pipes as Maine rallied off a couple of good scoring chances with three minutes left in the period, but with no avail.
The Huskies were able to kill off two penalties in the second period to keep their 1-0 lead after 40 minutes of play.
Maine started the third period off with a backdoor scoring attempt, but Chuli was there once again to close the door. After back and forth play for most of the third period, the Huskies went on the penalty kill with 6:15 left in the contest, which ultimately led to the Maine's equalizer at the 14:27 mark.
Sixty minutes was not enough and the Huskies and Black Bears went into overtime with the score knotted at one. Lum opened the extra frame with a couple of great shots on goal, but Maine's Meghann Treacy made the stops.
Halfway through the overtime period, senior Caitlin Hewes (Stillwater, Minn.) poked a loose puck out to Buress who skated down on a breakaway and ended it with 2:19 left on the clock.
Chuli recorded her eighth win of the season after stopping 39 shots, bringing her to within 32 saves of the Hockey East career record currently Roxanne Douville with 2,143.
UP NEXT...
The Huskies are back at it against the Black Bears tomorrow, Feb. 13 at 2 p.m. for Senior Day at the Freitas Ice Forum, where UConn will recognize its seven seniors prior to puck drop.