Saturday, January 23, 2016
Northeastern Earns Weekend Sweep With 7-3 Win At UConn
Senior forward Kendall Coyne posts two goals and two assists for Huskies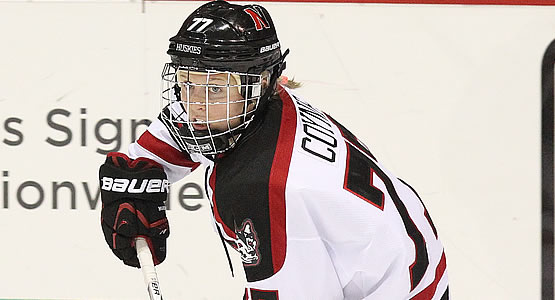 Senior forward Kendall Coyne had two goals and two assists for the Huskies
| | | | | | | |
| --- | --- | --- | --- | --- | --- | --- |
| Prd | Time | Team | Score | Type | Scored By | Assists |
| 1st | 2:05 | NOE | 1-0 | EV | Kendall Coyne (34) | Denisa Křížová/30, Melissa Haganey/3 |
| 1st | 8:25 | CON | 1-1 | EV | Theresa Knutson (13) | Kelly Harris/5 |
| 1st | 12:29 | NOE | 2-1 | EV | Ainsley MacMillan (2) | Denisa Křížová/31, Kendall Coyne/26 |
| 1st | 16:30 | CON | 2-2 | PP | Leah Lum (4) | Brittany Berisoff/4 |
| 1st | 19:48 | CON | 3-2 | EV | Brittany Berisoff (6) | Kayla Mee/9 |
| 2nd | 10:10 | NOE | 3-3 | PP | Lauren Kelly (1) | Jordan Krause/21, McKenna Brand/8 |
| 2nd | 16:41 | NOE | 4-3 | EV GW | McKenna Brand (6) | Heather Mottau/11 |
| 3rd | 4:57 | NOE | 5-3 | EV | Lauren Kelly (2) | Hayley Scamurra/22, Kendall Coyne/27 |
| 3rd | 13:45 | NOE | 6-3 | PP | Jordan Krause (4) | McKenna Brand/9, Lauren Kelly/14 |
| 3rd | 19:51 | NOE | 7-3 | SH EN | Kendall Coyne (35) | Heather Mottau/12 |
| | | | | |
| --- | --- | --- | --- | --- |
| Scoring | 1st | 2nd | 3rd | Final |
| Northeastern | 2 | 2 | 3 | 7 |
| Connecticut | 3 | 0 | 0 | 3 |
| | | | | |
| --- | --- | --- | --- | --- |
| Shots on Goal | 1st | 2nd | 3rd | SOG |
| Northeastern | 12 | 22 | 9 | 43 |
| Connecticut | 7 | 2 | 3 | 12 |
| | | | |
| --- | --- | --- | --- |
| Team Stats and Records | PP | PIM | SHGF |
| Northeastern (22-4-1) | 2/2 | 6/12 | 1 |
| Connecticut (9-11-5) | 1/5 | 3/6 | 0 |
| | | | | | | |
| --- | --- | --- | --- | --- | --- | --- |
| Northeastern Goaltending | MIN | GA | 1 | 2 | 3 | Saves |
| Sarah Foss | 20:00 | 3 | 4 | 0 | 0 | 4 |
| Brittany Bugalski (W, 15-3-1) | 39:47 | 0 | 0 | 2 | 3 | 5 |
| Empty Net | 0:13 | 0 | | | | |
| | | | | | | |
| --- | --- | --- | --- | --- | --- | --- |
| Connecticut Goaltending | MIN | GA | 1 | 2 | 3 | Saves |
| Elaine Chuli (L, 4-9-2) | 59:24 | 6 | 10 | 20 | 6 | 36 |
| Empty Net | 0:36 | 1 | | | | |
STORRS, Conn. - The UConn women's ice hockey team (9-11-5, 5-8-3 WHEA) could not hold onto its 3-2 lead against No. 6 Northeastern (22-4-1, 17-2-0 WHEA) and ultimately fell to the NU Huskies 7-3 on Saturday at UConn's Skating Strides game where the team raised 7,500 dollars to help fight breast cancer.
Senior goalkeeper Elaine Chuli (Waterford, Ont.) recorded 36 saves in Saturday's game for a combined total of 89 saves in the two-game series against Northeastern.
Northeastern got off to another early lead when leading scorer, Kendall Coyne put one top shelf two minutes into the first period.
UConn's leading goal scorer Theresa Knutson (Onalaska, Wis.) tied it up 8:05 into the first, when she scored on an odd-man rush off a pass from junior Kelly Harris (Canton, Mich.). Northeastern quickly reclaimed the lead to make it 2-1 12:29 into the game, but two late goals put UConn on top going into the first intermission.
Sophomore Leah Lum (Richmond, B.C.) notched her fourth goal of the season, a power play goal to tie it up 2-2 at 16:30 in the first and senior Brittany Berisoff (Kelowna, B.C.) recorded the assist.
Berisoff gave UConn the lead with just 12 seconds on the clock in the first period after she buried her sixth goal of the season off a pass from freshman Kayla Mee (Winnipeg, Manitoba) to put UConn on top 3-2 headed into the first break.
The UConn Huskies held off the NU Huskies, who changed goalies after the first, for the first ten minutes of the second before NU scored on a power play opportunity to tie it up 3-3. Northeastern tallied another goal 16:41 into the second off a one-timer slap shot that went back door on Chuli to take a 4-3 lead going into the third.
Northeastern pulled away in the third period, scoring three goals in the final frame, including a short-handed empty-netter right at the end to seal it 7-3. NU peppered Chuli with 43 shots, but held UConn to only 12 shots on goal, three of which resulted in goals.
UP NEXT...
UConn will host Princeton Monday, Jan. 25 at 7 p.m. in its first match-up with the Tigers this season at the Freitas Ice Forum in Storrs