Saturday, January 16, 2016
Providence College And UConn Skate To 1-1 Tie
Freshman forward Christina Putigna scores game-tying goal for Friars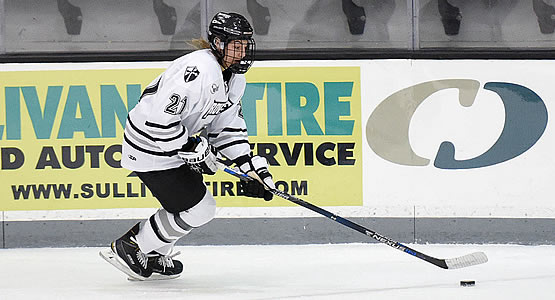 Freshman forward Christina Putigna scored the game-tying goal for the Friars
| | | | | | | |
| --- | --- | --- | --- | --- | --- | --- |
| Prd | Time | Team | Score | Type | Scored By | Assists |
| 1st | 5:24 | CON | 1-0 | EV | Theresa Knutson (9) | Justine Fredette/13, Kayla Mee/7 |
| 3rd | 2:47 | PRV | 1-1 | EV GT | Christina Putigna (7) | Cassidy Carels/13, Brooke Boquist/8 |
| | | | | | |
| --- | --- | --- | --- | --- | --- |
| Scoring | 1st | 2nd | 3rd | OT | Final |
| Connecticut | 1 | 0 | 0 | 0 | 1 |
| Providence | 0 | 0 | 1 | 0 | 1 |
| | | | | | |
| --- | --- | --- | --- | --- | --- |
| Shots on Goal | 1st | 2nd | 3rd | OT | SOG |
| Connecticut | 8 | 4 | 10 | 1 | 23 |
| Providence | 8 | 8 | 6 | 2 | 24 |
| | | | |
| --- | --- | --- | --- |
| Team Stats and Records | PP | PIM | SHGF |
| Connecticut (8-9-5) | 0/2 | 7/14 | 0 |
| Providence (8-14-1) | 0/5 | 4/8 | 0 |
| | | | | | | | |
| --- | --- | --- | --- | --- | --- | --- | --- |
| Connecticut Goaltending | MIN | GA | 1 | 2 | 3 | OT | Saves |
| Elaine Chuli (T, 3-7-2) | 65:00 | 1 | 8 | 8 | 5 | 2 | 23 |
| | | | | | | | |
| --- | --- | --- | --- | --- | --- | --- | --- |
| Providence Goaltending | MIN | GA | 1 | 2 | 3 | OT | Saves |
| Madison Myers (T, 7-9-1) | 64:50 | 1 | 7 | 4 | 10 | 1 | 22 |
| Empty Net | 0:10 | 0 | | | | | |
PROVIDENCE, R.I. - The Providence College women's hockey team tied UConn, 1-1, in Hockey East play. The Friars came back from a 1-0 deficit to tie the game early in the third period. The Friars move to 8-14-1 (4-8-1 WHEA) and UConn moves to 8-9-5 (4-6-3 WHEA).
Madison Myers (Colchester, Vt.) started in net for the Friars and made seven saves in the first period.
UConn struck early, at the 5:24 minute mark of the first period, when Theresa Knutson scored off of a breakaway.
Both teams battled back and forth, but neither were able to convert in the second period. Providence recorded 16 shots and UConn registered 12 after two periods.
Just over two minutes into the third period, the Friars evened the score. Christina Putigna (Grimsby, Ontario) took a goal line shot that beat UConn's Elaine Chuli on the short side. Brooke Boquist (Thunder Bay, Ontario) battled for the puck along the half wall and passed the puck to Cassidy Carels (Bruxelles, Manitoba), who then moved it to Putigna along the goal line.
The Friars found themselves in penalty trouble as the third period ended and began overtime with 1:30 remaining on the penalty. Providence went perfect on the penalty kill, killing all three of the team's penalties. The Huskies took a penalty just over a minute into overtime, but the Friars were unable to convert on the opportunity.
Myers collected 22 saves.
The game ended in a 1-1 tie, the first tie of the season for the Friars.
The Friars will be back in action at 2:00 p.m. on Jan. 17 at Freitas Ice Forum to finish the home-and-home weekend with UConn.