UConn Surges Past Penn State, 4-3, With Three-Goal Third Period
Sophomore forward Marisa Maccario scores game-winning goal for Huskies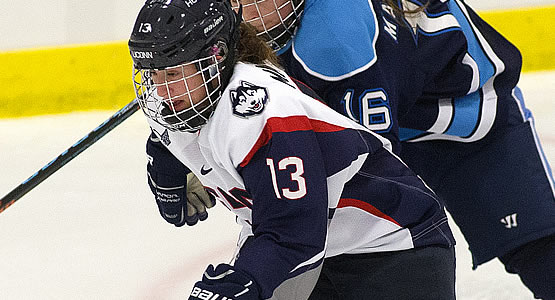 Sophomore forward Marisa Maccario scored the game-winning goal for the Huskies
| | | | | | | |
| --- | --- | --- | --- | --- | --- | --- |
| Prd | Time | Team | Score | Type | Scored By | Assists |
| 2nd | 1:01 | PSU | 1-0 | EV | Jordin Pardoski (2) | Shannon Yoxheimer/2, Victoria Samuelsson/5 |
| 2nd | 15:48 | CON | 1-1 | EV | Jordy Zacharias (2) | Jesssica Stott/2 |
| 2nd | 17:05 | PSU | 2-1 | EV | Amy Petersen (1) | Laura Bowman/1 |
| 3rd | 1:23 | PSU | 3-1 | EV | Hannah England (1) | Shannon Yoxheimer/3 |
| 3rd | 3:26 | CON | 2-3 | EV | Brittany Berisoff (4) | Justine Fredette/2 |
| 3rd | 8:23 | CON | 3-3 | EV | Caitlin Hewes (2) | Jaime Fox/2 |
| 3rd | 11:35 | CON | 4-3 | EV GW | Marisa Maccario (1) | Theresa Knutson/2 |
| | | | | |
| --- | --- | --- | --- | --- |
| Scoring | 1st | 2nd | 3rd | Final |
| Connecticut | 0 | 1 | 3 | 4 |
| Penn State | 0 | 2 | 1 | 3 |
| | | | | |
| --- | --- | --- | --- | --- |
| Shots on Goal | 1st | 2nd | 3rd | SOG |
| Connecticut | 7 | 12 | 13 | 32 |
| Penn State | 9 | 11 | 14 | 34 |
| | | | |
| --- | --- | --- | --- |
| Team Stats and Records | PP | PIM | SHGF |
| Connecticut (3-1-2) | 0/3 | 2/4 | 0 |
| Penn State (3-5-0) | 0/1 | 4/8 | 0 |
| | | | | | | |
| --- | --- | --- | --- | --- | --- | --- |
| Connecticut Goaltending | MIN | GA | 1 | 2 | 3 | Saves |
| Annie Belanger (W, 2-0-1) | 60:00 | 3 | 9 | 9 | 13 | 31 |
| | | | | | | |
| --- | --- | --- | --- | --- | --- | --- |
| Penn State Goaltending | MIN | GA | 1 | 2 | 3 | Saves |
| Hannah Ehresmann (L, 1-3-0) | 58:35 | 4 | 7 | 11 | 10 | 28 |
| Empty Net | 1:25 | 0 | | | | |
UNIVERSITY PARK, Pa. - Three third period goals gave the UConn women's ice hockey team (3-1-2, 0-1-0) the 4-3 comeback win over Penn State (3-5-0) on Sunday. The Huskies swept the Nittany Lions, claiming both wins in the first ever meetings between the two teams.
Eight different Huskies tallied points, including four different goal scorers and four different helpers.
Neither team could find the back of the net in the first period, which left the score tied up 0-0 going into the first break. UConn and Penn State both received penalties with 20 seconds left in the first that would carry over into the middle frame. The Nittany Lions opened the scoring one minute into the second period with four-on-four hockey.
UConn tied it up with less than five minutes on the board in the second when freshman Jordy Zacharias (Winnipeg, Manitoba) netted one off a pass from junior Jessica Stott (Niverville, Manitoba).
The tie was short-lived as Penn State redirected a puck into the back of the net just over a minute later to take a 2-1 lead going into the second intermission. The Nittany Lions netted another one minute out of the break to extend their lead to 3-1.
The Huskies kicked it into overdrive in the final period, netting three goals in eight minutes. The first came three and half minutes into the third from senior Brittany Berisoff (Kelowna, B.C.), her fourth of the season.
Senior Caitlin Hewes (Stillwater, Minn.) knocked in the equalizer five minutes later, making it 3-3 with over ten minutes remaining. Just minutes later, Sophomore Marisa Maccario (Marblehead, Mass.) got the game-winner to take the 4-3 lead that lasted for the remaining nine minutes.
Shots were pretty evenly matched with Penn State registering 34 and UConn 32. Sophmore goaltender Annie Belanger (Sherbrooke, Quebec) recorded 31 saves for her second win of the season in net.
The Huskies will face off against Boston College in a two-game series beginning on the road Friday, Oct. 30 at 2 p.m. at the Conte Forum in Chestnut Hill, Mass., before returning home to host the Eagles on Saturday, Oct. 31 at 2 p.m. at the Freitas Ice Forum.