Saturday, October 17, 2015
Knutson Goal Sends UConn To 4-3 Win Over Syracuse
Sophomore forward Theresa Knutson scores game-winning goal for Huskies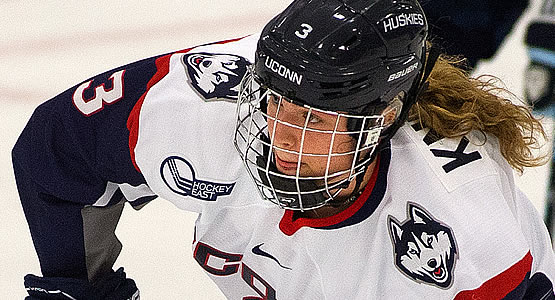 Sophomore forward Theresa Knutson scored the game-winning goal for the Huskies
| | | | | | | |
| --- | --- | --- | --- | --- | --- | --- |
| Prd | Time | Team | Score | Type | Scored By | Assists |
| 1st | 0:23 | SYR | 1-0 | EV | Nicole Ferrara (3) | Melissa Piacentini/2, Stephanie Grossi/5 |
| 1st | 8:56 | SYR | 2-0 | EV | Nicole Renault (1) | - |
| 1st | 11:00 | CON | 1-2 | PP | Justine Fredette (1) | Leah Buress/2, Kayla Mee/1 |
| 1st | 11:16 | CON | 2-2 | EV | Madison Badeau (1) | Kelly Harris/1, Margaret Zimmer/1 |
| 2nd | 13:13 | SYR | 3-2 | EV | Melissa Piacentini (4) | Dakota Derrer/1, Nicole Renault/2 |
| 2nd | 14:02 | CON | 3-3 | EV | Jordy Zacharias (1) | Jesssica Stott/1, Theresa Knutson/1 |
| 3rd | 17:03 | CON | 4-3 | EV GW | Theresa Knutson (1) | - |
| | | | | |
| --- | --- | --- | --- | --- |
| Scoring | 1st | 2nd | 3rd | Final |
| Syracuse | 2 | 1 | 0 | 3 |
| Connecticut | 2 | 1 | 1 | 4 |
| | | | | |
| --- | --- | --- | --- | --- |
| Shots on Goal | 1st | 2nd | 3rd | SOG |
| Syracuse | 16 | 11 | 9 | 36 |
| Connecticut | 8 | 6 | 5 | 19 |
| | | | |
| --- | --- | --- | --- |
| Team Stats and Records | PP | PIM | SHGF |
| Syracuse (1-3-0) | 0/3 | 2/4 | 0 |
| Connecticut (1-1-1) | 1/2 | 3/6 | 0 |
| | | | | | | |
| --- | --- | --- | --- | --- | --- | --- |
| Syracuse Goaltending | MIN | GA | 1 | 2 | 3 | Saves |
| Maddi Welch (L, 0-1-0) | 58:29 | 4 | 6 | 5 | 4 | 15 |
| Empty Net | 1:31 | 0 | | | | |
| | | | | | | |
| --- | --- | --- | --- | --- | --- | --- |
| Connecticut Goaltending | MIN | GA | 1 | 2 | 3 | Saves |
| Annie Belanger (W, 1-0-1) | 60:00 | 3 | 14 | 10 | 9 | 33 |
STORRS, Conn. - A late third period goal from sophomore Theresa Knutson (Onalaska, Wis.) lifted the UConn women's ice hockey team (1-1-1, 0-1-0) to a 4-3 win over Syracuse (1-3-0, 0-0-0) on Saturday. Four different Huskies tallied their first goals of the season in the match-up against the Orange.
Syracuse claimed an early 1-0 lead after redshirt senior Nicole Ferrara netted one less than 30 seconds into the game. The Orange extended their lead to 2-0 less than ten minutes into the first period off senior Nicole Renault's shot from the point.
UConn got on the board less than two minutes later when sophomore Justine Fredette (Winnipeg, Manitoba) scored on the powerplay, closing the gap to 2-1.
Sophomore Madison Badeau (Courtice, Ontario) knocked in the equalizer 16 seconds later after taking a shot from down low to the goal line and it deflected off of Syracuse net minder Maddi Welch and into the back of the net, tying the score up 2-2 going into the first break.
The beginning of the second period was relatively quiet compared to the first. Syracuse took another lead with less than 10 minutes on the clock in the middle frame. Renault had the puck at the point, but this time she passed off to sophomore Dakota Derrer who shot it from up top and senior Melissa Piacentini was there in front to deflect it top shelf over the shoulder of UConn goalkeeper, sophomore Annie Belanger (Sherbrooke, Quebec).
Less than a minute later, freshman Jordy Zacharias (Winnipeg, Manitoba) knotted the score up at 3-3 off a pass from junior Jessica Stott (Niverville, Manitoba) with just over five minutes left in the second period.
The game was still tied at 3-3 coming out of the second break. The third period was even more quiet than the second, with neither team receiving a penalty in the final frame. With just over two minutes to play and the thought of overtime entering everyone's minds, Knutson gave the Huskies their first and final lead of the game after she skated into the zone put a shot on net that was saved by Welch and then buried the rebound.
UConn held off Syracuse in over a minute of six-on-five play to clinch the 4-3 victory, marking its first win of the season.
Syracuse outshot UConn 36-19. Belanger recorded 33 saves for the Huskies to earn the win and Welch recorded 15 saves for Syracuse in her first career game with the Orange.
The Huskies will return to Freitas Sunday, Oct. 18 at 2 p.m. to take on Colgate in their second game of the weekend.