Saturday, October 3, 2015
UConn Rallies To Earn 2-2 Tie With Union
Senior forward Brittany Berisoff scores game-tying goal for Huskies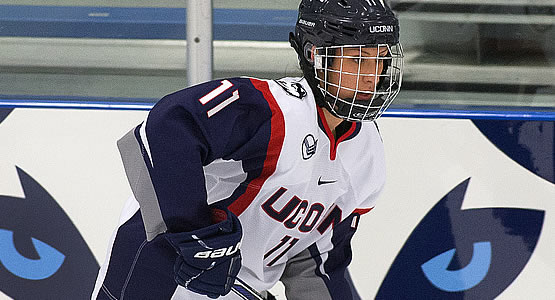 Senior forward Brittany Berisoff scored the game-tying goal for the Huskies
| | | | | | | |
| --- | --- | --- | --- | --- | --- | --- |
| Prd | Time | Team | Score | Type | Scored By | Assists |
| 1st | 7:54 | UNI | 1-0 | EV | Jacyn Reeves (1) | Lizzy Otten/2 |
| 1st | 9:46 | UNI | 2-0 | EV | Jamie Smith (1) | Caitlyn McLaren/1, Kathryn Tomaselli/1 |
| 2nd | 1:27 | CON | 1-2 | PP | Caitlin Hewes (1) | Jaime Fox/1, Madison Badeau/1 |
| 3rd | 13:06 | CON | 2-2 | EV GT | Brittany Berisoff (2) | Caitlin Hewes/1 |
| | | | | | |
| --- | --- | --- | --- | --- | --- |
| Scoring | 1st | 2nd | 3rd | OT | Final |
| Union | 2 | 0 | 0 | 0 | 2 |
| Connecticut | 0 | 1 | 1 | 0 | 2 |
| | | | | | |
| --- | --- | --- | --- | --- | --- |
| Shots on Goal | 1st | 2nd | 3rd | OT | SOG |
| Union | 7 | 11 | 9 | 1 | 28 |
| Connecticut | 15 | 14 | 5 | 3 | 37 |
| | | | |
| --- | --- | --- | --- |
| Team Stats and Records | PP | PIM | SHGF |
| Union (0-1-2) | 0/6 | 1/2 | 0 |
| Connecticut (0-1-1) | 1/1 | 6/12 | 0 |
| | | | | | | | |
| --- | --- | --- | --- | --- | --- | --- | --- |
| Union Goaltending | MIN | GA | 1 | 2 | 3 | OT | Saves |
| Melissa Black (T, 0-0-2) | 65:00 | 2 | 15 | 13 | 4 | 3 | 35 |
| | | | | | | | |
| --- | --- | --- | --- | --- | --- | --- | --- |
| Connecticut Goaltending | MIN | GA | 1 | 2 | 3 | OT | Saves |
| Annie Belanger (T, 0-0-1) | 65:00 | 2 | 5 | 11 | 9 | 1 | 26 |
STORRS, Conn. - The UConn women's ice hockey team (0-1-1, 0-1-0) played to a 2-2 draw against Union (0-1-2) in its home opener on Saturday. The Huskies came back after trailing Union 2-0 after the first period, scoring the equalizer with just over five minutes left in third to send the game into overtime.
Senior Brittany Berisoff (Kelowna, B.C.) scored her second goal of the season, after netting the Huskies' only goal in their 2-1 upset to BU on Friday.
Union took an early 2-0 lead, scoring both its goals less than ten minutes into the game. Dutchwoman Jacyn Reeves put the first one up on the board eight minutes into the game after she knocked in a rebound off an initial shot from Elizabeth Otten.
Less than two minutes later, the Dutchwomen extended their lead to 2-0 when defenseman, Caitlyn McLaren, fed the puck down into the corner to Jamie Smith, who fired one towards the cage. Smith's shot hit off the back of sophomore goaltender Annie Belanger (Sherbrooke, Quebec) and deflected into the back of the goal.
UConn came out strong after the first intermission, closing the gap to 2-1 just over one minute into the second frame after Union's Elizabeth Otten was called for a body check, and the Huskies went up on the power play.
Redshirt senior Caitlin Hewes (Stillwater, Minn.) put one in the back of the net from up top for her first goal of season. Freshman Jaime Fox (Unionville, Ont.) and sophomore Madison Badeau (Courtice, Ont.) recorded the assists on the powerplay goal.
Coming out of the second break, UConn had to kill of two power plays in the first ten minutes. Just before being called for tripping, sophomore Marisa Maccario (Marblehead, Mass.) went down on a breakaway for a huge scoring opportunity for the Huskies, but it was denied by Union's net minder Melissa Black.
With time winding down, Berisoff knocked in the equalizer with just over five minutes remaining in the game, eventually forcing overtime. Hewes received credit for the assist, giving her a two point total for the game.
Neither team could capitalize in the five minutes of overtime, leading to the final 2-2 draw. UConn put up three shots on goal in the overtime period, whereas Union only had one. Belanger recorded 46 saves for the Huskies and Black made 35 saves for the Dutchwomen.
The Huskies' next game will be on Saturday, Oct. 17 at 2 p.m. against Syracuse, followed by Colgate on Sunday, Oct. 18 at 2 p.m. both at the Freitas Ice Forum in Storrs.