UConn Huskies Edge Past Vermont Catamounts, 2-1
Senior forward Margaret Zimmer scores game-winning goal for Huskies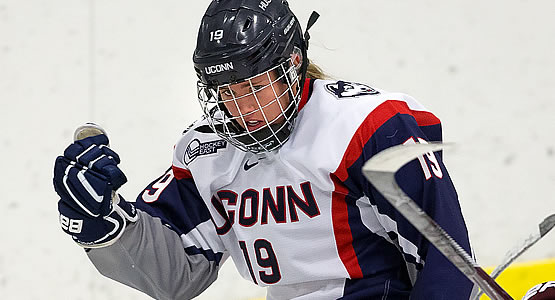 Senior forward Margaret Zimmer scored the game-winning goal for the Huskies
| | | | | | | |
| --- | --- | --- | --- | --- | --- | --- |
| Prd | Time | Team | Score | Type | Scored By | Assists |
| 1st | 3:00 | CON | 1-0 | EV | Leah Lum (5) | Leah Buress/6, Caitlin Hewes/3 |
| 1st | 16:03 | VER | 1-1 | EV | Dayna Colang (11) | Cassidy Campeau/2, Gina Repaci/3 |
| 2nd | 6:36 | CON | 2-1 | EV GW | Margaret Zimmer (4) | Madison Badeau/3, Lindsay Roethke/1 |
| | | | | |
| --- | --- | --- | --- | --- |
| Scoring | 1st | 2nd | 3rd | Final |
| Connecticut | 1 | 1 | 0 | 2 |
| Vermont | 1 | 0 | 0 | 1 |
| | | | | |
| --- | --- | --- | --- | --- |
| Shots on Goal | 1st | 2nd | 3rd | SOG |
| Connecticut | 6 | 8 | 6 | 20 |
| Vermont | 11 | 9 | 12 | 32 |
| | | | |
| --- | --- | --- | --- |
| Team Stats and Records | PP | PIM | SHGF |
| Connecticut (10-12-5) | 0/2 | 5/10 | 0 |
| Vermont (6-20-2) | 0/2 | 5/10 | 0 |
| | | | | | | |
| --- | --- | --- | --- | --- | --- | --- |
| Connecticut Goaltending | MIN | GA | 1 | 2 | 3 | Saves |
| Elaine Chuli (W, 5-9-2) | 60:00 | 1 | 10 | 9 | 12 | 31 |
| | | | | | | |
| --- | --- | --- | --- | --- | --- | --- |
| Vermont Goaltending | MIN | GA | 1 | 2 | 3 | Saves |
| Madison Litchfield (L, 3-11-2) | 58:27 | 2 | 5 | 7 | 6 | 18 |
| Empty Net | 1:33 | 0 | | | | |
BURLINGTON, Vt. - Elaine Chuli made 31 saves and Connecticut (10-11-5, 6-8-3 HEA) blocked 16 shots as its defense held late to give the Huskies a 2-1 win over Vermont (6-20-2, 4-12-2) Friday night in Hockey East action from Gutterson Fieldhouse.
The Catamounts had 1,662 fans in attendance as a part of the third annual Pack The Gut Challenge Presented by the Windjammer. The 1,662 fans were the second most in Vermont history and the third highest ever for a Hockey East regular season game.
The Huskies took some of the life out of the crowd with an early goal three minutes into the first period. Leah Buress gathered the puck behind the Vermont net and fed a pass to a cutting Leah Lum. Lum gathered the puck and fired a quick wrist shot past Vermont's Madison Litchfield (18 Saves) for her fifth goal of the season.
The Catamounts responded late in the first period to tie the game. Cassidy Campeau made a move at the blue line to deke past a Connecticut defender before firing a tape-to-tape pass that Dayna Colang one-timed past Chuli for her team-leading 11th goal of the season. Gina Repaci was credited with the secondary assist on the even strength tally with 3:57 left in the opening frame.
Margaret Zimmer scored the game-winning goal, the second of her career, 6:36 into the second period. Zimmer took a back-pass from Madison Badeau and skated into the slot before firing a high slap shot that Litchfield never saw through traffic.
Chuli made 12 third period saves including four on Vermont's only full power play of the night to shut down the Catamounts comeback bid. UConn also blocked eight Vermont shots in the final frame.
"We did play with a lot of energy," said head coach Jim Plumer. "The energy in the building was fantastic, certainly appreciate the crowd. I think we put on a good performance it's just frustrating when you can dominate territorially like that and not have anything to show for it."
The Catamounts return to action tomorrow afternoon as they close out their season-series with Connecticut at 4 p.m. Prior to the game Vermont will honor its two seniors Dayna Colang and Gina Repaci. In their time at UVM the duo has won a program-record 29 Hockey East games.