Friday, November 20, 2015
Knutson Leads UConn Past Vermont, 3-2
Sophomore forward Theresa Knutson has goal and two assists for Huskies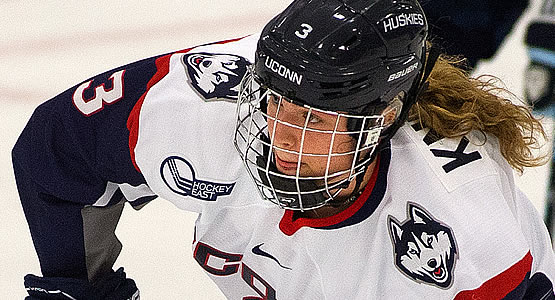 Sophomore forward Theresa Knutson had a goal and two assists for the Huskies
| | | | | | | |
| --- | --- | --- | --- | --- | --- | --- |
| Prd | Time | Team | Score | Type | Scored By | Assists |
| 1st | 0:46 | CON | 1-0 | EV | Theresa Knutson (2) | Leah Lum/6, Justine Fredette/3 |
| 1st | 5:31 | CON | 2-0 | EV | Justine Fredette (2) | Leah Lum/7, Jordy Zacharias/3 |
| 1st | 12:28 | VER | 1-2 | PP | Victoria Andreakos (2) | Mackenzie MacNeil/2, Taylor Willard/5 |
| 3rd | 1:27 | CON | 3-1 | EV GW | Justine Fredette (3) | Jordy Zacharias/4, Theresa Knutson/3 |
| 3rd | 2:12 | VER | 2-3 | EV | Sarah Kelly (1) | Saana Valkama/3, Sammy Kolowrat/2 |
| | | | | |
| --- | --- | --- | --- | --- |
| Scoring | 1st | 2nd | 3rd | Final |
| Vermont | 1 | 0 | 1 | 2 |
| Connecticut | 2 | 0 | 1 | 3 |
| | | | | |
| --- | --- | --- | --- | --- |
| Shots on Goal | 1st | 2nd | 3rd | SOG |
| Vermont | 5 | 8 | 7 | 20 |
| Connecticut | 11 | 2 | 4 | 17 |
| | | | |
| --- | --- | --- | --- |
| Team Stats and Records | PP | PIM | SHGF |
| Vermont (3-10-0) | 1/4 | 1/2 | 0 |
| Connecticut (5-6-2) | 0/1 | 4/8 | 0 |
| | | | | | | |
| --- | --- | --- | --- | --- | --- | --- |
| Vermont Goaltending | MIN | GA | 1 | 2 | 3 | Saves |
| Madison Litchfield (L, 1-6-0) | 58:38 | 3 | 9 | 2 | 3 | 14 |
| Empty Net | 1:22 | 0 | | | | |
| | | | | | | |
| --- | --- | --- | --- | --- | --- | --- |
| Connecticut Goaltending | MIN | GA | 1 | 2 | 3 | Saves |
| Annie Belanger (W, 3-1-1) | 60:00 | 2 | 4 | 8 | 6 | 18 |
STORRS, Conn. - UConn sophomore Justine Fredette (Winnipeg, Manitoba) scored a pair of goals and added an assist to lead the Huskies to a 3-2 win over visiting Vermont in a Hockey East match-up from the Freitas Ice Forum Friday night. The Huskies improve to 5-6-2 overall and 2-4-0 in Hockey East with the win.
Fredette scored the Huskies second goal of the night and produced the game-winner in the third period for a three-point night. Sophomore goaltender Annie Belanger (Sherbrooke, Quebec) made 18 saves to earn her third win on the season.
UConn wasted little time jumping on the scoreboard as sophomore Theresa Knutson (Onalaska, Wis.) got the Huskies up 1-0 just 46 seconds in. Classmate Leah Lum (Richmond, British Columbia) threw the puck on net from just inside the blue line and Knutson was there at the left post to clean up the rebound.
The Huskies made it 2-0 at 5:31 as Fredette collected her first, stuffing in a rebound right in front of goal. UVM cut the lead in half at 12:28 of the first as Victoria Andreakos shovled a pretty pass from Mackenzie MacNeil past Belanger on the power play to make it 2-1 UConn.
After a scoreless second, Fredette made it a two-goal UConn lead just 1:27 into the third. The Huskies had a three-on-one break out with Fredette sliding a shot from the left wing off a feed from freshman Jordy Zacharias in the middle past UVM goaltender Madison Litchfield.
The Catamounts quickly answered, scoring just 45 seconds later as Sarah Kelly finished off a pass in front of the net off a feed from Saana Valkama off the boards. Vermont out shot the Huskies 7-4 in the third, but couldn't find the tying goal.
UConn is back in action on Sunday at the University of Maine. Puck drop is scheduled for 2:00 pm at Alfond Arena.