Saturday, September 26, 2015
UConn Huskies Roll Past Whitby Wolves, 5-1
Freshman forward Jordy Zacharias posts hat trick and assist for Huskies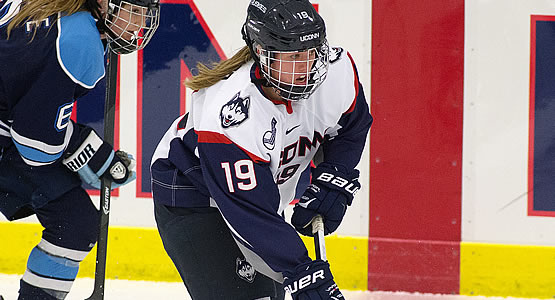 Senior forward Margaret Zimmer had a goal and two assists for the Huskies
| | | | | | | |
| --- | --- | --- | --- | --- | --- | --- |
| Prd | Time | Team | Score | Type | Scored By | Assists |
| 1st | 2:30 | CON | 1-0 | EV | Jordy Zacharias | - |
| 1st | 5:16 | CON | 2-0 | EV GW | Margaret Zimmer | Marisa Maccario, Jordy Zacharias |
| 1st | 18:32 | CON | 3-0 | EV | Kelly Harris | Madison Badeau, Theresa Knutson |
| 2nd | 13:27 | CON | 4-0 | EV | Jordy Zacharias | Margaret Zimmer, Marisa Maccario |
| 2nd | 17:11 | WTB | 1-4 | EV | Samantha ISBELL | Tori HOWRAN, Briana COLANGELO |
| 3rd | 15:36 | CON | 5-1 | EV | Jordy Zacharias | Margaret Zimmer |
| | | | | |
| --- | --- | --- | --- | --- |
| Scoring | 1st | 2nd | 3rd | Final |
| Whitby Wolves | 0 | 1 | 0 | 1 |
| Connecticut | 3 | 1 | 1 | 5 |
| | | | | |
| --- | --- | --- | --- | --- |
| Shots on Goal | 1st | 2nd | 3rd | SOG |
| Whitby Wolves | 11 | 11 | 12 | 34 |
| Connecticut | 17 | 10 | 10 | 37 |
| | | | |
| --- | --- | --- | --- |
| Team Stats and Records | PP | PIM | SHGF |
| Whitby Wolves | 0/4 | 2/4 | 0 |
| Connecticut | 0/2 | 4/8 | 0 |
| | | | | | | |
| --- | --- | --- | --- | --- | --- | --- |
| Whitby Wolves Goaltending | MIN | GA | 1 | 2 | 3 | Saves |
| Rachel MCQUIGGE (L) | 60:00 | 5 | 14 | 9 | 9 | 32 |
| | | | | | | |
| --- | --- | --- | --- | --- | --- | --- |
| Connecticut Goaltending | MIN | GA | 1 | 2 | 3 | Saves |
| Annie Belanger (W) | 60:00 | 1 | 11 | 10 | 12 | 33 |
STORRS, Conn -- The UConn women's ice hockey team racked up a 5-1 win in its exhibition game against the Whitby Wolves on Saturday. Freshman Jordy Zacharias (Winnipeg, Manitoba) tallied a hat trick in her first appearance with the Huskies, netting one goal in every period.
Zacharias scored her first goal less than three minutes into the game with no one on the assist. Less than three minutes later senior Margaret Zimmer (St. Charles, Ill.) netted another for the Huskies off a rebound from Reese Maccario's shot, giving UConn an early 2-0 lead.
Junior Kelly Harris (Canton, Mich.) scored a third goal for UConn with just over one minute left in the first frame when she tapped the puck in off a rebound given up after sophomore Madison Badeau (Courtice, Ontario) put a shot on goal.
Zacharias notched her second of the game mid-way into the second period off a pass from Zimmer that skipped past the goalie into the back of the net.
The Wolves finally got on the board late in the second when Samantha Isbell of Whitby put one past sophomore goaltender, Annie Belanger. Tori Howran and Briana Colangelo recorded the assists.
The game slowed down in the third, with no big scoring chances and a lot of neutral zone play. Zacharias shook things up 15 minutes into the final frame when she notched her third goal of the game. Zimmer fed the puck from down low to Zacharias out in front of the net, who buried it home.
Both teams registered upwards of 30 shots on goal, but UConn managed to put up three more, out-shooting Whitby 37-34. Belanger recorded 33 saves for the Huskies, and Whitby goaltender, Rachel McQuigge recorded 32 for the Wolves.
UConn is set to open regular season play on the road against conference opponent Boston University on Friday, Oct. 2 at 7 p.m. in Boston, Mass. at the Walter Brown Arena. The Huskies will return home the next day for their home opener against Union on Saturday, Oct. 3 at 7 p.m.