Saturday, October 10, 2015
Northeastern Topped By Lindenwood, 4-2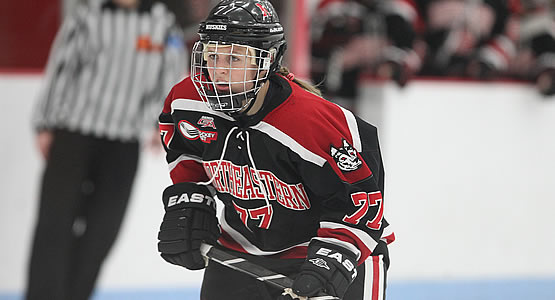 Senior forward Kendall Coyne scored a goal for the Huskies
| | | | | | | |
| --- | --- | --- | --- | --- | --- | --- |
| Prd | Time | Team | Score | Type | Scored By | Assists |
| 2nd | 4:44 | LIN | 1-0 | PP | Shara Jasper (5) | Sarah Bobrowski/6, Ally Larson/3 |
| 2nd | 7:38 | NOE | 1-1 | PP | Kendall Coyne (7) | Denisa Křížová/4, Heather Mottau/1 |
| 3rd | 3:35 | NOE | 2-1 | EV | Shelby Herrington (4) | Paige Savage/2, Maddie Hartman/2 |
| 3rd | 4:09 | LIN | 2-2 | EV | Shara Jasper (6) | Carrie Atkinson/2, Shannon Morris-Reade/5 |
| 3rd | 11:39 | LIN | 3-2 | EV GW | Shannon Morris-Reade (2) | Tae Otte/2, Sarah Bobrowski/7 |
| 3rd | 19:20 | LIN | 4-2 | EV EN | Shara Jasper (7) | - |
| | | | | |
| --- | --- | --- | --- | --- |
| Scoring | 1st | 2nd | 3rd | Final |
| Lindenwood | 0 | 1 | 3 | 4 |
| Northeastern | 0 | 1 | 1 | 2 |
| | | | | |
| --- | --- | --- | --- | --- |
| Shots on Goal | 1st | 2nd | 3rd | SOG |
| Lindenwood | 10 | 7 | 10 | 27 |
| Northeastern | 19 | 10 | 11 | 40 |
| | | | |
| --- | --- | --- | --- |
| Team Stats and Records | PP | PIM | SHGF |
| Lindenwood (2-4-0) | 1/4 | 3/6 | 0 |
| Northeastern (2-1-1) | 1/3 | 4/8 | 0 |
| | | | | | | |
| --- | --- | --- | --- | --- | --- | --- |
| Lindenwood Goaltending | MIN | GA | 1 | 2 | 3 | Saves |
| Jolene deBruyn (W, 1-1-0) | 60:00 | 2 | 19 | 9 | 10 | 38 |
| | | | | | | |
| --- | --- | --- | --- | --- | --- | --- |
| Northeastern Goaltending | MIN | GA | 1 | 2 | 3 | Saves |
| Brittany Bugalski (L, 1-1-1) | 59:38 | 3 | 10 | 6 | 7 | 23 |
| Empty Net | 0:22 | 1 | | | | |
BOSTON - Lindenwood's Shara Jasper recorded a hat trick to lift the visiting Lady Lions to a 4-2 win over the Northeastern women's hockey team (2-1-1) on Saturday afternoon at Matthews Arena.
Senior Kendall Coyne and sophomore Shelby Herrington scored for the Huskies, who led 2-1 early in the third, before the Lady Lions (2-4-0) rallied for three unanswered goals to secure their second straight win.
Lindenwood netminder Jolene deBruyn stopped 38 shots as Northeastern peppered the LU net with a 40-27 shot advantage. Freshman Brittany Bugalski was saddled with her first loss of the year, despite a 24-save performance.
Goal Recaps
- Lindenwood opened the scoring on the power play at the 4:44 mark of the second period. On a quick rush up the ice, Shara Jasper took a pass on the right wing, before cutting hard to the net and slipping a shot through the pads of Bugalski.
- Coyne tied the game less than three minutes later with a power-play goal of her own. After some nice puck movement in the offensive zone, sophomore Heather Mottau tossed a cross-ice pass to sophomore Denisa Krizova along the left boards. Krizova then dropped a feed to Coyne, who skated in from the wing and slipped a wrister under the pads of deBruyn to make it 1-1.
- The Huskies briefly took the lead in the third period on another beautiful passing play. Freshman Maddie Hartman took a pass at the top of the right circle and made a pretty cross-ice feed to redshirt junior Paige Savage for a shot that was stopped by deBruyn in tight. Herrington followed the play and buried the rebound on the doorstep to make it 2-1 just 3:35 into the frame.
- The advantage was short-lived, however, as Jasper tied things up again with a redirection on a Carrie Atkinson point-shot at 4:09.
- Shannon Morris-Reade then put the Lady Lions ahead for good at the 11:39 mark, roofing a shot at the right of the net.
- Lindenwood put the icing on the cake with 40 seconds to play when Jasper picked off a pass in the defensive zone and sent a long shot down the ice and into the empty-net to complete the hat trick.
Stats of the Game
- The Huskies held a 37-18 advantage in the faceoff circle.
- Coyne scored for the fourth straight game.
- Herrington scored for the fourth time in four games.
Up Next
Northeastern will continue its homestand next weekend with a pair of games against Mercyhurst (Oct. 16-17) at Matthews Arena.