Maine Edges Past Merrimack, 2-1
Senior goaltender Meghann Treacy makes 32 saves for Black Bears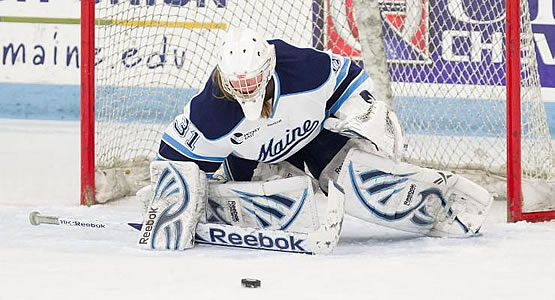 Senior goaltender Meghann Treacy made 32 saves for the Black Bears
| | | | | | | |
| --- | --- | --- | --- | --- | --- | --- |
| Prd | Time | Team | Score | Type | Scored By | Assists |
| 1st | 1:56 | MER | 1-0 | EV | Emily Volpe (2) | Jackie Pieper/2 |
| 2nd | 1:59 | MNE | 1-1 | EV | Catherine Tufts (2) | Brooke Stacey/1 |
| 2nd | 12:30 | MNE | 2-1 | EV GW | Abbey Cook (1) | Cassidy Herman/1, Brooklyn Langlois/1 |
| | | | | |
| --- | --- | --- | --- | --- |
| Scoring | 1st | 2nd | 3rd | Final |
| Maine | 0 | 2 | 0 | 2 |
| Merrimack | 1 | 0 | 0 | 1 |
| | | | | |
| --- | --- | --- | --- | --- |
| Shots on Goal | 1st | 2nd | 3rd | SOG |
| Maine | 13 | 7 | 2 | 22 |
| Merrimack | 11 | 16 | 6 | 33 |
| | | | |
| --- | --- | --- | --- |
| Team Stats and Records | PP | PIM | SHGF |
| Maine (2-4-0) | 0/3 | 5/10 | 0 |
| Merrimack (1-5-0) | 0/5 | 3/6 | 0 |
| | | | | | | |
| --- | --- | --- | --- | --- | --- | --- |
| Maine Goaltending | MIN | GA | 1 | 2 | 3 | Saves |
| Meghann Treacy (W, 2-4-0) | 60:00 | 1 | 10 | 16 | 6 | 32 |
| | | | | | | |
| --- | --- | --- | --- | --- | --- | --- |
| Merrimack Goaltending | MIN | GA | 1 | 2 | 3 | Saves |
| Samantha Ridgewell (L, 1-4-0) | 60:00 | 2 | 13 | 5 | 2 | 20 |
NORTH ANDOVER, Mass. - The women's ice hockey team was unable to complete a weekend sweep in Hockey East play, as the Warriors fell to Maine on Sunday, 2-1, to close out Homecoming at Merrimack.
The Basics
Score: Maine 2, Merrimack 1
Records: Merrimack (1-5, 1-1 HEA) | Maine (2-4, 2-2 HEA)
Location: Lawler Rink | North Andover, Mass.
How It Happened
Early in the first period, it appeared that the Warriors could be on their way to a 2-0 weekend against Hockey East opponents after the program's first win on Saturday over New Hampshire. Just under two minutes into the game and on just the second shift for the Warriors' first line of freshmen Emily Volpe (Whitby, Ontario), Madison Morey (Fairbanks, Alaska) and sophomore captain Jackie Pieper (Edina, Minn.), Volpe would put the Warriors ahead, 1-0.
The goal-creating play would start in Merrimack's defensive zone as the Warriors were trying to get the puck out of their end. Volpe would deflect a Maine pass attempt from the point with her stick. The puck would ricochet right to Pieper, who quickly delivered it back to Volpe who was already taking off after breaking up Maine's pass attempt. The pass would find her in stride for a breakaway, and a composed Volpe would roof the puck top right for the early goal for the Warriors.
Despite posting a season-high for shots with 33 and possessing the puck for plenty of offensive zone time, Volpe's goal would be the only score of the game for the Warriors, as Maine's goaltender and the game's first star Meghann Treacy would make an impressive 32 saves.
Both of the Black Bears' goals would come in the middle period of the game, with their first coming in similar fashion to Volpe's as they would end up with a breakaway while flipping the puck out of their own zone. The second would come off of a nice tip right in front of goaltender Samantha Ridgewell (Outlook, Saskatchewan) to redirect a shot from the point into the net.
Inside The Numbers
- The Warriors were unable to come away with the win despite outshooting Maine with a season-high 33 shots to Maine's 22. Merrimack's 16 second period shots are more than the total number of shots the Warriors have taken in two games this season.
- Pieper's assist on Sunday now has her second on the team in points with a line of 2-2-4. She had posted a point in four of six games this year.
- In an area that has been of focus for the Warriors as needing work, Merrimack would win the battle at the faceoff dot by a margin of 27-25.
Up Next
The Warriors will host Colgate next weekend for a two-game non-conference series at Lawler Rink. The first game's puck drop is set for Friday at 2:00 p.m.