Saturday, November 14, 2015
Krizova Nets Two Goals As Northeastern Sweeps Merrimack With 6-0 Win
Sophomore forward Denisa Krizova scores two goals for Huskies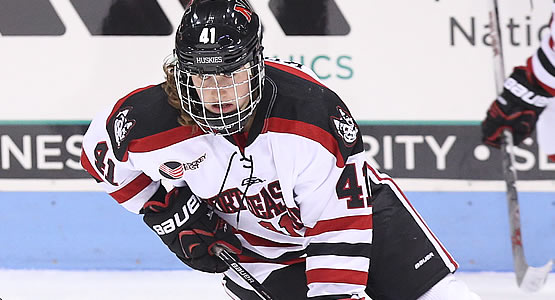 Sophomore forward Denisa Krizova scored two goals for the Huskies
| | | | | | | |
| --- | --- | --- | --- | --- | --- | --- |
| Prd | Time | Team | Score | Type | Scored By | Assists |
| 1st | 1:43 | NOE | 1-0 | EV GW | Halle Silva (2) | Jordan Krause/8, Paige Savage/5 |
| 1st | 5:47 | NOE | 2-0 | EV | Shelby Herrington (6) | Kasidy Anderson/6, Lauren Kelly/7 |
| 1st | 15:26 | NOE | 3-0 | EV | Kasidy Anderson (3) | Jordan Krause/9, Tori Hickel/2 |
| 3rd | 9:02 | NOE | 4-0 | PP | Denisa Křížová (6) | Hayley Scamurra/11, Kendall Coyne/11 |
| 3rd | 13:03 | NOE | 5-0 | EV | Denisa Křížová (7) | Kendall Coyne/12, Hayley Scamurra/12 |
| 3rd | 17:42 | NOE | 6-0 | EV | Melissa Haganey (1) | Taytum Clairmont/4, Hayley Masters/2 |
| | | | | |
| --- | --- | --- | --- | --- |
| Scoring | 1st | 2nd | 3rd | Final |
| Merrimack | 0 | 0 | 0 | 0 |
| Northeastern | 3 | 0 | 3 | 6 |
| | | | | |
| --- | --- | --- | --- | --- |
| Shots on Goal | 1st | 2nd | 3rd | SOG |
| Merrimack | 5 | 7 | 2 | 14 |
| Northeastern | 18 | 11 | 20 | 49 |
| | | | |
| --- | --- | --- | --- |
| Team Stats and Records | PP | PIM | SHGF |
| Merrimack (2-10-0) | 0/6 | 4/8 | 0 |
| Northeastern (10-1-1) | 1/3 | 7/14 | 0 |
| | | | | | | |
| --- | --- | --- | --- | --- | --- | --- |
| Merrimack Goaltending | MIN | GA | 1 | 2 | 3 | Saves |
| Kate Kowalchuk (L, 0-2-0) | 59:50 | 6 | 15 | 11 | 17 | 43 |
| Empty Net | 0:10 | 0 | | | | |
| | | | | | | |
| --- | --- | --- | --- | --- | --- | --- |
| Northeastern Goaltending | MIN | GA | 1 | 2 | 3 | Saves |
| Brittany Bugalski (W, 9-1-1) | 60:00 | 0 | 5 | 7 | 2 | 14 |
BOSTON - The No. 7 Northeastern women's hockey team (10-1-1) won its eighth straight game and moved to 6-0-0 in Hockey East play for the first time in program history with a 6-0 win over Merrimack (2-10-0, 1-5-0 WHEA) on Saturday at Matthews Arena.
The Huskies' sophomore class accounted for four of the six goals, including a pair from Denisa Krizova, as NU established its best 12-game start since opening the 2001-02 season with an 11-1-0 mark.
Sophomore Halle Silva, sophomore Shelby Herrington, freshman Kasidy Anderson, and junior Melissa Haganey also scored for the Huskies. Senior Jordan Krause, senior Kendall Coyne, and junior Hayley Scamurra each dished out two assists, while freshman netminder Brittany Bugalski posted her second shutout with 14 saves.
Goal Recaps
- Northeastern opened the scoring just 1:43 into the game on Silva's second of the season. After some good possession time in the offensive zone, Krause threw the puck at the net from the right boards for Silva to direct home in the slot to make it 1-0.
- Herrington made it 2-0 at 5:47 of the frame. Anderson took a feed from sophomore Lauren Kelly in the neutral zone, before cutting around a Merrimack defender between the circles, and firing a shot on goal. Warriors' netminder Kate Kowalchuk (43 saves) made the stop, but Herrington followed the play and blasted home the rebound at the left of the cage.
- Anderson then added a third goal at 15:26 of the first period when she batted the puck out of mid-air in front of the net following a shot by Krause.
- After a scoreless second period, the Huskies tacked on three more goals in the third, starting with a blast by Krizova on the power-play at the 9:02 mark.
- Krizova then added a beautiful second goal four minutes later to make it 5-0. Operating behind the net, Coyne dished the puck in front to Krizova, who waited for Kowalchuk to go down, before burying a wrister inside the right post at 13:03.
- Haganey capped the scoring at 17:42, poking home a loose puck at the left of the net after Taytum Clairmont's initial shot was stopped.
Stats of the Game
- At 10-1-1, Northeastern is off to its best 12-game start since 2001-02, when NU started 11-1-0.
- At 6-0-0 in WHEA play, NU is off to its best start in conference since joining Hockey East in 2002.
- NU is currently on its longest winning streak since 2012-13, when the team won nine in a row from Feb. 5-March 9.
- Coyne extended her point-streak to 11 games (18-12-30).
- Krizova extended her point-streak to 10 games (7-15-22).
- Scamurra pushed her point-streak to eight games (4-11-15).
- Scamurra has posted multiple points in each of her last six contests.
- Bugalski notched her second collegiate shutout with 14 saves.
- Northeastern outshot Merrimack by a 49-14 margin, including 20-2 in the third period.
Up Next
The red-hot Huskies will travel across town to face rival Boston College on Friday, Nov. 20 at 7 p.m.