Voight Gives Merrimack 2-1 Overtime Win At Vermont
Freshman forward Paige Voight scores game-winning goal for Warriors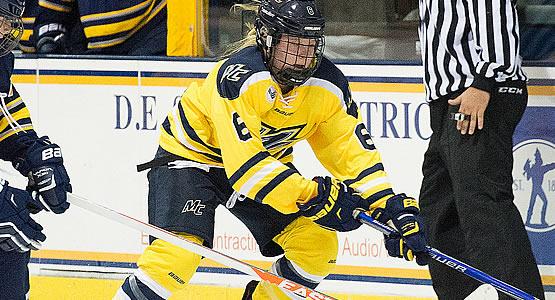 Freshman forward Paige Voight scored the game-winning goal for the Warriors
| | | | | | | |
| --- | --- | --- | --- | --- | --- | --- |
| Prd | Time | Team | Score | Type | Scored By | Assists |
| 3rd | 5:06 | VER | 1-0 | EV | Dayna Colang (8) | Rachael Ade/1, Victoria Andreakos/4 |
| 3rd | 19:28.0 | MER | 1-1 | EV EA | Paige Sorensen (4) | Katelyn Rae/5, Jackie Pieper/3 |
| OT | 3:06 | MER | 2-1 | EV GW | Paige Voight (8) | Jackie Pieper/4, Baye Flanagan/2 |
| | | | | | |
| --- | --- | --- | --- | --- | --- |
| Scoring | 1st | 2nd | 3rd | OT | Final |
| Merrimack | 0 | 0 | 1 | 1 | 2 |
| Vermont | 0 | 0 | 1 | 0 | 1 |
| | | | | | |
| --- | --- | --- | --- | --- | --- |
| Shots on Goal | 1st | 2nd | 3rd | OT | SOG |
| Merrimack | 3 | 8 | 10 | 2 | 23 |
| Vermont | 9 | 2 | 13 | 3 | 27 |
| | | | |
| --- | --- | --- | --- |
| Team Stats and Records | PP | PIM | SHGF |
| Merrimack (3-17-0) | 0/1 | 1/2 | 0 |
| Vermont (5-16-0) | 0/1 | 1/2 | 0 |
| | | | | | | | |
| --- | --- | --- | --- | --- | --- | --- | --- |
| Merrimack Goaltending | MIN | GA | 1 | 2 | 3 | OT | Saves |
| Samantha Ridgewell (W, 3-10-0) | 61:58 | 1 | 9 | 2 | 12 | 3 | 26 |
| Empty Net | 1:08 | 0 | | | | | |
| | | | | | | | |
| --- | --- | --- | --- | --- | --- | --- | --- |
| Vermont Goaltending | MIN | GA | 1 | 2 | 3 | OT | Saves |
| Madison Litchfield (L, 2-9-0) | 63:06 | 2 | 3 | 8 | 9 | 1 | 21 |
BURLINGTON, Vt. - Paige Voight scored 3:06 into overtime to give the Merrimack Warriors a 2-1 win over Vermont Monday night in Hockey East action from Gutterson Fieldhouse.
Vermont got off to another quick start and dominated territorially in the first period outshooting the Warriors 9-3. However Merrimack freshman Samantha Ridgewell stopped all nine Catamount attempts as Vermont failed to score in the first period for the first time in two games.
In the second period it was Vermont's Madison Litchfield who stood on her head to keep the game scoreless. She turned aside eight Merrimack shots including two on the games first power play as the teams went to the third period deadlocked.
Dayna Colang opened the scoring 5:06 into the third period. Rachael Ade pinched down the boards to keep the puck in the Merrimack zone before firing a pass to Colang who one-timed a shot just under Ridgewell's glove for her team-leading eighth goal of the season. Victoria Andreakos earned the secondary assist on Colang's second goal in as many games. It was the fourth straight game in which Vermont has scored first.
The Warriors tied the game with 32 seconds left in regulation with their goalie pulled for the extra-attacker. Katelyn Rae won a puck battle in the corner and passed out to the point, Paige Sorensen one-timed a shot from the point and through traffic it beat Litchfield to tie the game. Sorensen's fourth goal of the season was also assisted by Jackie Pieper.
In overtime Voight gathered the puck in the neutral zone and made a move to beat the last Vermont defender back, before cutting hard to the net and beating Litchfield with a low shot for her eighth goal of the season and Merrimack's second conference win of the year.
"Very tough to lose the game tonight," said head coach Jim Plumer. "We can certainly improve in every aspect of the game."
Vermont returns to action this coming weekend as they travel to Maine for a two-game series with the Black Bears. Faceoff is set for 2 p.m. on Saturday and Sunday, fans can watch a free live stream at GoBlackBears.com.