Friday, November 27, 2015
Merrimack College Defeated By Yale, 3-1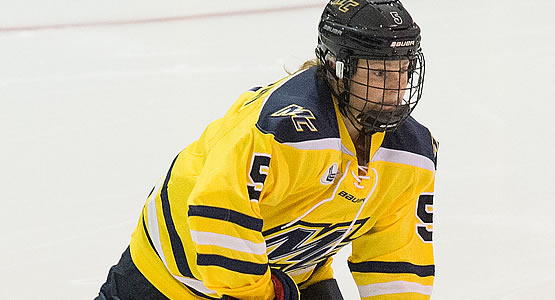 Freshman defenseman Paige Sorensen scored a goal for the Warriors
| | | | | | | |
| --- | --- | --- | --- | --- | --- | --- |
| Prd | Time | Team | Score | Type | Scored By | Assists |
| 2nd | 2:19 | YAL | 1-0 | EV | Phoebe Staenz (4) | Eden Murray/5, Jordan Chancellor/5 |
| 2nd | 14:58 | YAL | 2-0 | EV GW | Julia Yetman (1) | Eden Murray/6, Jordan Chancellor/6 |
| 3rd | 4:52 | MER | 1-2 | PP | Paige Sorensen (2) | Katelyn Rae/4, Emily Volpe/3 |
| 3rd | 5:49 | YAL | 3-1 | EV | Mallory Souliotis (2) | Jamie Haddad/3, Krista Yip-Chuck/4 |
| | | | | |
| --- | --- | --- | --- | --- |
| Scoring | 1st | 2nd | 3rd | Final |
| Merrimack | 0 | 0 | 1 | 1 |
| Yale | 0 | 2 | 1 | 3 |
| | | | | |
| --- | --- | --- | --- | --- |
| Shots on Goal | 1st | 2nd | 3rd | SOG |
| Merrimack | 6 | 7 | 9 | 22 |
| Yale | 4 | 11 | 12 | 27 |
| | | | |
| --- | --- | --- | --- |
| Team Stats and Records | PP | PIM | SHGF |
| Merrimack (2-13-0) | 1/5 | 1/2 | 0 |
| Yale (2-6-1) | 0/1 | 5/10 | 0 |
| | | | | | | |
| --- | --- | --- | --- | --- | --- | --- |
| Merrimack Goaltending | MIN | GA | 1 | 2 | 3 | Saves |
| Chaislyn Burgio (L, 0-3-0) | 57:05 | 3 | 4 | 9 | 11 | 24 |
| Empty Net | 2:55 | 0 | | | | |
| | | | | | | |
| --- | --- | --- | --- | --- | --- | --- |
| Yale Goaltending | MIN | GA | 1 | 2 | 3 | Saves |
| Hanna Mandl (W, 2-6-1) | 60:00 | 1 | 6 | 7 | 8 | 21 |
NEW HAVEN, Conn. - Freshman Paige Sorensen (Plymouth, Minn.) scored her second power-play goal of the season but it would not be enough as the Merrimack College women's ice hockey team fell at Yale by a score of 3-1 on Friday afternoon in the first round of the Nutmeg Classic. The Warriors will play in the consolation game Saturday afternoon.
The Basics
Score: Yale 3, Merrimack 1
Records: Merrimack (2-13-0, 1-7-0 HEA) | Yale (2-6-1, 1-2-1 ECAC)
Location: Ingalls Rink | New Haven, Conn.
How It Happened
Merrimack opened up the game as the aggressor in the scoreless first period as they would outshoot the Bulldogs by a margin of 6-4. A power play late in the first for the Warriors would provide a quality chance to take the first lead of the game, but Merrimack was unable to convert.
Yale would win the second period with two unanswered goals, the first coming just over two minutes in to the middle period. They would net their second at the 14:58 mark to take a 2-0 lead into the second intermission. Eden Murray and Jordan Chancellor would assist on both scores, improving their team-high totals to 6 on the season.
The Warriors would respond just less than five minutes into the third period on their fourth power play of the game when Sorensen netted a shot off helpers from fellow freshmen Katelyn Rae (Courtice, Ontario) and Emily Volpe (Whitby, Ontario) to put the Warriors on the board and cut the deficit to one.
The Bulldogs would answer less than a minute later with their third goal of the game to extend their lead to two, and the Warriors would never recover in the final 14 minutes.
Inside The Numbers
- After outshooting Yale in the opening period, the Bulldogs would go on to outshoot Merrimack 27-22 in the game.
- The Warriors would take just one penalty in the game and were able to kill it off, while they found themselves on the man-advantage five times in the contest, converting on one.
- The faceoff margin was nearly even in the game, with Yale just being favored 24-23. Volpe individually went 13-18 at the faceoff dot.
- Sorensen improves her scoring line to 2-5-7, which ties the defenseman for second most points on the team.
Up Next
The Warriors will take on the loser of the Friday night game between Quinnipiac and UConn in the consolation game of the Nutmeg Classic Saturday at 4:00 p.m.