Northeastern Huskies Defeat Maine Black Bears, 3-1
Junior forward Hayley Scamurra registers two assists for Huskies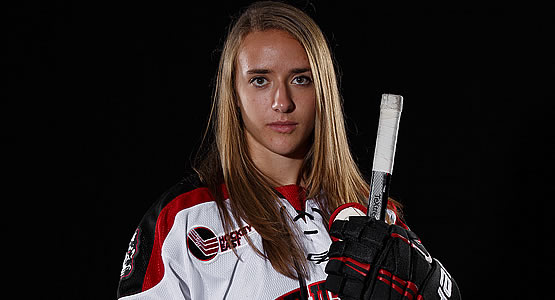 Junior forward Hayley Scamurra had two assists for the Huskies
| | | | | | | |
| --- | --- | --- | --- | --- | --- | --- |
| Prd | Time | Team | Score | Type | Scored By | Assists |
| 1st | 1:49 | NOE | 1-0 | PP | Maddie Hartman (2) | Hayley Scamurra/7, Heather Mottau/6 |
| 1st | 6:47 | MNE | 1-1 | EV | Brooke Stacey (6) | Cassidy Herman/2, Abbey Cook/1 |
| 2nd | 12:42 | NOE | 2-1 | EV GW | Ainsley MacMillan (1) | Hayley Scamurra/8, McKenna Brand/5 |
| 3rd | 15:50 | NOE | 3-1 | EV | Christina Zalewski (3) | Kasidy Anderson/5, Ainsley MacMillan/4 |
| | | | | |
| --- | --- | --- | --- | --- |
| Scoring | 1st | 2nd | 3rd | Final |
| Northeastern | 1 | 1 | 1 | 3 |
| Maine | 1 | 0 | 0 | 1 |
| | | | | |
| --- | --- | --- | --- | --- |
| Shots on Goal | 1st | 2nd | 3rd | SOG |
| Northeastern | 10 | 6 | 6 | 22 |
| Maine | 8 | 10 | 16 | 34 |
| | | | |
| --- | --- | --- | --- |
| Team Stats and Records | PP | PIM | SHGF |
| Northeastern (8-1-1) | 1/3 | 5/10 | 0 |
| Maine (5-6-0) | 0/5 | 4/8 | 0 |
| | | | | | | |
| --- | --- | --- | --- | --- | --- | --- |
| Northeastern Goaltending | MIN | GA | 1 | 2 | 3 | Saves |
| Brittany Bugalski (W, 7-1-1) | 60:00 | 1 | 7 | 10 | 16 | 33 |
| | | | | | | |
| --- | --- | --- | --- | --- | --- | --- |
| Maine Goaltending | MIN | GA | 1 | 2 | 3 | Saves |
| Meghann Treacy (L, 5-6-0) | 58:05 | 3 | 9 | 5 | 5 | 19 |
| Empty Net | 1:55 | 0 | | | | |
ORONO, ME - The Black Bears lost a close battle with the #8 ranked Northeastern Huskies 3-1 and fall to 5-6-0 on the season.
The game remained close in the first 2 periods; The first strike came early in the first when Maddie Hartman of Northeastern scored a power play goal 1:49 into the first. Maine would tie it up just minutes later off the stick of Brooke Stacey, assisted by Cassidy Herman and Abbey Cook, at 6:47 in the period.
In the 2nd period Northeastern pulled ahead with a goal from Ainsley MacMillan to give the Huskies a 2-1 lead. In the 3rd period, an insurance goal was netted by the Huskies from Christina Zalewski.
The Black Bears had several opportunities in the 2nd and 3rd period on the power play, including a 5 on 3 with the goalie pulled late in the 3rd period. The Black Bears' efforts were halted by Huskie's net-minder Brittany Bugalski, who stopped 33 of 34 shots, giving her the W and a 7-1-1 overall record.
Maine goaltender Meghann Treacy, who falls to 5-6-0 on the year, finished with 19 saves, with a save % of .864. Maine falls to 3-4-0 in conference and go on the road for their next 3 games. They will return to the Alfond on Sunday, Nov 22nd at 2pm to face UConn.