Providence College Shuts Out Maine, 1-0
Junior forward Cassidy Carels scores game-winning goal for Friars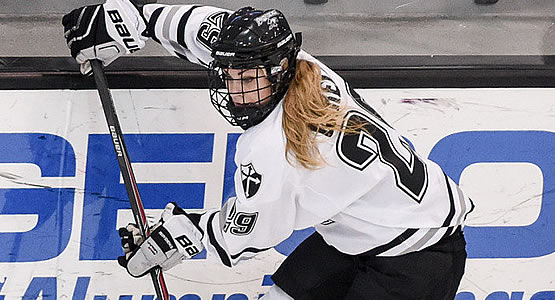 Junior forward Cassidy Carels scored the game-winning goal for te Friars
| | | | | | | |
| --- | --- | --- | --- | --- | --- | --- |
| Prd | Time | Team | Score | Type | Scored By | Assists |
| 2nd | 17:20 | PRV | 1-0 | EV GW | Cassidy Carels (8) | Brooke Boquist/9, Kate Friesen/5 |
| | | | | |
| --- | --- | --- | --- | --- |
| Scoring | 1st | 2nd | 3rd | Final |
| Maine | 0 | 0 | 0 | 0 |
| Providence | 0 | 1 | 0 | 1 |
| | | | | |
| --- | --- | --- | --- | --- |
| Shots on Goal | 1st | 2nd | 3rd | SOG |
| Maine | 10 | 3 | 7 | 20 |
| Providence | 6 | 11 | 7 | 24 |
| | | | |
| --- | --- | --- | --- |
| Team Stats and Records | PP | PIM | SHGF |
| Maine (8-19-2) | 0/4 | 4/8 | 0 |
| Providence (9-18-1) | 0/4 | 4/8 | 0 |
| | | | | | | |
| --- | --- | --- | --- | --- | --- | --- |
| Maine Goaltending | MIN | GA | 1 | 2 | 3 | Saves |
| Meghann Treacy (L, 7-16-2) | 58:24 | 1 | 6 | 10 | 7 | 23 |
| Empty Net | 1:36 | 0 | | | | |
| | | | | | | |
| --- | --- | --- | --- | --- | --- | --- |
| Providence Goaltending | MIN | GA | 1 | 2 | 3 | Saves |
| Madison Myers (W, 8-11-1) | 59:50 | 0 | 10 | 3 | 7 | 20 |
| Empty Net | 0:10 | 0 | | | | |
PROVIDENCE, R.I. - The Providence College women's hockey team defeated Maine, 1-0. A second period goal from Cassidy Carels (Bruxelles, Manitoba) lifted the Friars over the Black Bears.
The Friars improved to 9-18-1 (5-12-1 WHEA) and the Black Bears moved to 8-19-2 (4-15-1 WHEA).
Madison Myers (Colchester, Vt.) posted her first shut out of her career with 20 saves, including an impressive effort to keep the Black Bears at bay when they pulled their goalie with over a minute left in regulation.
Cassidy Carels scored her eighth goal of the season and her second goal of the weekend. Kate Friesen (Altona, Manitoba) skated the puck into the neutral zone and moved it to Brooke Boquist (Thunder Bay, Ontario). Boquist entered the zone and moved the puck across the slot to Carels, who took a one-timer and gave the Friars a 1-0 lead at the 17:20 mark of the second period.
Providence held Maine to three shots in the second period and killed four penalties, including a five-on-three.
The Friars are back in action on Feb. 6 at 2:00 p.m. at Schneider Arena, to face the Northeastern Huskies.