Saturday, October 10, 2015
Maine Upended By Quinnipiac, 5-1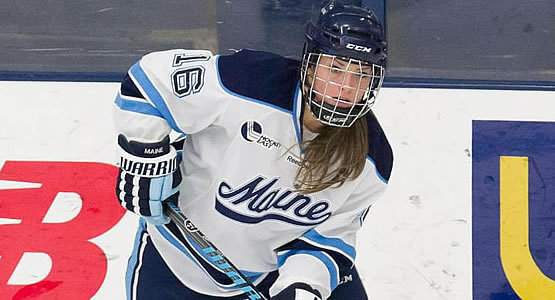 Maine senior defenseman Kelsey MacSorley (pictured)
| | | | | | | |
| --- | --- | --- | --- | --- | --- | --- |
| Prd | Time | Team | Score | Type | Scored By | Assists |
| 1st | 6:06 | QUI | 1-0 | PP | Emma Woods (3) | Nicole Connery/2, Cydney Roesler/2 |
| 1st | 7:43 | QUI | 2-0 | PP GW | Nicole Kosta (2) | Taylar Cianfarano/3, Melissa Samoskevich/3 |
| 2nd | 14:42 | QUI | 3-0 | EV | Taylar Cianfarano (3) | Melissa Samoskevich/4, Emma Woods/1 |
| 2nd | 15:08 | QUI | 4-0 | EV | Nicole Connery (1) | Taryn Baumgardt/1, Cydney Roesler/3 |
| 3rd | 7:23 | MNE | 1-4 | EV | Cassidy Herman (1) | Jillian Langtry/1 |
| 3rd | 19:48 | QUI | 5-1 | EV | Taylar Cianfarano (4) | Melissa Samoskevich/5 |
| | | | | |
| --- | --- | --- | --- | --- |
| Scoring | 1st | 2nd | 3rd | Final |
| Quinnipiac | 2 | 2 | 1 | 5 |
| Maine | 0 | 0 | 1 | 1 |
| | | | | |
| --- | --- | --- | --- | --- |
| Shots on Goal | 1st | 2nd | 3rd | SOG |
| Quinnipiac | 15 | 14 | 6 | 35 |
| Maine | 3 | 4 | 6 | 13 |
| | | | |
| --- | --- | --- | --- |
| Team Stats and Records | PP | PIM | SHGF |
| Quinnipiac (3-0-1) | 2/5 | 5/10 | 0 |
| Maine (1-3-0) | 0/4 | 6/12 | 0 |
| | | | | | | |
| --- | --- | --- | --- | --- | --- | --- |
| Quinnipiac Goaltending | MIN | GA | 1 | 2 | 3 | Saves |
| Sydney Rossman (W, 3-0-1) | 60:00 | 1 | 3 | 4 | 5 | 12 |
| | | | | | | |
| --- | --- | --- | --- | --- | --- | --- |
| Maine Goaltending | MIN | GA | 1 | 2 | 3 | Saves |
| Meghann Treacy (L, 1-3-0) | 60:00 | 5 | 13 | 12 | 5 | 30 |
Orono, Maine-- The University of Maine Women's Hockey Team lost its weekend series against the Quinnipiac Bobcats.
Maine is now 1-3-0 and Quinnipiac improves to 3-0-1. Meghann Treacy had a total of 35 saves in the game, allowing five goals.
Quinnipiac scored four unanswered goals before Maine got on the board. Maine's only goal was scored by Cassidy Herman, for her first career goal, off an assist from Jillian Langrty. Quinnipiac scored their fifth and final goal with just :13 remaining in the game.
Quinnipiac goalie Sydney Rossman made a total of 12 saves, allowing just two goals in the weekend series.
Maine will travel to Boston College and Merrimack next weekend, and will return to the Alfond to host Brown on October 24.