Friday, November 27, 2015
Maine Topped By Robert Morris, 5-1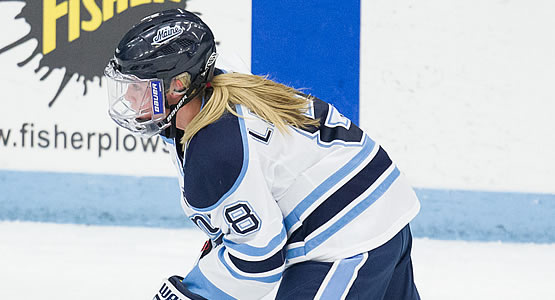 Maine senior defenseman Brooklyn Langlois (pictured)
| | | | | | | |
| --- | --- | --- | --- | --- | --- | --- |
| Prd | Time | Team | Score | Type | Scored By | Assists |
| 1st | 8:24 | MNE | 1-0 | SH | Morgan Sakundiak (2) | - |
| 2nd | 13:02 | RMU | 1-1 | EV | Caitlyn Sadowy (1) | - |
| 2nd | 13:34 | RMU | 2-1 | EV GW | Amber Rennie (8) | Maggie LaGue/10, Sarah Quaranta/12 |
| 2nd | 15:17 | RMU | 3-1 | EV EA DP | Ashley Vesci (7) | Katherine Murphy/6, Kirsten Welsh/7 |
| 3rd | 12:50 | RMU | 4-1 | EV | Amber Rennie (9) | Mikaela Lowater/8 |
| 3rd | 17:05 | RMU | 5-1 | PP | Amanda Pantaleo (2) | Mikaela Lowater/9, Ashley Vesci/5 |
| | | | | |
| --- | --- | --- | --- | --- |
| Scoring | 1st | 2nd | 3rd | Final |
| Maine | 1 | 0 | 0 | 1 |
| Robert Morris | 0 | 3 | 2 | 5 |
| | | | | |
| --- | --- | --- | --- | --- |
| Shots on Goal | 1st | 2nd | 3rd | SOG |
| Maine | 8 | 6 | 4 | 18 |
| Robert Morris | 9 | 14 | 18 | 41 |
| | | | |
| --- | --- | --- | --- |
| Team Stats and Records | PP | PIM | SHGF |
| Maine (6-10-0) | 0/4 | 6/12 | 1 |
| Robert Morris (8-5-2) | 1/6 | 4/8 | 0 |
| | | | | | | |
| --- | --- | --- | --- | --- | --- | --- |
| Maine Goaltending | MIN | GA | 1 | 2 | 3 | Saves |
| Mariah Fujimagari (L, 1-1-0) | 59:57 | 5 | 9 | 11 | 16 | 36 |
| Empty Net | 0:03 | 0 | | | | |
| | | | | | | |
| --- | --- | --- | --- | --- | --- | --- |
| Robert Morris Goaltending | MIN | GA | 1 | 2 | 3 | Saves |
| Jessica Dodds (W, 8-4-1) | 59:57 | 1 | 7 | 6 | 4 | 17 |
| Empty Net | 0:03 | 0 | | | | |
The Black Bears had an early 1 goal lead at Robert Morris, but gave up 5 unanswered in the last 2 periods to seal a loss for Maine.
Maine's goal was a shorthanded goal by Morgan Sakundiak, unassisted, 8:24 into the first period. Maine held a 1-0 lead through the middle of the second period.
The game was tied by Robert Morris 13:02 into the 2nd period on an even strength goal by Caitlyn Sadowy. 32 seconds later another even strength goal was scored by Robert Morris, this time by Amber Rennie. The Colonials scored a third goal in the 2nd period , 15 minutes in from Ashley Vesci.
In the 3rd, Robert Morris continued their assault on Maine goaltender Mariah Fujimagary, who faced 41 shots in the contest; Amber Rennie scored her second goal 12:50 into the third period, and the final goal came from Amanda Pantaleo on the power play, officially sealing the game at 5-1 for Robert Morris.
Fujimagary saved 36 of the 41 shots she faced, and her record now falls to 1-1-0 on the season. The Robert Morris net-minder, Jessica Dodds, saved 17 of 18 only allowing the 1 Maine goal. Her record improves to 8-4-1.
The Black Bears and Colonials are back at it again tomorrow afternoon at 3:05.